Date and Time of Meeting: April 23, 2015, 5:30 to 6:30 p.m.
Location: North Liberty City Administrative Office Building 3 Quail Creek Circle, North Liberty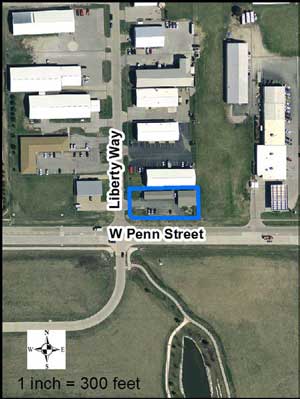 The city may soon consider a rezoning for property located at the northeastern corner of the intersection of W Penn Street and Liberty Way. The proposal is to rezone from Industrial to Commercial to permit an expansion of the Animal Kingdom Veterinary Care Center. A location map is shown on the right. This memo is being sent to property owners within 200 feet of the proposed development.
This good neighbor meeting is being held to explain the potential rezoning being considered by the property owner, and to gather any comments you may have regarding the proposal. At this time no Planning Commission or City Council action has been taken, but is anticipated within the next several months if the application moves forward. This meeting is intended to notify you early in the process and to help the owner understand neighborhood concerns, and other formal public meetings will be held by the Planning Commission and City Council if the development applications proceed.
Please feel free to drop into the good neighbor meeting any time within the period shown above. There will not be a formal meeting or presentation; instead, City staff and the owner will be available for informal open-house discussions with maps and information regarding the proposal.
If you wish to discuss this application and are unable to attend the meeting, please contact North Liberty Planning Director Dean Wheatley directly to schedule a private meeting at 319-626-5747, dwheatley@northlibertyiowa.org or 3 Quail Creek Court, PO Box 77, North Liberty, Iowa 52317.