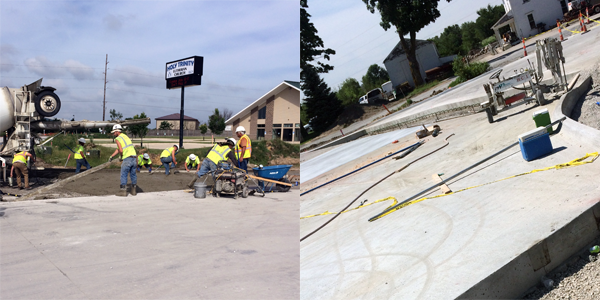 Dry weather helped crews complete several parts of Highway 965 including concrete connecting 240th Street, Scales Bend Road and the south side of Dubuque Street to the highway, as well as the western half of the Penn Street intersection. Above left, a crew pours part of the 240th Street intersection on Thursday, with the completed intersection on the right on Friday. The gap will be a masonry sidewalk. Crews plan to complete masonry crosswalks on the western half of the Penn Street, and at 240th Street and Scales Bend Road next week, weather permitting.
Once these the Penn Street crosswalks are in place, work at the intersection will move to the eastern half. Businesses in the area will continue to have access at Pacha Parkway, from both East Penn Street and Highway 965, and Community Drive, from both West Penn Street and Highway 965. The work will be limited to the Highway intersection. (Details of the detour can be found here.)
Also completed this past week was an asphalt overlay to the northern end of the project (230th Street will see a new asphalt surface at the project's completion), and driveways to Trinty Lutheran Church and Suburban Landscaping.
In addition to the masonry work planned for the coming week, weather permitting, the contractor looks to complete approaches to the Crandic Railway's crossing on Highway 965 as well as have a Crandic crew replace the rails that cross 240th street. The contractor also looks to work on traffic signals at the Scales Bend Road intersection.