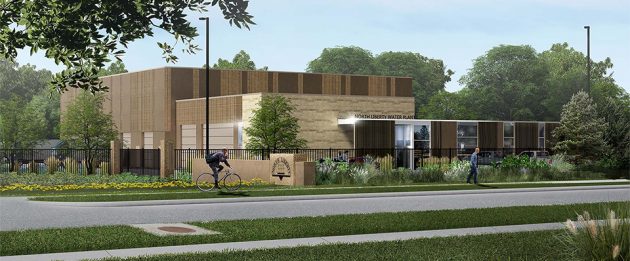 North Liberty is currently upgrading our water supply and treatment facilities to provide improved water quality and reliable service as the community continues to grow, including a new treatment plant at the city's public works campus on Front Street, depicted above.
Also part of the work includes two new wells in Quail Ridge Park north of Zeller Street. While the wells are virtually silent once in operation, drilling them will impact the neighbor. The project includes sound barriers and the requirement that noise levels at the property line not exceed 65 dB (in the range of normal conversation) between 7 p.m. and 7 a.m. and not exceed 75 dB during the day.
The city is hosting an open house with the contractor, Gingerich Well & Pump Service, project engineers, FOX Engineering, and city representatives to provide additional information and answer questions about the project. The open house will be held Wednesday, Nov. 2, from 5:30 to 6:30 p.m. at the North Liberty Community Library, 520 W. Cherry St.
If the public is unable to attend, but has questions or would like additional information, please contact Communications Director Nick Bergus at (319) 626-5756 or nbergus@northlibertyiowa.org.