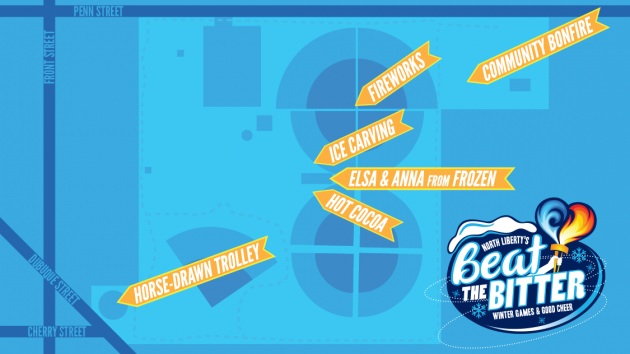 This Friday, Feb. 3, maybe the dead middle of winter, but Beat the Bitter offers good cheer and free family fun in Penn Meadows Park Tundra. Offerings at Fire & Ice Family Friday include fireworks, as well as horse-drawn carriage rides, an ice carving demonstration, a meet and greet with Frozen's Elsa and Anna, a community bonfire and free hot chocolate courtesy of Adam Schechinger State Farm.
The second-annual celebration of winter games and good cheer also includes a Mad Hatter-style outdoor volleyball tournament at J&A Tap on Friday night, winter games including the Indomitable Snow Run 5K-ish obstacle fun run, Freeze Your Bags Off bags tournament and the Nearly Impossible Scavenger Hunt on Saturday, and concludes Sunday morning with the North Liberty Police Department's Freezin' for a Reason polar jump to raise money for start a K9 unit. A full schedule and registration is available online at beatthebitter.com.
Beat the Bitter is organized by the North Liberty Community Betterment Group, a community-building 501(c)(3) that organizes Blues & BBQ, Summer Lunch and Fun, Community Thanksgiving and other community events. Beat the Bitter is sponsored by JCI Johnson County, Scheels, Junge Ford North Liberty, Adam Schechinger State Farm, the Iowa City Area Association of Realtors, Hills Bank and Trust Company, Black Diamond Limousine, Yelp and the City of North Liberty.