This summer, we're modernizing North Liberty's refuse, recycling and curbside compost system, with heavy-duty wheeled carts and new options for residential customers, all rolled in with your current city utility bill and from Johnson County Refuse, our local service provider.
Meet the eligible containers, and get ready to make your choice by May 21, 2018. The new service starts July 1, 2018.
Option A
Nickname "The Default"
Size 65 gallons
Frequency Weekly
Monthly cost $14.65
A big boy who can handle almost anything your family dishes out.
Option B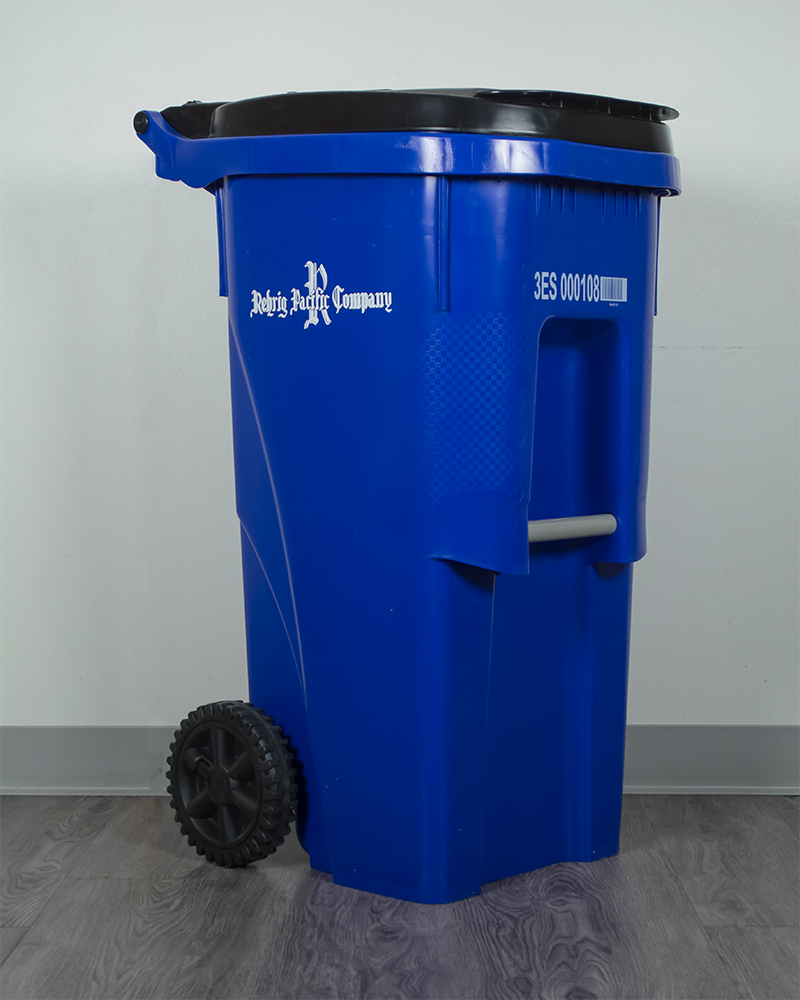 Size 35 gallons
Frequency Weekly
Monthly cost $12.65
There for you every week, this guy is reliable — as long as you don't demand too much space.
Option C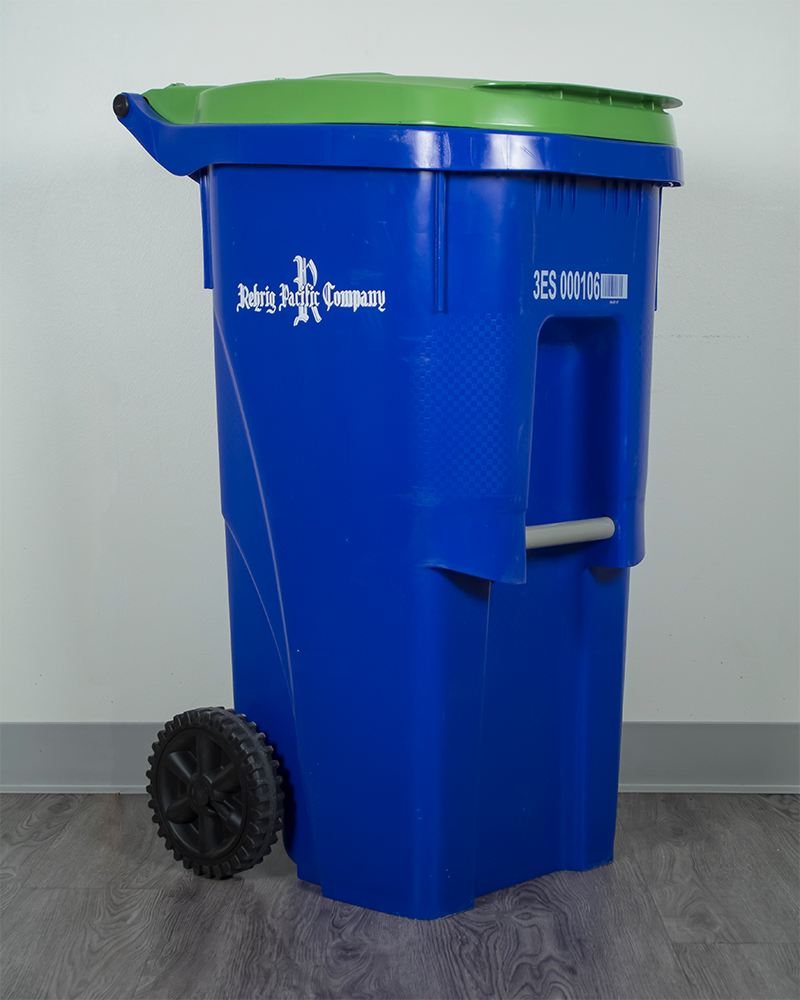 Nickname "Eco"
Size 35 gallons
Frequency Biweekly
Monthly cost $7.65
Friendly on both the environment and your budget, this little guy pairs well with a curbside compost bin.
Frequently Asked Questions
Have a question not answered here? Get in touch with Johnson County Refuse at (319) 665-4498
What's changing?
North Liberty households will select from three collection options to best suit their needs and budget, and will receive free heavy-duty rolling bins allowing for automated collection. Instead of purchasing trash stickers for annual or weekly use, fees will be included on the monthly city utility bill. No more last-minute trash-sticker runs!
Why can't we keep the current system?
In addition to providing convenience and additional recycling capacity to our residents, modernizing the system helps address challenges the service provider, Johnson County Refuse, faces meeting its workforce needs (a sanitation worker in North Liberty lifts, on average, nearly five tons of garbage into a truck over a regular route!). The change will also alleviate the strain annual sticker renewal imposes on city staff and the inconvenience to customers.
Is the curbside compost program changing?
No. The curbside compost program, where a Johnson County Refuse yard waste bag is put inside a provided 35-gallon container, will remain the same. If your household would like to participate, contact City Hall at (319) 626-5700 or email Tracey Mulcahey at tmulcahey@northlibertyiowa.org.
Is the city profiting on this?
No. We pass every dollar of the monthly fee on to the service provider, Johnson County Refuse.
Who will run this new program?
Our current provider, Johnson County Refuse, will continue to provide curbside trash, recycling and compost collection to single-family residential households, including duplexes, and some multifamily buildings.
When will the new system be implemented?
Johnson County Refuse expects to have the program in place on July 1, 2018, with new bins delivered to homes in June.
What are the options?
There are three options for trash collection:
65-gallon trash bin collected weekly for $14.65 per month (this will be the default)
35-gallon trash bin collected weekly for $12.65 per month
35-gallon trash bin collected every other week for $7.65 per month
The standard recycling container will be a 95-gallon bin, collected weekly, the equivalent of five of the current containers. To automate collection, all recycling, including cardboard boxes, needs to fit inside the bin.
All households will receive a 95-gallon recycling in in June and will be able to switch to a 65-gallon recycling bin this fall at the same monthly cost. The monthly fee for recycling and annual cleanup day will remain $5.15 per month.
Residents of multifamily buildings will have different options, depending on their current arrangements, and should contact Johnson County Refuse at (319) 665-4498.
How and when will I make my selection?
Information outlining these options and a selection form will be mailed to each household in May. Households who don't select by May 21, 2018, will receive the default option: a 65-gallon trash bin and a 95-gallon recycling bin.
Can I see these bins in person before making my selection?
Absolutely! Displays at the North Liberty Community Library (520 W. Cherry) will be available starting on April 25.
What if I change my mind on the trash bin size?
Any single-family or duplex household not submitting a choice will receive a 95-gallon recycling container and a 65-gallon trash container. Before Oct. 1, 2018, households can change the size of the trash container once at no charge. After Oct. 1, 2018, switching to a larger trash container will cost $30; switching to a smaller bin will cost $25. Contact City Hall, at (319) 626-5726 to make a change.
How will I receive my new bins?
Johnson County Refuse will deliver containers to your home in June.
What happens to my old trash and recycling bins?
After about a month of the program operating, Johnson County Refuse will publicize a date for collecting old trash cans and recycling bins at the curb. Bins that can be recycled, will. If the household wants to keep their bins for reuse, they are welcome to do so.
What can I do with my unused stickers?
Unused stickers will be void on July 1, 2018, but can be taken to Johnson County Refuse for an exchange or refund.
What if I have more trash than fits in the bin?
If your household has, say, a party and needs to get rid of extra trash, stickers will be available for the bags that don't fit in your rolling bin. These stickers will be $3 each and can be purchased at the normal sticker outlets.
Tag your extra bag, which is limited to 35 gallons and 40 pounds, with a sticker and place the bag on top of your trash bin so when the bin is dumped, the extra bag will go with it. Extra bags not on top of the bin will not be collected.
With recycling, all items need to be placed inside the container, including cardboard boxes, which should be cut down to fit inside the container. Boxes outside of the container will not be collected.
How will the weekly and biweekly bins look different?
Every other week bins will have a green lid designating them for every other week pickup only. If a biweekly trash pickup is missed that week, it will not be able to be picked up for another two weeks. Johnson County Refuse will set the schedule for collection and those dates will be published with the rollout of the new program. Recycling is collected weekly.
What if my bin breaks and I need a replacement?
Contact Johnson County Refuse at (319) 665-4498. The bins have a 10-year warranty for damage. Damaged bins will be replaced at no cost.
Can I store the bins outside or do they need to be in the garage?
The city does not have an ordinance requiring indoor storage of bins. Bins can be stored in the garage or outside. Extra trash should be maintained to not create a nuisance.
How will I be billed?
The cost of trash and recycling will be billed monthly on the city utility bill with recycling, water and sewer.
What day of the week will my trash be picked up?
With the new program, North Liberty will add a second collection day, and your collection will be either Tuesday or Wednesday. When bins are delivered, a flyer will be included regarding the day of the week your pickup is assigned.
Who can I talk to if I have more questions?
Contact Johnson County Refuse at (319) 665-4498.