The Hometown Rewards program isn't the only group promoting energy efficiency and sustainability in North Liberty.  Many North Liberty businesses, organizations and individuals have implemented green initiatives that help to reduce energy costs, protect the environment and improve our community.
Here we'll highlight local groups that have implemented green initiatives and share their ideas and successes with others.  Click on the links below to learn more!
If you have a green initiative to highlight, please contact Maggie Wiederin, Hometown Rewards coordinator, at mwiederin@ci.north-liberty.ia.us or 319-626-5768.
North Central Junior High
Wayne & Karen Johnson, Main Street Studio
JM Swank
NORTH CENTRAL JUNIOR HIGH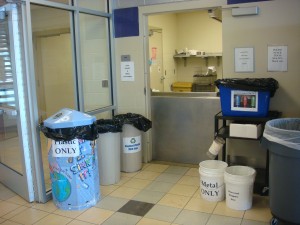 Since North Central Junior High opened its doors in North Liberty in 2006, teachers and students have been on a mission to recycle.  North Central's recycling efforts were initiated by 8th grade science teacher, Pat Witinok who spearheaded the project on her own for two years.   As the project grew, help came from (Hometown Rewards committee member!) Cecilia Roudabush's 7th grade Personal Development Health classes, 8th grade homerooms, 8th grade science classes and volunteers from study hall periods and afterschool sports teams. 
Currently, North Central recycles:
Plastic items such as milk bottles, soda bottles, yogurt cartons, fruit cups and cottage cheese containers are recycled or redeemed
Pop cans and metal are recycled or redeemed
Cardboard and chipboard is collected and recycled
Paper is collected and reused if it is blank on one side and recycled once it is finished
Even foil and plastic wrappers and bags – such as chip bags, granola bar wrappers, candy bags, juice boxes and yogurt pouches – are collected and sent to a company called TerraCycle who upcycles or recycles the bags into various products
Mrs. Roudabush's 7th grade classes rotate turns taking 6-10 minutes of class time to collect recyclables from the cafeteria and teacher's lounge.  The students sort out the redeemable items, sort the various TerraCycle wrappers and bags, rinse out the plastic containers that contained dairy items and take all the recyclables out to the loading dock for pick-up.  They collect statistics on their recycling efforts and time themselves to see how quickly they can complete the recycling process – the current record stands at 5 minutes and 15 seconds!
Additional help for this task is provided by kids who volunteer their time during study hall periods.  If the health class students aren't able to collect and sort all of the recyclables, other groups, such as the 8th grade science classes and afterschool sports teams, have been known to jump in and help out the efforts.
In addition, co-mingled recycling bins are in each classroom to collect recyclable items throughout the week.  Every Friday, the 8th grade homeroom classes collect and sort the items from those bins.
The result – an estimated 80-90% recycling rate of plastic milk bottles, two 50-gallon containers of paper recycled weekly, up to seven garbage cans of collected plastic and metal recycled weekly and a large dumpster that is nearly empty on collection day!
WAYNE & KAREN JOHNSON, MAIN STREET STUDIO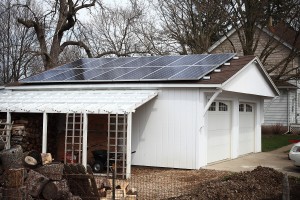 Wayne and Karen Johnson operate Main Street Studio, an architectural and commercial photography studio, out of their century old home in North Liberty.  Once a creamery in the 1800's, their home was rebuilt sometime before 1910 into a boarding house for weary travelers on the Iowa City Railroad.
The house – ahead of its time even a century ago – was the first residence in North Liberty to have hot running water and its own acetylene gas plant in the basement for gas lighting.
In keeping with that tradition, Wayne and Karen have installed water collection tanks in a shed on their property to collect up to 1,100 gallons of rainwater off of their garage. The downspouts around the house have been reconfigured to a central drain line to be collected in a pond in the backyard. This collected storm water will be used for gardening purposes and prevents it from being deposited into our local waterways.
In addition, they have recently installed the first residential solar application in North Liberty.  A 4.2 kw grid-tie solar system on their garage will provide power for their home. Wayne and Karen took advantage of rebates from Alliant Energy and tax incentives to make this project affordable for them.
JM SWANK
JM Swank, ConAgra Foods' national food ingredients distribution business, headquartered in North Liberty, has made it their mission to educate and engage their employees in sustainable practices. ConAgra Foods is dedicated to making the food people love in an environmentally responsible way, and their sustainability objectives address the environmental issues that are most material to the business: climate change, water resources, waste management, packaging and sourcing.
JM Swank has developed a culture of sustainability, through a dedicated team of employee volunteers, who have made it their mission to find ways to make a difference in their environment.
In 2012, JM Swank upgraded its fleet to continue to provide exceptional service to customers. Each of its 55 trucks is equipped with environmentally friendly features, such as tires with advanced air inflation systems that reduce rolling resistance in order to increase fuel efficiency and tire life. The new vehicles also use battery-powered auxiliary systems and catalytic reduction engine systems to reduce nitrous oxide emissions and improve fuel economy. Updated aerodynamic fairings —the large, sleek-looking structures attached to the tops of truck cabs — are reducing drag and contributing to better gas mileage. Overall, it's estimated that this project will save 140,354 gallons of diesel fuel every fiscal year, keeping the equivalent of 1,400 metric tonnes of greenhouse gases out of the atmosphere annually.
Additionally, JM Swank has made a difference in the following ways:
Installed new lighting, motion sensors and UV blocking films on windows
Implemented an employee recycling program
Installed hand dryers instead of paper towels in all restrooms
Finding ways to meet their goal of diverting 95% of their waste from landfills