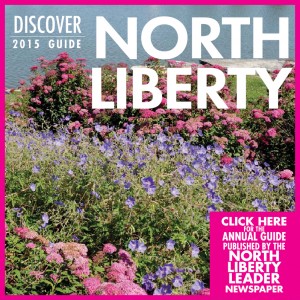 Welcome
You have moved into town and made your first visit to City Hall. Here is some information to get you started in your new home. Remember, you can call City Hall with questions at 319-626-5700.
Trash and Recycling
These services are contracted through Johnson County Refuse. Trash, recycling and yard waste pickup is every Wednesday, starting at 7 a.m.
For details on our trash, recycling, yard waste and curbside compost programs, visit our detailed information page.
Pet Regulations
All cats and dogs in North Liberty must be licensed with the City as soon as they reach four months of age. If you adopt a pet, it should be licensed immediately.
Stop by City Hall (3 Quail Creek Circle) and fill out a short form to license your pet. If spayed or neutered, the fee is $2 per pet per year; otherwise the fee is $25 per pet per year. You will be issued a license tag, which will be used to identify your pet and make sure it is safely returned to you if it is ever lost. Tags are valid for the issuance calendar year. You can also mail a printed version of the PDF form (click here) with the necessary fees. City Hall will send your license.
All pets six months or older must also be vaccinated against rabies. Your vet will provide you with a tag at the time of immunization. For your pet's safety, it should always be wearing both the rabies and license tags.
Pets at large
Any pet found at large, and any pet considered to be a public nuisance, may be seized and impounded. Owners may retrieve their pet only after the impound, boarding, delinquent license fees and fine for municipal infraction are paid in full.
Pick up after your pet
It is unlawful to let your dog or cat use public property, or private property other than your own, as a toilet! You must pick up after your pet, for health and safety reasons. Pet waste bags are provided in our public parks for your convenience.
Neighborhood Rules
There are City ordinances in place that govern many aspects of residing in North Liberty. Below are just a few health, safety or nuisance violations to avoid so you can stay out of trouble with your neighbors as well as the City.
Lawn Care
It is unlawful to allow grass or weeds in your yard to grow above 6 inches. Please keep your lawn tidy and let the City or your neighbors know if there are circumstances that may hinder your ability to do so.
Snow Removal
Residents have 48 hours from the end of a snowfall to completely clear their sidewalks of snow and ice. It is also helpful to remove snow from around your mailbox and any fire hydrants on your street. Be aware that a two-inch snowfall automatically triggers a Snow Emergency, when it's illegal to park on City streets.
Remodeling
Many home improvement projects require a permit from the City for construction. From installing a fence to finishing your basement – please let our building department staff help ensure that your project meets safety standards.
City Government
The City of North Liberty is governed by a mayor and council of five members. The council is served by a full-time city administrator to operate daily business. The council chambers are located at 1 Quail Creek Circle, just two doors down from City Hall. You can contact our elected officials directly using the information below.
City Council meetings are held the second and fourth Tuesdays at 6:30 p.m.
Council meetings are live and replayed on NLTV, which is Mediacom channel 5 and SouthSlope channel 268. Minutes, agendas & video are on this website.
The current City Council and mayor, their contact information, and their terms, can be found on the City Council's page.
Boards and Commissions
One great way to volunteer to serve your community is to apply to serve on a public board or commission.Appointments are made by City Council. The majority of meetings are videotaped and televised on our local access channel, NLTV, with archived meeting DVDs available in the North Liberty Community Library.
Community Center
The North Liberty Community Center, located at 520 W. Cherry Street, is a highlight of the community. The building houses the recreation department, library, NLTV and indoor and outdoor pools; meeting the recreation and leisure needs of many of our residents. Computers to access the internet and free Wi-Fi are available at the North Liberty Community Library.
Utilities
Water and wastewater (sewer) services are provided by the City of North Liberty. Call City Hall at 319-626-5700 with questions. In order to avoid the $160 refundable deposit, the City will take an 18-month good payment history statement from a previous water company and sign up you up for automatic payments. This letter must be brought in to City Hall when signing up for service. Online bill pay is available. For more information visit http://northlibertyiowa.org/city-services/online-bill-pay/
Electric Companies:
Linn County R.E.C.
1-800-332-5420
http://www.linncountyrec.com/
Alliant Energy
24-Hour Customer Service: 1-800-255-4268
http://www.alliantenergy.com/index.htm
Natural Gas:
Mid-American Energy
24-Hour Residential Customer Service 1-888-427-5632
Business and Customer Service 1-800-329-6261
Report a gas leak 1-800-595-5325
http://www.midamericanenergy.com/
Water:
City of North Liberty
319-626-5700 – you can pay with credit card over the phone
You can also sign up for automatic withdrawal
Sewer:
City of North Liberty
Wastewater Dept. website
319-626-5700
Telephone:
South Slope Cooperative Communications Company
P.O. Box 19
980 North Front Street
North Liberty, IA 52317
Business Office
319-626-2211
24 Hr Outage Reporting Service
319-626-2211
24 Hr Locate Underground Facilities "One Call"
Toll Free 1-800-292-8989
http://www.southslope.com/
Cable Television:
Mediacom Communications Corp.
546 Southgate Avenue
Iowa City, Iowa
1-800-332-0245
1-800-379-7412 (business)
mediacomcable.com
South Slope Cooperative Communications Company
P.O. Box 19
980 North Front Street
North Liberty, IA 52317
Call 319-665-VIEW for South Slope Video Plus TV information
http://www.southslope.com/
Data / Internet Access:
Mediacom
South Slope Communications