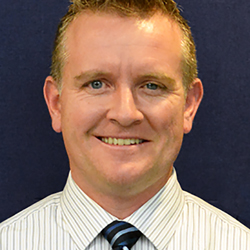 Chris Hoffman
City Councilor, Mayor Pro Tempore
365 Fox Run
(319) 321-4902
chris.hoffman@northlibertyiowa.org
Hometown: Onslow, Iowa
What brought you to North Liberty? I am an Iowa native (Onslow, Iowa, in Jones County). I moved away from Iowa after college and met my wife in Washington, DC, where she grew up. I lived a mile from the Pentagon on 9/11/01 and the following year endured the DC Sniper attack. Shortly after that, my wife (fiancé at the time) and I decided raising a family would be much more enjoyable (and safer!) in Iowa. I worked in Cedar Rapids and she was on faculty at the University of Iowa. North Liberty, then, was a great choice – geographically. Little did we know we had found a growing and vibrant community we would call home.
What's your favorite thing about North Liberty? The people. With such a growing population (the city has welcomed nearly 1,000 people per year since we moved here in 2002), so many of our residents are "from" somewhere else. I recently met someone who grew up in Iowa and whose wife grew up 45 minutes from where my wife grew up!
What are your goals for serving the city? My goals are more philosophical than black and white. As a city councilor, my goals are to help our city staff and residents meet their respective needs with an open mind and intentional collaboration.
Hobbies: I love being active in my children's lives. I volunteer in their classrooms and coach their recreational t-ball, softball and basketball teams. When there's time, I also like to sneak in a round of golf.
Best piece of advice: Listen twice as long as you talk and trust that people are working from the best of intentions.
Something about me that would surprise people: I once threw for over 300 yards in a junior varsity high school football game…in the rain!
One word to describe me: Patient.