Highway 965: Weather has delayed the contractor's ability to paint lanes on the road. Once the lines are down, the road will re-open for winter. Construction will re-start in the spring.
Looking for answers?
Submit a question
Keep up to date on these projects by
signing up for
,
liking us on
and
following us on
. The City of Coralville has started reconstruction of Highway 965/Coral Ridge Avenue from Oakdale Boulevard to Holiday Road; details are available at
www.coralville.org/coralridgeave
.
Highway 965, Phase 2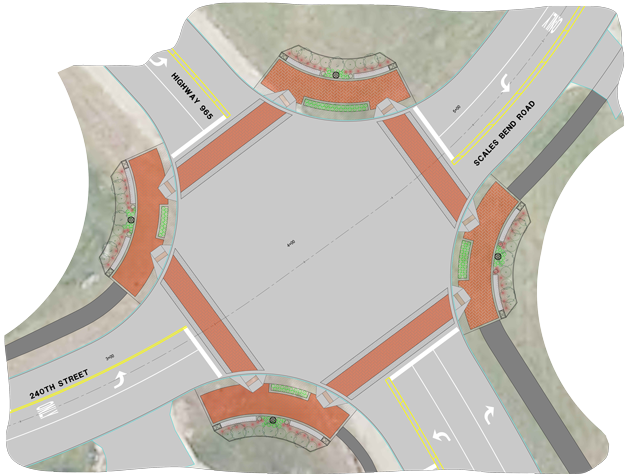 Project description: A four-stage reconstruction of Highway 965 from the Penn Street intersection to Pheasant Lane to remove the highway's bank, add turn lanes and traffic signals at Scales Bend Road (seen to the right), improvements to the intersection with Dubuque Street, the addition of trails and sidewalks, as well as landscaping and street light improvements. The first two stages are shown above; stages 3 and 4 are scheduled for 2015.
Start date: Stage 1 is scheduled to last through at least into October 2014. A piece of Stage 2 is scheduled to begin in after. Work will continue through the late fall. The final two stages are scheduled for spring 2015.
Detour and access: Stage 1 will includes the full shutdown of Highway 965 from the north side of the Penn Street intersection through the south access to Advance Millwork (the highway will be closed to through traffic through Scales Bend Road). The first piece of Stage 2 will keep the same detour routes as Stage 1.  The remainder of Stage 2 will includes the closure of Highway 965 from Dubuque Street north to just south of Pheasant Lane. There will not be any detours through winter.
Questions? Need more information?
Submit a question via the form at left and we'll get you answers.
Q: Will there be traffic controls at North Dubuque and Penn streets during construction? HWY 965
A: We've looked at the options, and there isn't a good one. During peak times, traffic already stacks from Front Street to Pacha Parkway. Stopping traffic at North Dubuque Street will push traffic into the Highway 965 intersection. The location of the railroad tracks, since we'd need to take steps to avoid having traffic stopped on them, and the need to accommodate turning trucks, since we'd need to push stopped traffic further from the intersection,  make the use of temporary lights impractical as well. The best option is for traffic to use the detour to Alexander Way whenever possible.
Q: Is it necessary to close Highway 965 completely? HWY 965
A: Some traffic would need to have been detoured during the project, but by closing Highway 965, instead of allowing some traffic on part of the road during work, will save an estimated $400,000 in throwaway costs such as temporary pavement and equipment staging. It also allows contractors to work more safely and faster, and will save an estimated 11 weeks of construction time. So while the full closure will cause some short-term inconvenience, we believe the trade off is for the better.
Q: Will there be traffic lights at Alexander Way and Penn Street for the detour? HWY 965
A: We understand that is a heavily traveled stretch of Penn Street and the detoured traffic will be add more cars. There will be signals at the intersection for the duration of the detours to help cars turning from Alexander Way onto Penn Street.