This page offers overviews of major public projects, with additional details available by clicking a project's name. Keep up to date on these projects by signing up for email, liking us on Facebook and following us on Twitter.
Ask a question | Eastside Utilities | Highway 965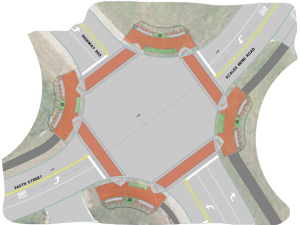 Project description: A four-stage reconstruction of Highway 965 from the Penn Street intersection to Pheasant Lane to remove the highway's bank, add turn lanes and traffic signals at Scales Bend Road (seen to the right), improvements to the intersection with Dubuque Street, the addition of trails and sidewalks, as well as landscaping and street light improvements. The first two stages are shown above; stages 3 and 4 are scheduled for 2015.
Start date: Stage 1 was completed in the fall of 2014, as was some of Stage 2. The balance of Stage 2, including the reconstruction of the intersections of Scales Bend Road and Dubuque Street, started in May 2015, with the stage 3 expected to begin after Memorial Day 2015, followed by stage 4.
Detour and access: Stage 2 work will close the Dubuque Street and Scales Bend Road intersections starting May 1, 2015. Pheasant Lane and 230th Street will serve as the detour route. Stages 3 and 4 will close the Highway 965 intersection with Penn Street to through traffic starting May 25.
The City of Coralville has started reconstruction of Highway 965/Coral Ridge Avenue from Oakdale Boulevard to Holiday Road; details are available at www.coralville.org/coralridgeave.
Learn more about this project.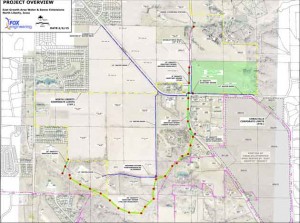 Project description: The utilities project involves the installation of a trunk sanitary sewer and water mains to serve land annexed into North Liberty near Dubuque Street and North Liberty Road, including new Liberty High School. The project will cost an estimated $5.2 million dollars.
Planning to bring municipal sewer and water to the east of North Liberty began in 2013, when the Iowa City Community School District announced its plan to open its third comprehensive high school, Liberty High School, near Dubuque Street and North Liberty Road. The school is scheduled to open for the 2017 school year.
The contract was awarded to Langman Contracting on Monday, Feb. 23, 2015. The project is expected to be completed by June 1, 2016.
Learn more about this project.
Questions? Need more information?
Submit a question via the form below, and we'll get you answers.