This page offers overviews of major public projects, with additional details available by clicking a project's name. Keep up to date on these projects by signing up for email, liking us on Facebook and following us on Twitter. If you're looking for our notices of invitations to bid or requests for proposals, you can find them here.
Ask a question | Water system | Updates | RFPs & Bids
Drinking Water Improvements
A series of projects to upgrade and expand of our municipal drinking water system. North Liberty's population now uses nearly 1.5 million gallons of drinking water every day. This project includes building a new water treatment plant, ground storage and additional wells.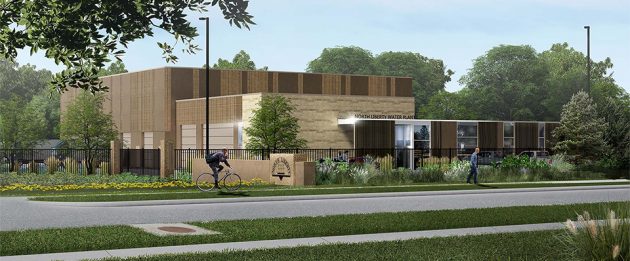 Water Treatment Plant: A new plant, replacing the current facility build in the mid-1970s, at the city public works campus along Front Street. This project will increase the volume of water our system can treat as well as make improvements to our treatment process.
Timing: Work will begin in fall 2016. Final completion is scheduled for August 2018.
Cost: The project was awarded to Portzen Construction for $13,449,000.
Questions? Need more information?
Submit a question via the form below, and we'll get you answers.