Register until July 18 in person or online: Ages 6 to 8 Ages 9 to 11 Ages 12 to 14


Tri-Fit Agape and the North Liberty Aquatic Center again host North Liberty's annual youth triathlon, Just Tri! The event is scheduled for July 30, 2017. Kids of all ages and fitness levels are encouraged to swim, bike and run. Participant recognition will be handed out upon completion.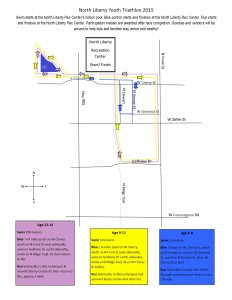 Registration
Participants may register at the North Liberty Community Center or online (ages 12 to 14, ages 9 to 11, and ages 6 to 8). Participants should register in age group the child will be in day of the event.
Parent's Meeting Wednesday, July 26 at 6:30PM at the North Liberty Community Center
Packet Pick-up Saturday, July 29 from 1 to 3 p.m.
Race Day Sunday, July 30
7:00 a.m.: Participant Check-in –T-shirt and race number needs to be worn on bike/ run route, safety pins will be provided. Kids need to check in before entering transition
7:45 a.m.: Participants need to report to clerk-of-course on pool deck
7:55 a.m.: National anthem
8:00 a.m.: Start of race. Heats will be sent to complete the swimming portion
8:00 a.m. 12-14 age group,
8:15 a.m. (approx.) 9-11 age group
8:40 a.m. (approx.) 6-8 age group
End of race: kids can enjoy snacks and talk with vendors about various kid friendly activities to stay active.
11:00 a.m.: Conclusion of vendor events
What to Expect
Swim: There will be lifeguards on deck to help swimmers if need be. Child needs to be able to complete the distance for their age group. Goggles are not required but recommended; kids need to swim in proper swim attire (swim suit), and wear age group swim cap that will be given in race bag.
Bike: Kids will walk their bike to BIKE OUT sign, they can then mount their bikes and start their route. Volunteers will be on route to help each child make the appropriate turns and keep vehicles off the closed roads. Upon return to the parking lot kids will ride their bikes to a sign that says BIKE IN, dismount their bikes, and walk it back to transition. Bike and helmets are required.
Run: Kids will run out of transition to a sign that says RUN OUT to start their route. Volunteers will be on route to encourage the kids and help make the appropriate turns/ laps. Upon return to the parking lot kids will run until they cross the finish line. There will be a water station for the older two age groups on the bridge of the North Liberty Centre. Tennis/ Running shoes are required (no flip flops).
Finish: There will be a large finish line in the south parking lot, upon crossing each child will receive their participation medal.
Transition: Each child will have a place to put their bike and any other equipment needed for the race. There will be two people in transition throughout the race to help the kids. No parents or other spectators will be allowed in the roped off sections of the route/transition area.
Parent/Family Observation: Parents can observe the swim on the observation deck. They will need to exit the pool through the front Community Center doors' as the deck will be blocked off for the participants and to avoid confusion. The Bike and Run portions can be observed along the streets/ sidewalks (please make sure to stay off the roads and sidewalks so the kids have ample room). Parents are not allowed in transition, run/bike sections that will be roped off.
Times: The purpose of this event is merely to get kids out and active, times will not be recorded.