Police report for January 2018
Posted on: February 9, 2018
Traffic Contacts: 360
Parking Contacts: 51
Vehicle Inspections: 29
Vehicle Unlocks: 27
Crash Investigations: 28
Public Assists: 397
Assist Other Agency: 83
Crimes Against Persons Report: 9
Crimes Against Property Report: 25
Other Reports: 30
Arrests: 26
Warrants: 3
Alcohol/Narcotics Charges: 17
Crimes Against Persons Charges: 5
Crimes Against Property Charges: 3
Other Charges: 11
Animal Calls: 25
Total Calls for Service: 1,987
*Total Calls for Service for the year: 1,987
Training:
All officers completed the annual Multi-Agency Training Sessions (MATS). Topics covered included updates from the County Attorney's Office, tactical medical training, officer involved shooting investigations, and scenario based decision making. Training is offered two days a week over five weeks in January and each officer must attend 2 days. (288 hours)
Officers attended Dive team and Canine training (24 hours)
An officer, while on duty, attended Ice Rescue training presented by the NLFD. (2 hours)
Public Relations: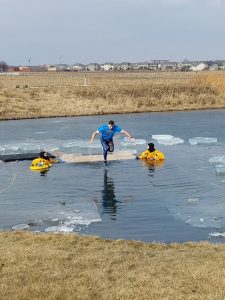 Officer Tygart conducted a presentation at the library on personal safety and work place recommendations on dealing with difficult or suspicious patrons. This was recorded and can be found on the city's website.
Officers worked at several of the Beat the Bitter events.
Liberty High School donated several candy grams as a thank you for our service.
Officer Tygart read with children at the schools.
Sergeant Olson and Officer Jennings organized the "Freezin' for a Reason-Feed the Beast" polar jump event to kick off Beat the Bitter. We had a quick introduction and demo with our canine Falco and handler Officer Campbell. We raised $3080 in donations and had 30 plungers. A big thank you to the NLFD for assisting and to the Johnson County EMA for providing the heated trailer.
Equipment:
A new Video Server from L3 was installed. This was an upgraded system that we received partial funds from the federal government.
Received the final equipment needed for the patrol officers to join the Johnson County SERT team. They will start training with them next month.
Enforcement:
Officers responded to a bomb threat at Whirlpool. The large warehouse was cleared with staff and with the assistance of the University of Iowa Bomb detection canines. Investigations continue to follow leads on identifying the responsible individual.
Assisted an outside agency in apprehending a robbery suspect.
Department Admin:
Sent our performance measures to all staff for 2017 year-end completion of goals and evaluations and 2018 planning.
A union meeting was requested by their Business Manager on two outstanding grievances filed by members. These were handled following the union contract language and past practices.
Continue with follow-up for new officer candidate selection process. A conditional offer was made to one candidate based on passing the background investigation, psychological test, and physical and drug screen. The next ILEA Academy will start April 30th.
Employee evaluations completed for all line officers. Supervisors will be completed next month.
Several employees not able to work because of the influenza virus for themselves and family members.
We received a request to have uniform officers work the Winter Formal Dance at Liberty High. This is an off-duty overtime assignment and the overtime rate is paid for by their committee.
Started the 2017 annual report.