Public Art Project Brings Awareness to Water Quality
Posted on: July 23, 2018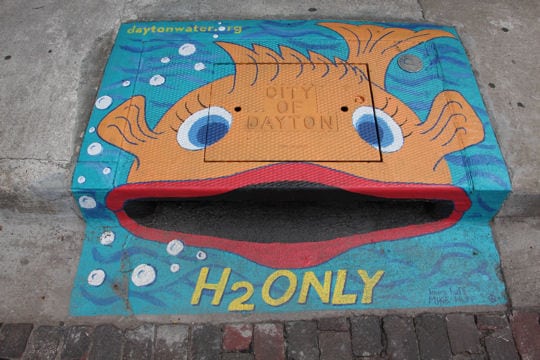 In an effort to educate the public on the role storm drains play in Iowa's water quality, students will paint murals on three storm drains at Liberty Centre Pond along Cherry Street this week.
A committee formed for the pilot year of a storm drain art program this past spring when the city's Tree and Storm Water Advisory Board expressed interest in duplicating similar projects implemented in other communities. Designs were collected from students of Penn Elementary and Liberty High School and selected by the committee in May.
Four young residents of North Liberty will create the murals under the supervision of local artist and Penn Elementary art teacher Heidi Goeken. Aiden Gillespie (seventh grade), Cooper Davenport (seventh grade), Haley Grahlman (11th grade), and Madeline Snow (seventh grade) have plans to paint a fish and a river landscape on two storm drains and a water vortex on the top of the pond's outflow box.
Storm drains are the mouths to rivers and lakes, and when pollutants enter the storm drains, the can easily be carried into waterbodies. The committee hopes that the art and the sayings that accompany the murals such as "Flows to Muddy Creek" and "This drain is for rain" will convey the role we all play in maintaining our water quality.
The project is funded by the city's storm water public education budget and a matching donation from MidWestOne Bank.