Winter is Coming, but We'll Beat the Bitter
Posted on: November 7, 2018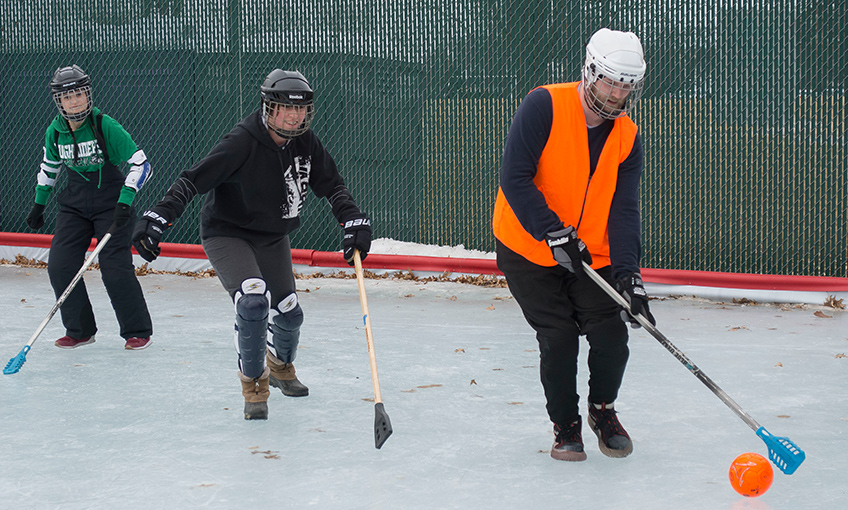 Forget hibernating and embrace winter with the passion of Norsemen.
North Liberty's Beat the Bitter is set to return with a week full of activities to get you out of the house. Join us Jan. 27 through Feb. 2, 2019, for outdoor winter games and good cheer on the bleakest days of the year. Event details are live at beatthebitter.com now and registration for activities opens on Nov. 19.
The festival offers more than 30 individual events, including special affiliated events hosted by North Liberty businesses, for a week full of winter cheer for everyone. Highlights include a new free and family-friendly kickoff event in Centennial Park, the addition of a ticketed winter concert in Penn Meadows Park and the return of a full slate of winter games, outdoor ice skating, a winter fireworks display, and the third annual Snuggie Crawl.
The week-long festival kicks off on Sunday, Jan. 27, with a new free event. The Wintry Warm UP presented by Collins Community Credit Union is an afternoon of unexpected family fun at Centennial Park. Details of this new winter tradition will be announced in December.
As always, some of the Beat the Bitter fun is reserved just for adults. On Friday night, Feb. 1, the Igloo Jam presented by UICCU will rock the park for a winter concert experience like no other. Pop ROCKS, a Minnesota-based cover band will play the hottest top 40 hits, throwback hip-hop, pop country and timeless classics for 300 ticket holders of this new party inside a heated tent. On Saturday evening, Feb. 2, a sea of sleeved blankets will overtake North Liberty nightlife for the third annual Snuggie Crawl presented by JCI Johnson County. Registration includes an embroidered Beat the Bitter Snuggie, a party bus to take crawlers to participating North Liberty bars and restaurants, as well as access to specials and activities at each establishment. Tickets to the Igloo Jam and the Snuggie Crawl are limited to those 21 years and older, and are expected to sell out quickly. Tickets go on sale on Nov. 19 at noon.
On Feb. 1, Fire & Ice Friday presented by GEICO returns with free family fun in Penn Meadows Park. Horse-drawn carriage rides, ice carving, a community bonfire, fire performances, a learn-to-curl workshop and more will be offered all afternoon, culminating in fireworks at 7 p.m.
Winter Games presented by Scheels gets folks moving on Saturday, Feb. 2, with the annual 5K-ish Obstacle Run and a variety of tournaments, including KICK Winter in the SnowBALL for kickball, Freeze Your Bags Off for cornhole, as well as curling and broomball on the Penn Meadows Ice Rink. Games require registration, which opens Nov. 19. Spectators are encouraged to come out to the park, too, and support players and the North Liberty Lions Club's Burrrrito Breakfast.
The week is filled with affiliated offerings, too, including a skate-in movie showing of The Mighty Ducks on the Penn Meadows Ice Rink, a luau at Reds Alehouse, speakers, ceramics and cookie decorating classes, a daddy-daughter prom, a hearty chili dinner, a fat tire bike ride and other active fun programs. Visit beatthebitter.com for a full listing and details.
Beat the Bitter is organized by the North Liberty Community Betterment Group, a registered 501(c)(3) organization. Special thanks to GEICO, Scheels, Collins Community Credit Union, JCI Johnson County, University of Iowa Community Credit Union, Hills Bank, Think Iowa City, DiVentures, South Slope Cooperative Communications, Junge Ford North Liberty, Big Grove Brewery, Z102.9, BDL Transportation, Unique Events and the City of North Liberty for their generous support.