Landsgard, Moore and Harrington Recognized for Service Making Community Better Place to Live, Work, Visit
Posted on: December 11, 2018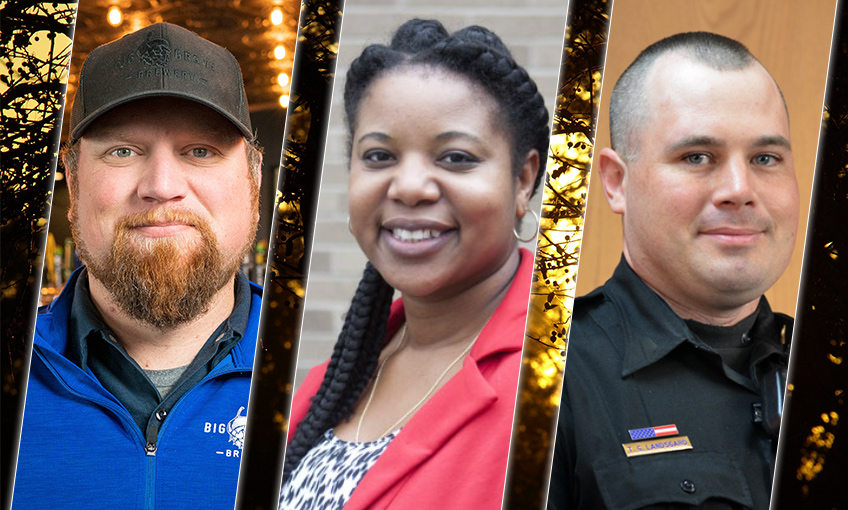 Tyson Landsgard, David Moore and RaQuishia Harrington were recognized with Bravo Awards from Think Iowa City at its annual meeting. The local convention and visitors' bureau annually recognizes individuals for the Bravo Awards to acknowledge people who are making the entire community a better place to live, work and visit.
Landsgard began his law enforcement career in Knoxville. In 2005, he moved to North Liberty and took a position as an officer with our department, becoming a field training officer and then, in 2009, promoted to sergeant and, in 2016, the department's lieutenant. During his free time, Landsgard has earned a degree in criminal justice. Landsgard has been eager to take on additional responsibilities and continues to put the best interest of this department, and others, above his own. He is selfless, honest, and a consistent and caring leader. Because of these traits, he received the Officer of the Year Award for the North Liberty Police Department in 2014. His assistance with public safety and course route guidance were integral in the success of RUN CRANDIC, as well as other community events.
Moore, the director of operations at Big Grove Brewery, is a founder and chair of North Liberty Blues & BBQ.  The festival, which completed its 12th year in 2018, has grown to be the premier summer event in North Liberty and one of the largest events of its kind in Iowa.  Moore leads a group of volunteers with year-round planning to make the July event a unique experience for the area.
"Blues & BBQ simply does not happen without Dave Moore," said Nick Bergus, communications director for the City of North Liberty.
In his spare time, Moore, who serves on the Communications Advisory Commission, spends time with his two boys, playing golf, beer tasting and socializing with friends and neighbors.
Harrington is a program supervisor with the Iowa City Parks and Recreation Department, former member of the North Liberty Parks and Recreation Commission and a champion of the marginalized. She serves on a diverse range of boards and committees, including Iowa Valley Habitat for Humanity, Juvenile Justice Youth Development, Iowa City Area Juneteenth, Neighborhood Centers for Johnson County and the Iowa Children's Museum. She is also a co-founder of G! World, an after-school mentor program for minority girls in 7th through 12th grade which has created awareness campaigns for teen hunger, HPV, human trafficking, and body image. She volunteers with the Sankofa Outreach Connection, a nonprofit that supports women of color. She views these volunteer opportunities as a way to stay informed and be a well-rounded citizen.
"I want to know what's impacting our community, so I seek out ways to educate myself," she said. "I want to use my experience of having been on the outside looking in to help policy makers understand reality and challenge the stereotypes they might have."
Previous winners with North Liberty connections include Katie Colony (2105), Guy Goldsmith (2016) and Nick Bergus (2017).