Police Department Releases 2018 End of Year Report
Posted on: March 4, 2019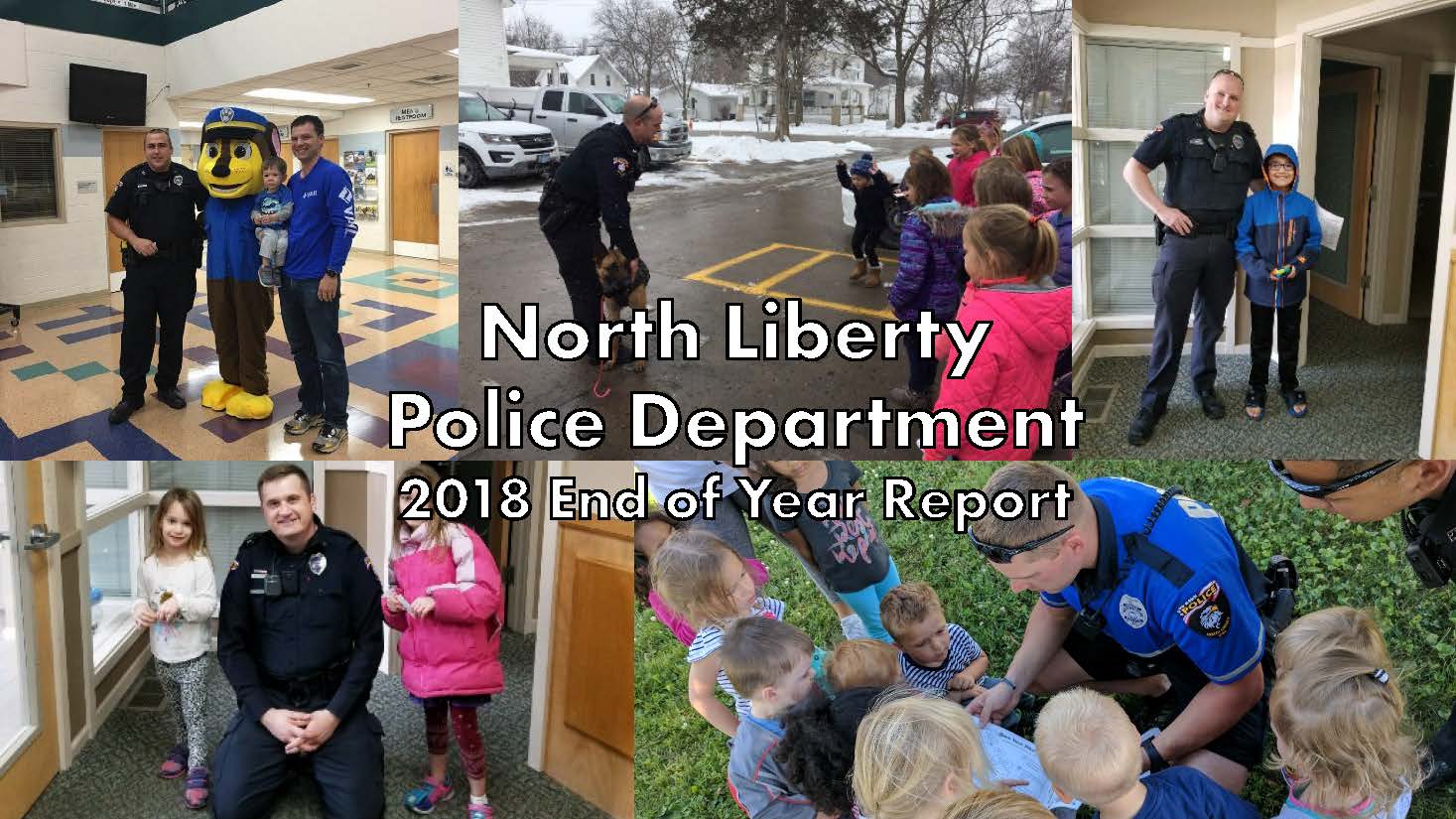 Chief's Message
It is a great pleasure to present the North Liberty Police Department's 2018 Annual Report. Traditionally, monthly updates are provided to the City Council and posted on the City website. This format shares the data that is collected, shows the pride our employees take in keeping North Liberty safe and demonstrates to the public how we continue to try to meet the mission of this department.
We continue to make positive connections with members in our community. As a continued goal of this department, for any community events we are invited to, we make it a point to be there. In North Liberty, it is not a unique sight to see officers visiting our schools or attending the summer lunch program. With each engagement, the officers remain committed to providing quality service and dedication to this profession. We have had positive and great relationships with our parents, teachers and administrators for our school districts and appreciate the on-going partnership and collaboration.
In 2018, we had an exciting year in the planning and design of a new police headquarters. This has been a learning process, but the officers, staff and City leaders clearly see this as a critical investment and need to the community.  This was evident when the project bids came in at $1.4 million over the original estimate.  Several value engineered items were cut, but the council also graciously increased the budget.  This increase allowed for critical components to remain in the project during the construction process.  The project was awarded to Tricon, and we will hopefully be in the building in March of 2020.
We also added two officers to the county-wide honor guard team this year.  The honor guard will have similar uniforms, but each officer will be wearing their department's patches and will be available if called upon to serve.  We added one more officer to our ranks in keeping up with the one additional hire each year.   Finally, we also welcomed home one of our National Guard members from a year-long deployment overseas.
We continue to see a slight rise in our reported crimes against person and property. As the population continues to increase, we will see more calls for service, arrests and charges. This is not only the calls requested by the public, but also the expectations that officers will be productive and active in our community policing initiatives.
We are fortunate to receive ongoing support from the North Liberty City Council, Mayor, administration and citizens in order to effectively provide services to the community.  With the challenges and benefits associated with the continued growth, the City of North Liberty continues to be a safe place to live, work and play.
It continues to be an honor to serve this community, and on behalf of the members of NLPD, thank you for your ongoing support.
View Full Report