Bikes, Sales, Yoga, Movies, Fishing and Fun Kick Off Summer
Posted on: May 28, 2019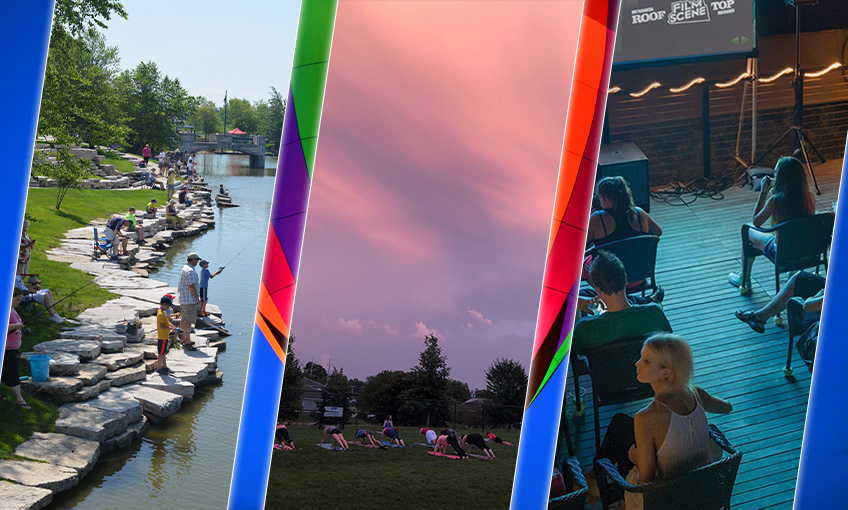 Summer in North Liberty kicks off with a bang and something for everybody. You can hit the outdoor pool or visit the splash pad at Penn Meadows park daily, but what do you do between visits? June 8 is a particularly full day with Take a Kid Outdoors' Free Fishing event, the growing and resident-organized Citywide Garage Sales and an outdoor showing of The Little Mermaid and live music from FilmScene and The Englert.
Bike Rodeo & Slow Roll
June 1, 11 a.m.to 2 p.m., North Liberty Community Center, FREE
Start with a bike-safety obstacle course (as well as bike and helmet safety checks) and then, at noon, we'll host a social and get ready for the 1 p.m. family-friendly Slow Roll, a short 4-mile community bike ride traveling at a leisurely pace. Participants should bring their own bikes and helmets, and children should bring their own adults.
Citywide Garage Sales
June 6, 7, 8, Free
It's "an epic annual shopping event in the big little city of North Liberty," organized by residents who are carrying on a long-standing tradition. If you're holding a sale, submit your details by 6 a.m. on June 5 (and consider a donation to support the event). If you're just looking to shop, snag The List starting at 10 a.m. on June 5 and plan your route.
Outdoor Yoga
June 8 at 8:15 a.m., June 20 at 8 p.m., June 22 at 8:15 p.m., North Liberty Community Center, $5 each
The North Liberty Recreation Department has added a bunch of yoga classes this summer, but for the true summer experience, join us on the pool deck for some outdoor sessions, either on a Saturday morning or under the starry sky.
Free Family Fishing
June 8, 10 a.m. to 12:30 p.m., Liberty Center Pond, FREE
Celebrating Iowa's annual license-free fishing opportunity, Take A Kid Outdoors hosts Free Family Fishing with experts from Scheels and the Iowa Department of Natural Resources, food and prizes. Recreation staff will have poles available and experts can teach you what to keep in your tackle box, how to tie knots, what bait works, even how to bait a hook. Lunch will be served at 11:30 a.m., and TAKO asks you to help reduce waste by bringing a water bottle, plates, silverware and other lunch items.
On the Lawn: The Little Mermaid and Music
June 8, 6:30 to 10 p.m., Ranshaw House, 515 W. Penn St., FREE
Join non-profits FilmScene and The Englert for treats, live music and a screening of The Little Mermaid for its 30th anniversary, and learn about their plans to Build the Greatest Small City for the Arts, how it will benefit everyone in our diverse community, with a focus on our educational goals.
Summer Kickoff Pool Party
June 9, 1 to 4 p.m., North Liberty Community Center, Regular Admission
You can swim outside starting May 31, but on June 9, we take all the regular fun of the outdoor pool in summer and add some more. We'll also be hosting a food truck, games, an inflatable slide and extra fun as we kick off pool season.