Public Meetings, Including City Council Public Hearings, Move Online
Posted on: March 23, 2020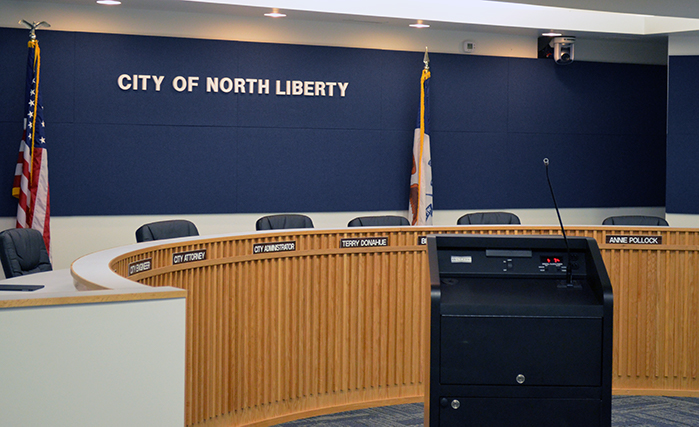 Beginning with its city council meeting scheduled for March 24, North Liberty's public meetings, including city council and planning and zoning commission public hearings, will be held online due to the COVID-19 pandemic. Remote meetings are been explicitly approved by the Iowa Public Information Board when in-person meetings are impossible or impractical. (Some regularly scheduled advisory board or commission meetings are expected to be cancelled.)
Materials for each meeting, including the agenda and information packet, can be found online. The public can watch these meetings live online and offer comments electronically in advance of the meeting and for 72 hours after the public hearing (all comments submitted are public record).
March 24's North Liberty City Council Meeting includes a pair of public hearings, detailed below, to which the public can submit comments at the links below.
Public Hearing: Proposed Amendment to the North Liberty Urban Renewal Area
The agenda includes several action items to move ahead with the Urban Renewal Plan Amendment and economic development agreement with Diamond Dreams Sports Academy. Resolution 2020-29 approves the Urban Renewal Plan Amendment, which will allow the City Council to take action at a later date on an incentive agreement, in an amount not to exceed $320,000, with Diamond Dreams Sports Academy. This amendment will also allow for future funds to be borrowed for various projects including Ranshaw Way, Kansas Avenue, Penn/Front Corridor and Centennial Park.
Ordinance 2020-01 is the mechanism that will allow the City to collect incremental property taxes to rebate to Diamond Dreams Sports Academy as agreed to in the future agreement. And finally, Resolution 2020-30 is setting a date for a public hearing regarding the aforementioned agreement with Diamond Dreams. Subsequent to the public hearing, staff recommends approval of the two resolutions and first (of three) reading of the ordinance.
Submit a comment on this Public Hearing by 6:30 p.m. on Friday, March 27, 2020
Public Hearing: Aquatic Center HVAC Replacement Proposed Plans and Specifications
Earlier this year, the city selected a vendor, Mechanical Sales Inc., to provide the replacement HVAC equipment for the indoor pool. The next step in this project is to
approve the plans and specification for the installation of the equipment and related work. The agenda includes a public hearing as well as a resolution approving the plans and specifications of which staff recommends approval. The engineer's estimate for this project is $465,000 to be paid with general fund reserves. The anticipated completion date is August 31, 2020.
Submit a comment on this Public Hearing by 6:30 p.m. on Friday, March 27, 2020