Public Comment Requested on 175 South Jones Blvd. Proposed Rezoning
Posted on: March 31, 2020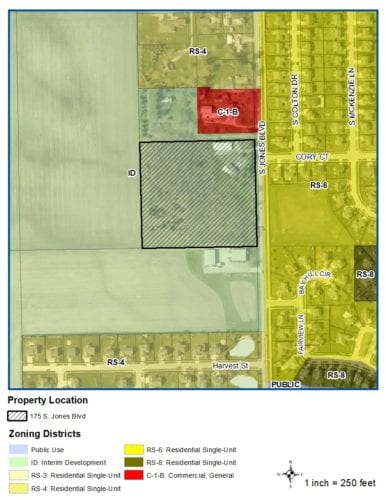 On April 7, 2020, at 6:30 p.m., the the City of North Liberty Planning & Zoning Commission will consider a zoning map amendment, or rezoning, for the property located at 175 South Jones Boulevard. The developer, Harvest Estates, LLC, has indicated that the proposed development would be a senior living cooperative with 30 detached single-family homes.
The formal request is as follows:
Request of Harvest Estates, LLC for a zoning map amendment on 8.51 acres, more or less, from ID – Interim Development District to RS-4 PAD Single-Unit Residence District Planned Area Development on Lot 6 Country Pines Subdivision, which is located at 175 South Jones Boulevard.
Due to the need to practice social distancing during the COVID-19 pandemic, the Planning & Zoning Commission meeting will be held virtually online via Zoom, and visible to the public on the City's website and Facebook page. Commissioners and staff will log into the meeting in order to conduct business while the public will be able to watch the debate and decisions being made.
Since there will not be an opportunity for the public to speak at the meeting, staff is seeking input from the community through various social media and internet platforms. Any input or questions received will be considered by the Planning & Zoning Commission at the virtual meeting. Please provide any input directly to to Planning Director Ryan Rusnak by mail at City of North Liberty, PO Box 77, North Liberty, IA, 52317; by phone at (319) 626-5747; or email at [email protected].