Resources from Hear Me! See Me!
Posted on: June 5, 2020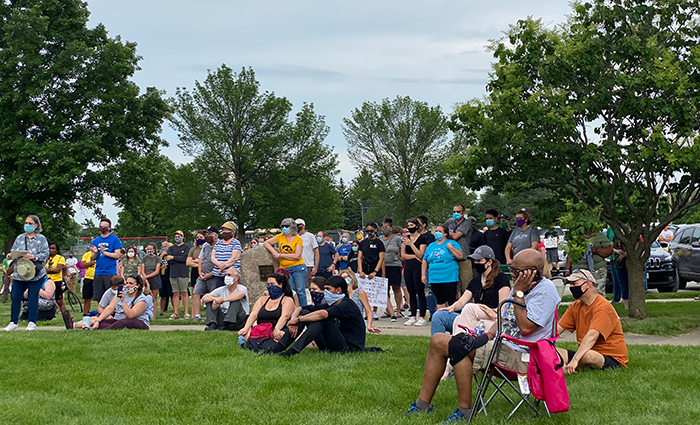 Thursday night, hundreds of people gathered in Penn Meadows Park for an event, Hear Me! See Me!, organized by Councilor RaQuishia Harrington and members of the community. The event brought North Liberty together to begin conversations about racial justice and equity.
Speakers, including Councilor Harrington, Mayor Terry Donhue, Police Chief Diane Venenga, Liberty High School Assistant Kimberly Fitten, invited conversation and expressed their frustration and grief over the killing of George Floyd, Breonna Taylor, Ahmaud Arbery and other Black people in America. Black community members, including Quincy Jagnow, Joshua Booth, Eric Wright, Mikey Gweningale- Ogoli, Terrance Murphy Sr. of Journey Above Poverty, and Mark Lowe shared insight into their lived experience in Johnson County.
Following a powerful 8 minute and 46 seconds of kneeling, while Councilor Harrington read George Floyd's final words, she challenged her community to consider what change they could make.
And Laura Gray, who serves as director of diversity and cultural responsiveness for the Iowa City Community School District, offered resources for allyship to combat inequity at a place to start. (She's also offering a free webinar as an additional resource.)
Update: in partnership with the North Liberty Library, we've curated a list of additional, local social justice resources.