City Hall Campus Reopens, Some Swimming Begins June 15
Posted on: June 10, 2020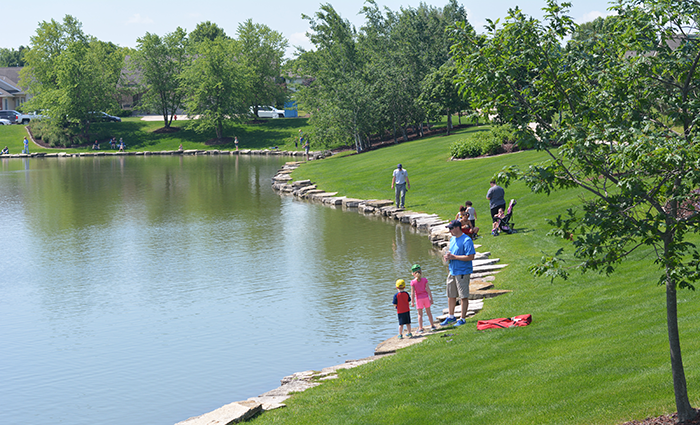 In response to the COVID-19 pandemic, we closed city facilities to the public, and put in place measures to limit potential spread among our staff and community. While the SARS-CoV-2, the novel coronavirus that causes COVID-19, continues to be transmitted in our community, we've implemented controls and have begun to offer more public access and will continue to expand that access in the coming days and weeks.
We're asking the public to continue to be vigilant to help protect each other and our staff by washing their hands, keeping physical distance, wearing face masks or face shields in public and staying home when possible. Many city services are available contactlessly, online or by phone. Information on openings, contactless offerings and more are available at northlibertyiowa.org/coronavirus.
City Hall's vestibule has been accessible throughout our response to the pandemic, and the front lobby will offer access to the public beginning June 15 for essential needs. The Building Department's lobby will open to the public starting June 15. The Legal Department is open by calling (319) 626-5766 to make an appointment.
The Community Center is currently hosting our summer camp for school-age children and closed to additional members of the public. This is an essential program to help our community's working families. The building will be closed to the general public to allow us to spread kids and caregivers out throughout the facility. We plan to offer more facility access beginning July 6.
The Recreation Department will continue to offer Stay Home, Stay Safe classes online, thanks to its instructors, through June. On June 15, the indoor pool will open to members 17 and older for lap swimming by appointment. Reservations can be made online starting June 11 at northliberty.recdesk.com for one-hour time slots between 7 a.m. and 6 p.m. Unfortunately, due factors including the unavailable of many of our seasonal lifeguards as well as concerns of crowding, the outdoor pool will not open for summer 2020. Swimming lessons will return in September.
The North Liberty Library will continue to offer digital, remote and contactless services, including the Summer Reading Program, until further notice, and will be closed to public access until at least July 6.
Ballfields opened for practices starting June 8, and North Liberty/Coralville Baseball and Softball will start its youth program on June 15. Concessions will remain closed. Tournaments will not be held at least through July 31.
Playgrounds have reopened, but are not sanitized, and the public should use them with caution at their own risk, wear face coverings and keep distance. The splash pad will remain closed for the summer.
We will continue to approach our response as a dial, not a switch, as we make decisions based on federal, state and local guidance for what will keep our community healthy and safe. When you visit our public indoor facilities, we ask that be asymptomatic, practice good hand hygiene, wear a mask or face shield, and limit your interactions to your most essential ones.