PlaceMates Returns for Virtual Dinners with Neighbors on Sept. 28
Posted on: September 3, 2020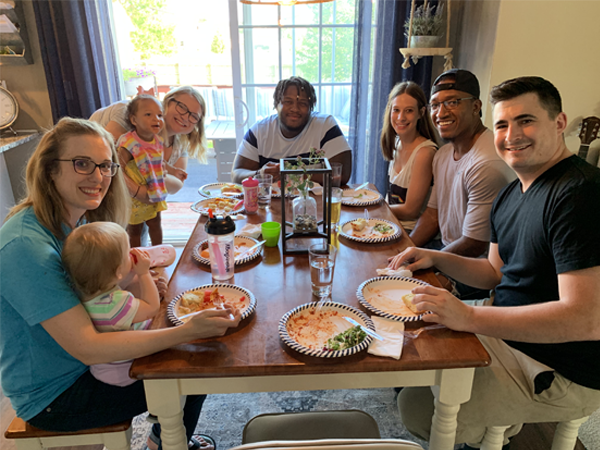 PlaceMates introduces residents of 52317 to fellow North Libertarians. While PlaceMates was first designed to be potluck dinners held concurrently in homes throughout the city (the program matched over 100 households across 22 potlucks in 2019), it has pivoted to a virtual alternative to comply with social distancing amidst the COVID-19 pandemic.
That said, now is a time that we need to connect as a community more than ever.
We need to gather around the (virtual) table and laugh, swap stories and learn from our neighbors. Because knowing more people in your community makes it easier to ask for or offer help, understand someone else's perspective, raise a concern in a productive way, or lean on one another when a pandemic throws a curveball. This was the case for the Jamisons, who participated in a 2019 PlaceMates event. Kobli says that the family unenrolled their son from daycare when the pandemic began. But: "When we were comfortable starting up again, the center did not have any spots open and we were left without a childcare option. Luckily, we had met a woman through PlaceMates months earlier who was able to welcome our son into her at-home daycare."
Participating in the Sept. 28 virtual PlaceMates event is simple. Register your household through Zoom, and, when it's time for the event, grab your dinner (takeout, homemade or even just a bowl of cereal will do), gather your household around a computer, tablet or phone — in this case, it's OK to have technology at the dinner table — and look forward to meeting other North Liberty residents. The virtual event will begin with all participants on one Zoom meeting for a brief welcome before being automatically redirected to smaller Zoom groups broken up by the life stage indicated during registration. Pre-registration is encouraged.
Empty nesters, renters, immigrants, newlyweds, same-sex parents, and people of all colors and backgrounds are welcome. We all make up North Liberty. Let's meet each other.