Free Drive-in Movies to Spook Up Your Halloween Week
Posted on: October 12, 2020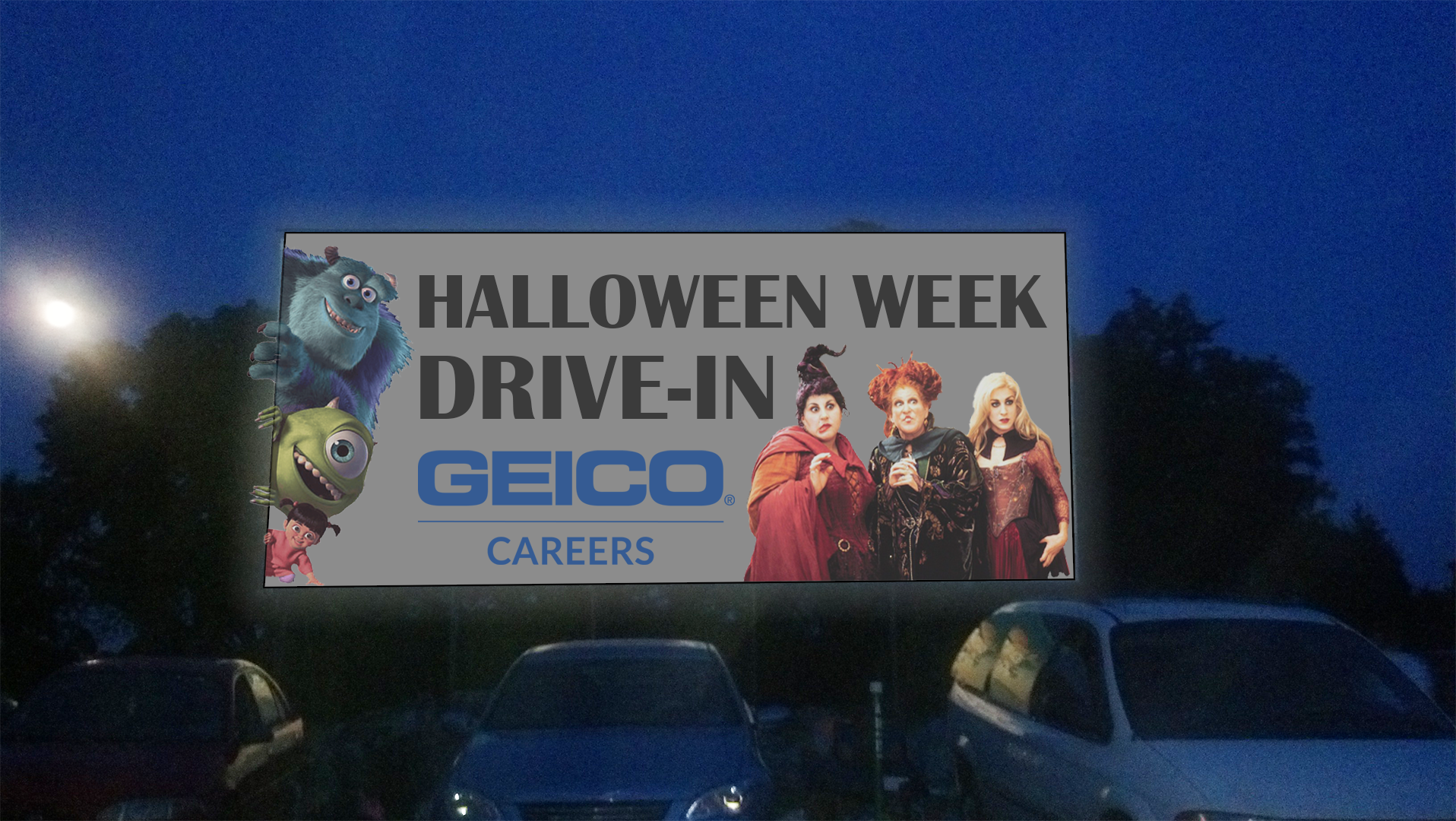 Thanks to GEICO Careers, enjoy a Halloween-themed movie from your car at the Colony Pumpkin Patch–for free!
What's Playing
Wednesday, Oct. 28: Monsters, Inc.
Thursday, Oct. 29: Hocus Pocus
Showtime is at 7 p.m. each night at the Colony Pumpkin Patch, located at 2780 Front St. The grass lot will open beginning at 6:30 p.m. Audio will be broadcasted on an FM station to car radios.
No concessions will be available, but you are welcome to bring your own food and drink. Alcoholic beverages are prohibited.
Regular Colony Pumpkin Patch activities will not be open during the drive-in movies.
How to Reserve a Spot
Registration will open at 12 p.m. on Wednesday, Oct. 14.
Although free, registration is required for this event to control capacity and maintain social distancing between vehicles. Attendees arriving on foot will not be permitted. All ticket holders must arrive in a vehicle.
Reserve a parking spot through Eventbrite by claiming a ticket for the date/movie you plan to attend. You only need to reserve a spot for your vehicle, not for each attendee in the vehicle. The number of attendees within a vehicle should not exceed the number of seatbelts.
Parking spots will not be pre-assigned. Cars will be directed by staff to park in the order they arrive.
All vehicles parked at the pumpkin patch when the patch closes at 6 p.m. will be asked to leave the lot until it opens again for the movie at 6:30 p.m.
Keeping Our Community Healthy
This is a COVID-conscious event. To help all of our attendees feel comfortable, the following procedures will be in place:
Each showing is limited to 100 vehicles. Upon arrival, attendees will need to present their ticket (print out or phone).
Vehicles will park in front of markers on grass, to provide 10 feet of distance between vehicles.
No concessions will be available, but you are welcome to bring your own food.
Additionally, attendees are expected to adhere to the following rules or may be asked to leave:
Wear a mask if you choose to watch the movie outside of your vehicle, while walking to and using the portable toilets, and when interacting with event staff, volunteers, or attendees outside of your household.
Maintain at least six feet of social distance between parties, if outside vehicle.
More About the Films
Monsters, Inc.
From Disney's Pixar Animation Studios. There's a reason why there are monsters in children's closets—it's their job. Monsters, Inc. is the most successful scream-processing factory in the monster world, and there is no better Scarer than James P. Sullivan. But when "Sulley" accidentally lets a little human girl into Monstropolis, life turns upside down for him and his buddy Mike. Rated G. Read more.
Hocus Pocus
In this 1993 Halloween classic, three 17th-century witches, hanged for their murderous crimes, are resurrected on Halloween in modern-day Salem by an unsuspecting boy, who must now figure out how to get them back in the ground. Rated PG. Read more.