Make It Mondays: Turkey Pudding Cups
Posted on: November 16, 2020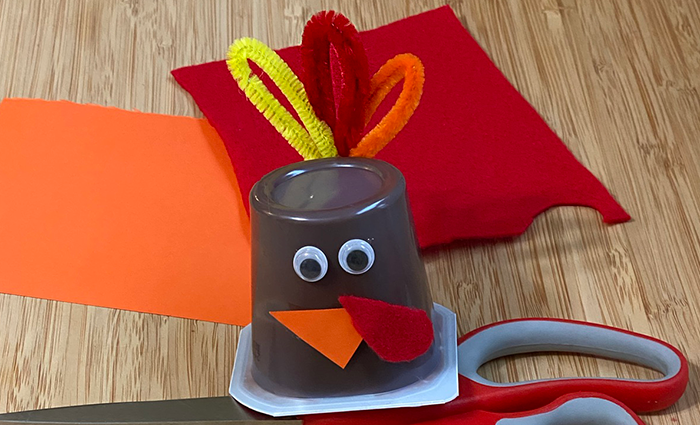 The North Liberty Recreation Department's Make It Monday craft for Nov. 16 is a turkey pudding cup for your stay-at-home Thanksgiving. Included in this week's kit are all the materials you need to make the craft (you should provide glue and scissors), coloring sheets and activity ideas.
Each week, Make It Monday offers a free to-go activity for kids. To participate in the program, simply stop by the North Liberty Community Center, 520 W. Cherry Street, and pick up an activity kit while supplies last. Kits are free.
Print-Your-Own Coloring Sheets
Download and print Make It Monday coloring sheets for week 1.
How to Make a Turkey Pudding Cup
Materials
Glue
Scissors
Red Cloth
Googly Eyes
Pudding cup
Orange construction paper
Pipe cleaners of 3 different colors
Steps
Take the orange construction paper and cut a triangle out of it. Then, grab your red cloth and cut out something similar to the gizzard in the picture.
Take your pipe cleaners and bend them into long and thin ovals (see picture for more clarification)
Now grab your glue and get to gluing all of your stuff on!