Grow Solar Group Purchasing Project Launches in Linn and Johnson Counties
Posted on: April 1, 2021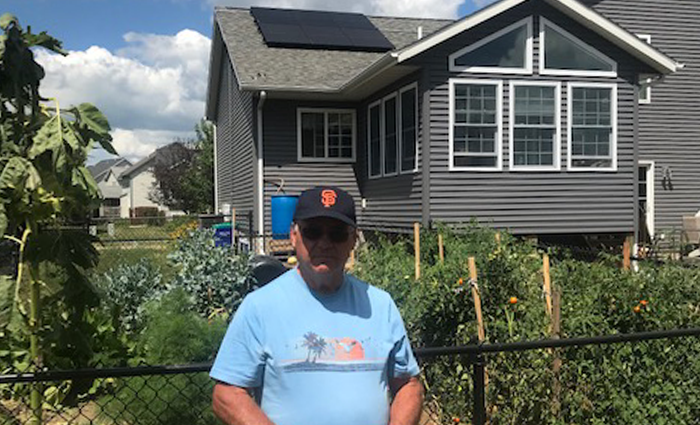 Along with sunnier days, a limited-time program kicks off in April to give people access to solar education and competitive prices for residential, business and farm solar installations through volume purchasing. Building on past successes, Linn County and Johnson County are combining efforts with several partners to offer Grow Solar Linn + Johnson Counties to residents throughout both areas.
Prior, separate programs in the counties helped a combined 413 households add affordable solar to their homes or properties, with participants saving 9 to 15 percent off purchase price thanks to the group buys. In total, the programs resulted in nearly 2.8 megawatts of clean solar capacity valued at about $6.7 million.
Area homeowners, farmers and business owners can attend online, free one-hour solar Power Hours to learn about solar and the volume purchasing, and sign up for free quotes and site assessments. The Midwest Renewable Energy Association is again providing program assistance, with the launch taking place at 6:30 p.m., on April 13, 2021. People can register for the kick-off or other Power Hours as well as program alerts at linnjohnson.growsolar.org. Program information will also be posted on Facebook.
While the kick-off event will be in spoken English, this year's program will include recorded Solar Power Hours featuring American Sign Language and closed captioning, and plans are in the works for versions in other languages.
"We're really excited to join efforts so that people throughout Linn County and Johnson County can learn how solar works and have the opportunity to purchase affordable, clean energy," said Amy Drahos, senior air quality scientist with Linn County Public Health.
In addition to the two counties, primary partners for the program include the City of Cedar Rapids, City of Iowa City, Green Iowa AmeriCorps–Cedar Rapids/Matthew 25, Green Iowa AmeriCorps–Iowa City, Johnson Clean Energy District, Johnson County Conservation, Linn Clean Energy District, Linn County Public Health and The Nature Conservancy in Iowa. The installer for the program will be Eagle Point Solar.
The Linn + Johnson Grow Solar program will have more emphasis on energy efficiency than in years past. Program partners Green Iowa AmeriCorps and Johnson Clean Energy District will provide energy efficiency information and, to eligible households, at-home energy efficiency kits. In addition, home energy assessments may be able to be scheduled for the fall, when it is safe to do so.
"With our program partners, we'll be able to help people connect with resources for reducing their energy use as well. That's as important as considering renewables," said Becky Soglin, sustainability coordinator with Johnson County Planning, Development and Sustainability.
Group purchase programs provide residents and businesses with the opportunity to invest in high-quality, renewable energy solar installations and realize savings, while also helping reach sustainability goals. Estimated first-year savings on utility bills have ranged from $690 to more than $1,000, depending on the size of the array.
"Because so many people are working from home now, lowering electricity bills is more important than ever," said Peter Murphy, solar program director with the Midwest Renewable Energy Association. "There's a huge demand for information about solar, and we're demonstrating that solar and energy efficiency can help lots of people lower their bills and improve their quality of life."
Murphy said that the solar installations added through the earlier group buys in Linn and Johnson counties offset the equivalent of 5,168,213 pounds of carbon dioxide in a single year. That's the equivalent of carbon sequestered by over 3,000 acres of forest.
Grow Solar Linn + Johnson Counties is administered by the Midwest Renewable Energy Association (MREA) at no cost to the counties or other program partners.