Online Farmers Market Pick-up Site Coming to North Liberty for June, July and August
Posted on: May 27, 2021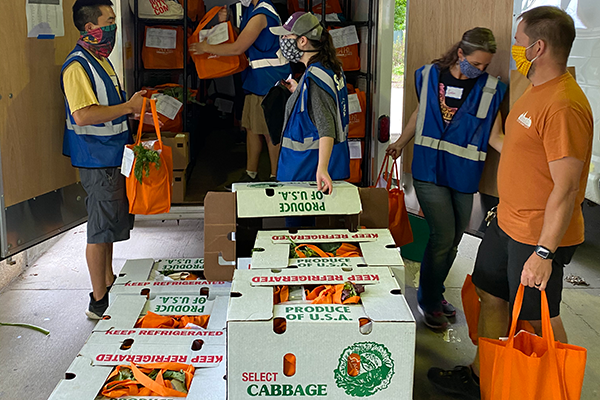 Community members will be able to order local food and farm products for contact-free pickup in North Liberty from June through August 2021.
The North Liberty Community Center will become a satellite pick-up location for nonprofit Field to Family's contact-free "Online Farmers Market," based out of Iowa City. The City of North Liberty has partnered with the organization to offer this new opportunity.
"We're excited to help connect our community with local foods through this partnership," said Matt Meseck, North Liberty's recreation supervisor. "We're also excited to be part of the path between local producers and local families by offering another program here at the Community Center."
The first North Liberty pick-up event will occur Saturday, June 5, from 2 to 2:30 p.m. in the north parking lot at the Community Center, 520 W. Cherry St. The organizers are seeking volunteers to help out.
Customers shop at orders.fieldtofamily.org from noon Tuesday through noon Wednesday each week, with first shopping cart opening June 1. Registered customers will receive weekly reminder emails. North Liberty pick-up customers should choose the "North Liberty 2-2:30 p.m." location when placing their orders.
In addition to operating the virtual markets, Field to Family provides food system education and procures wholesale local food for institutional customers. The nonprofit is offering the North Liberty satellite location, as well as a new home delivery option via CHOMP Delivery, in an effort to further expand access to local foods in the greater Johnson County area.
More information about shopping, volunteering and becoming a vendor, as well as a list of all participating vendors, is available at fieldtofamily.org/online-farmers-market.
Iowa City-based nonprofit Field to Family works to create a more local, healthy and sustainable regional food system in eastern Iowa. Community support, in particular from the City of Iowa City and Johnson County Board of Supervisors, helps make Field to Family's work possible.
North Liberty is connected to what matters. The city is a thriving, young community; a family-friendly small town but with easy access to big-city amenities in the heart of the Iowa City-Cedar Rapids region, where people work, play and grow, and home to neighbors you know and people you love.