City Council, Advisory Boards and Commission Return to In-Person Meetings in July
Posted on: July 1, 2021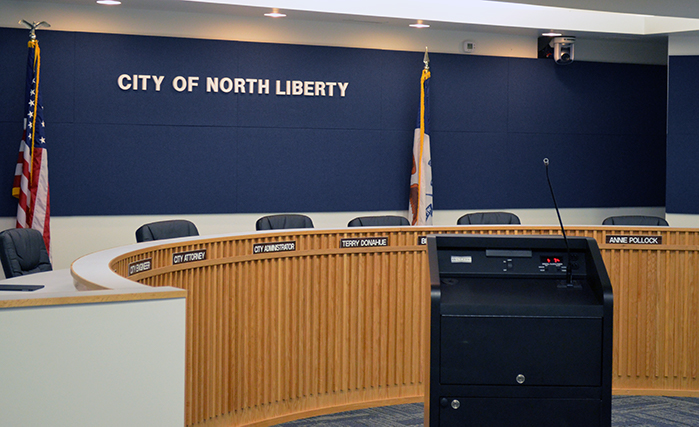 After more than a year of meeting and conducting the city's business primarily over video calls, the North Liberty's Mayor and City Council will return to Council Chambers, 1 Quail Creek Circle, for the July 13, 2021, meeting. Advisory Boards and Commission will also return to in-person meetings, beginning at the start of the month. The City of North Liberty is maintaining a "masked until you're vaxxed" policy for its public buildings, including the Council Chambers.
Meetings are also accessible live on the internet at northlibertyiowa.org/live, on Facebook at facebook.com/northliberty or on YouTube at youtube.com/northliberty. Meetings are rebroadcast on cable and available on-demand on northlibertyiowa.org.
Each meeting is accessible to the public in-person, with the opportunity to comment. Written comment is accepted through the City Clerk. You can find contact information for elected officials and appointed commissioners online.
Agendas are posted at City Hall, 3 Quail Creek Circle, at least 24 hours in advance as required by law, with agendas and information packets posted online (minutes and video are added as they become available afterwards) to expand access. The public can sign up to receive notices agenda by email.