Summer Readers Raise $1,695 for Local Nonprofits
Posted on: August 18, 2021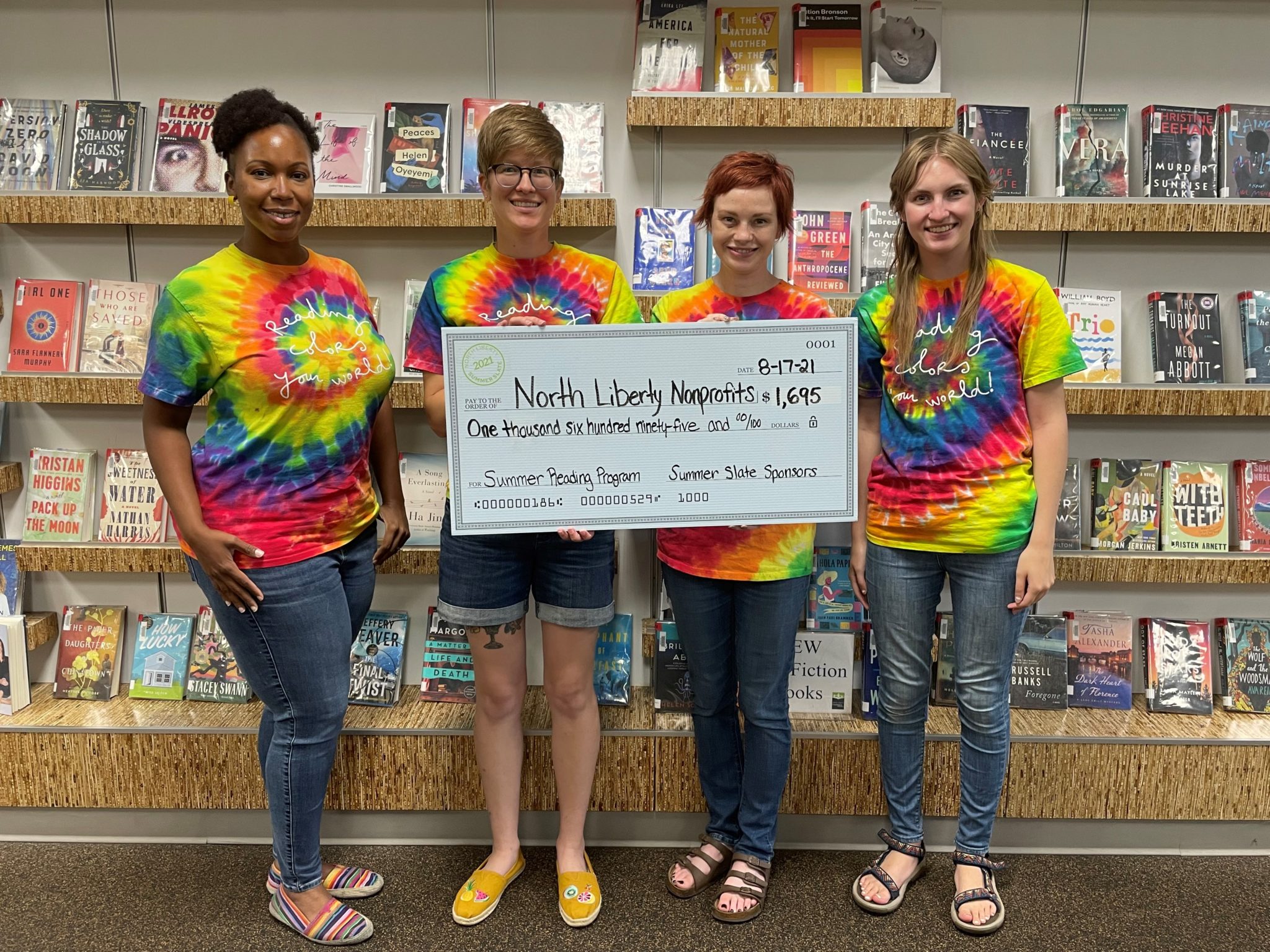 This summer, reading paid off for four North Liberty nonprofit organizations thanks to readers of all ages and the support of North Liberty's Summer Slate sponsors.
Veridian Credit Union, South Slope, Shive-Hattery, Hills Bank, GreenState Credit Union, Eastern Iowa Airport – CID, and the City of North Liberty pledged to donate $5 to a local nonprofit for each person who completed the North Liberty Library's Summer Reading Program.
Summer Reading Program participants logged their reading minutes and other qualifying activities into the program's digital app, reaching a minimum of 1400 points between June 14 and July 31, to earn $5 for Journey Above Poverty, the North Liberty Community Pantry, the North Liberty Community Fund or Red Fern Dog Park.
Readers raised a total of $1,695, with the donation split between the four organizations based on the readers' choice.
$355 for Journey Above Poverty
$855 for North Liberty Community Pantry
$155 for North Liberty Community Fund
$330 for Red Fern Dog Park
Special thanks to these readers for completing the challenge: Abigail Rothfuss • Abram Black • Aiden Ellerie • Alex Hazel • Alexis Jedlicka • Alisa Shields • Amber Ellerie • Amber Skoglund • Amy Golly • Amy Wickliff • Andrea DeLarm • Andrew DuBay • Anika Super • Annika Bates • Asher Bonner • Ashlyn Brubaker • Bev Amoroso • Blair Beck • Brandi Hazel • Brandon Kuehl • Brian Nicola • Bryce Franks • Burhan Khan • Cade Roy • Cate Koeppen • Catey Recker • Cecil Bates • Chelsea Vedepo • Cherie Nicola • Clara Frank • Cora Gatlin • Corrie Brase • Danielle Grandinetti • David Bagan • Ella Cronk • Ella Mykleby • Ellie Moore • Elodie Rae Vazquez • Elsie Jean Beck • Emily Cronk • Emily Rothfuss • Emma Landolt • Erin Keeney • Ethan Kallemeyn • Fiatala Robert Salamo • Fiatala Salamo • Finn Fountain • Gavin Hankins • Genevieve Pothour • Hannah Southmayd • Harrisen Pothour • Hayden Mykleby • Hazel Harrison • Hazel Kalina • Holly Hankins • Hunter Bagan • Isaac Dahlke • Isabel Brothers • Isaiah Ellerie • Isaiah Mitchell • Jacob Eisenhammer • James Castro • Jamie Bagan • Janet Warren • Jason Murphy • Jean Post • Jeff Smith • Jennifer Brockway • Jennifer Smith • Jessica Beck • Jessica Fick • Jill Castro • Jodi Ellerie • Joel Smith • Joshua Eisenhammer • Julian Diaz • Kaeson Trana • Kamden Trana • Katherine Kuehl • Kayla Hodgson • Kendall Kalina • Kendyl Trana • Kensey Fountain • Keygan Trana • Krishna Pagedar • Kristen Eisenhammer • Kynzie Trana • Landon Southmayd • Lasya Nicola • Lauren Kallemeyn • Leah Franks • Levi Kallemeyn • Lia Pagedar • Liam Cooling • Lilly Smith • Lily Landolt • Liz Smith • Logan DeLarm • Lucie Benest • Luqmaan Khan • Lydia Super • Maddie Mitchell • Madelyn Lane • Mahana Bashir • Marvin Nicola • Maya Wolf • McKenzie Vedepo • Megan Bildner • Melanie Harrison • Melissa Jedlicka • Miles Riggins • Millie Short • Nash Harrison • Nathan Wolf • Nicole Kallemeyn • Nicole Mooney • Nirvan Kandel • Owen Bildner • Owen Brockway • Owen Terpstra • Pam Brase • Prisha Kandel • Rachel Salamo • Rachel Super • Rayhan Khan • Rebecca Rothfuss • Rishee Maran • Roberta Healy • Ruby Frank • Ryan Wu • Sally Rose Benest • Sarah Mitchell • Scott Clemons • Seth Roy • Shanthi Nicola • Sullivan Ballard • Sullivan O'Brien • Sydney Mooney • Taylor Smith • Theresa Dunkin • Tony Cronk • Vincent Ni • Virginia Burnell • Winston Wickliff • Zach Ryckman • Zenab Bashir