Ashley Bermel, Graham Beckman, Graham Thompson and Good Neighbors Recognized for Community Contributions
Posted on: September 28, 2021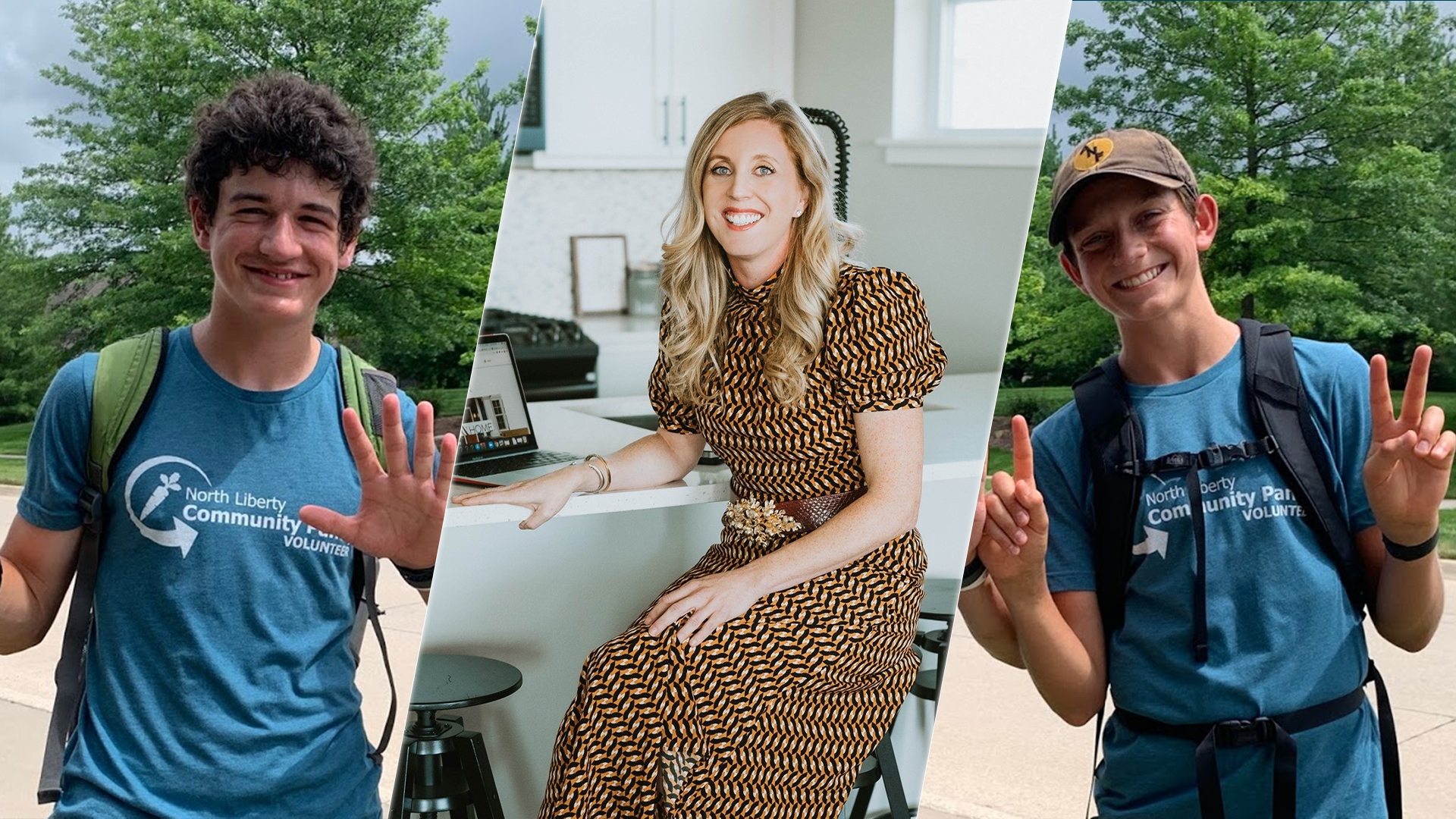 These good neighbors and community contributors are being recognized on Good Neighbor Day with induction into North Liberty's Community Hall of Fame and, for the first time, its Good Neighbor Honor Roll. The inductees and honorees will be recognized by Mayor Terry Donahue at the City Council's meeting on Tuesday, Sept. 28, 2021.
Ashley Bermel
Ashley is being inducted into the Community Hall of Fame as the epitome of a neighborhood leader, volunteer and connector. Her service includes leadership of local service organizations, helping newcomers meet their neighbors and acclimate to their new home, and selflessly offering help to community members in need. Her work organizing events such as Porchfest and building online groups in the midst of a pandemic make her a critical community connector.
Graham Beckman & Graham Thompson
Graham and Graham pledged to walk a full marathon with a goal of raising $1,000 for the North Liberty Community Pantry. The pair completed the 26.2 miles in about seven hours and raised more than $2,000. This year, the sophomore and junior pledged to walk another marathon, but aimed higher, raising more than $5,200 for the pantry.
Good Neighbor Honor Roll
Thad Abrams for delivering his "killer" old fashioneds and margaritas to neighbors with a smile at just the right times.
Eva Anderson for organizing a block party, sharing information and working hard to connect her neighbors.
Abdouramane Bila for serving his community as a volunteer neighborhood ambassador, language ambassador and school board member.
Cindy Blackley for helping residents at the North Liberty Living Center by running errands during the pandemic.
Miguel Colon for being generous with his time by helping neighbors with landscaping and moving, and generous with his treasure by loaning tools and trucks.
Candi Evans for empowering and connecting her Golfview neighbors and helping their voices be heard.
Barbara Janes for driving residents at Keystone to doctors, stores and other necessary trips.
Harper Klein for hosting, since she was 4 years old, a lemonade stand and donating the sales to charity.
Laci & Nate Lower for work cleaning up the homes and yards of strangers following the derecho.
Diane McGraw for making and donating 1000s of facemasks throughout the pandemic and making them available for free outside her home.
Bobbi Newman for making and donating 1000s of facemasks throughout the pandemic.
Julie Roskam for making and donating 1000s of facemasks throughout the pandemic.
Dean & Linda Westergaard for creating the Olive Branch Library, a little free library, in their neighborhood.
Since 2013, North Liberty has considered members of our community who have provided extraordinary public service and dedication to the city and its citizens for induction into the Community Hall of Fame, as selected by the mayor. Past inductees are Gordon Doak, who has rebuilt and given away more than 400 bicycles to people in need; Russ Gerdin, a philanthropist and founder of Heartland Express; Dave Hubler, a volunteer firefighter with 25 years of service, dedication and sacrifice; Mary K. Mitchell, whose service spanned more than 40 year; Tom Salm, who led North Liberty forward with vision, consensus and selflessness as mayor; and Natlie Wilkerson, who helped to found the North Liberty Community Pantry.
Nominations being accepted for 2022
Do you want to give a shout out to a community member who has gone above and beyond? Nominations for the Good Neighbor Honor Roll will be accepted year-round and published annually on Good Neighbor Day, Sept. 28.