Beat the Bitter Announces 2022 Schedule of Events
Posted on: December 1, 2021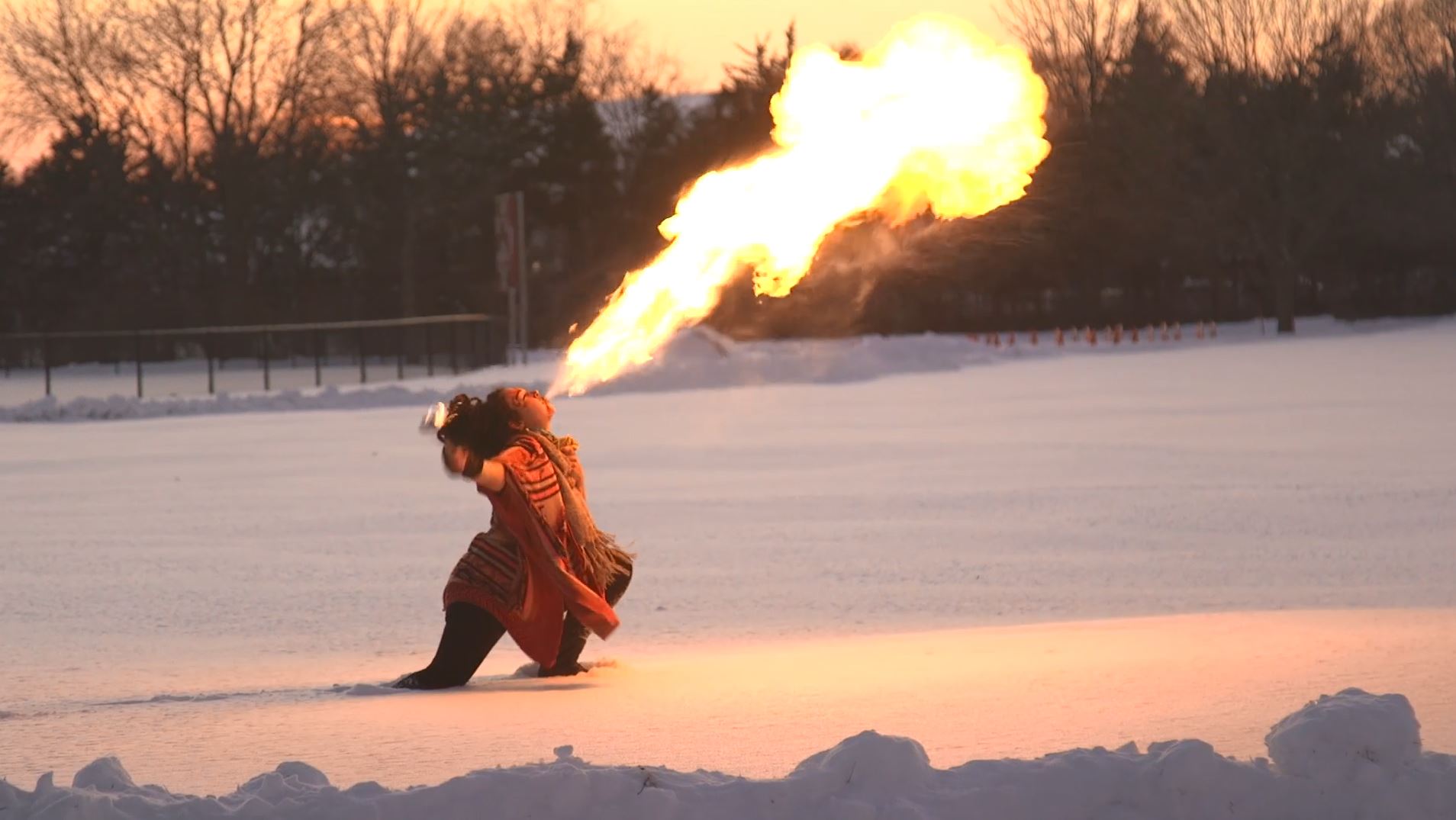 Forget hibernating and embrace winter. North Liberty's Beat the Bitter returns in January with activities to get you out of the house for winter games and good cheer.
The festival brightens up bleak winter days with offerings for all ages. New to the lineup is the 5K-ish Glow Run and North Liberty Lights – an illuminated winter display around Liberty Centre Pond. Fans can also look forward to the return of free family fun at Fire & Ice, the KICK Winter in the SnowBALL tournament, Snuggie Crawl and outdoor ice rink.
North Liberty Lights presented by GEICO Careers will make North Liberty a bit brighter Jan. 29 through Feb. 27. The free illuminated exhibit will invite spectators to walk through tunnels and take pictures with snowflakes, penguins, polar bears, deer and a variety of other colorful 3-to-10-foot-tall light displays. North Liberty Lights will turn on each night at sundown for residents and visitors to enjoy at their leisure.
Additional free fun will be had at Fire & Ice presented by GreenState Credit Union. All are invited to Penn Meadows Park from 4 to 8 p.m. on Sunday, Jan. 30, to admire lit ice sculptures and fire performances, ice skate, catch a horse-drawn carriage ride, take advantage of unique photo opportunities and more. The free event will culminate with the festival's annual 15-minute fireworks display at 8 p.m.
Beat the Bitter's winter games get folks moving–even in snow pants. The 5K-ish Glow Run presented by GEICO Careers is a fun run around Liberty Centre Pond to celebrate the unveiling of North Liberty Lights the evening of Saturday, Jan. 29. All ages are invited to run, jog, or walk to earn a glow-in-the-dark finisher medal, but registration is limited. Take advantage of early-bird pricing now at beatthebitter.com.
Also scheduled for Saturday, Jan. 29 is the festival's annual KICK Winter in the SnowBALL tournament. Teams competing in this unique kickball tournament in the winter elements will each play three games whatever the conditions. Players must be 18 years or older to participate. Registration is open at beatthebitter.com.
The Scheels Ice Rink, North Liberty's free outdoor 100-foot by 115-foot rink will soon be installed for the season in Penn Meadows Park. Bring your own skates or check out figure and hockey skates from the North Liberty Community Center, 520 W. Cherry St., at no charge. Check the ice rink conditions online before heading out to the park.
On Feb. 5, a sea of 400 sleeved blankets will overtake North Liberty nightlife for the Snuggie Crawl presented by Collins Community Credit Union. Tickets include access to the private event, an embroidered Beat the Bitter Snuggie, transportation, appetizers, and activities at each stop. Tickets are available now at beatthebitter.com and expected to sell quickly. Public health is the festival's priority in the lingering pandemic. Beat the Bitter is planned by the City of North Liberty staff and will follow the guidance of local public health officials. Since masking is unrealistic on a bar crawl, the Snuggie Crawl will be canceled if CDC guidance at the time of the event includes vaccinated people masking indoors at events. Organizers will make the call a week out from the event on Friday, Jan. 28, and attendees will be provided a full refund.
Beat the Bitter is made possible by GEICO Careers, Collins Community Credit Union, Scheels, GreenState Credit Union, and the City of North Liberty, with additional support by Hills Bank, Think Iowa City, South Slope Cooperative Communications, Junge Ford BMW of North Liberty, US Bank, Centro, Incorporated, Eastern Iowa Airport – CID, MidWestOne Bank, Veridian Credit Union, Alliant Energy, Shive-Hattery and University of Iowa Health Care.