Winter Doesn't Have to be Dull. North Liberty Prepares to Shine with an Illuminated Winter Display and 5K-ish Glow Run.
Posted on: January 19, 2022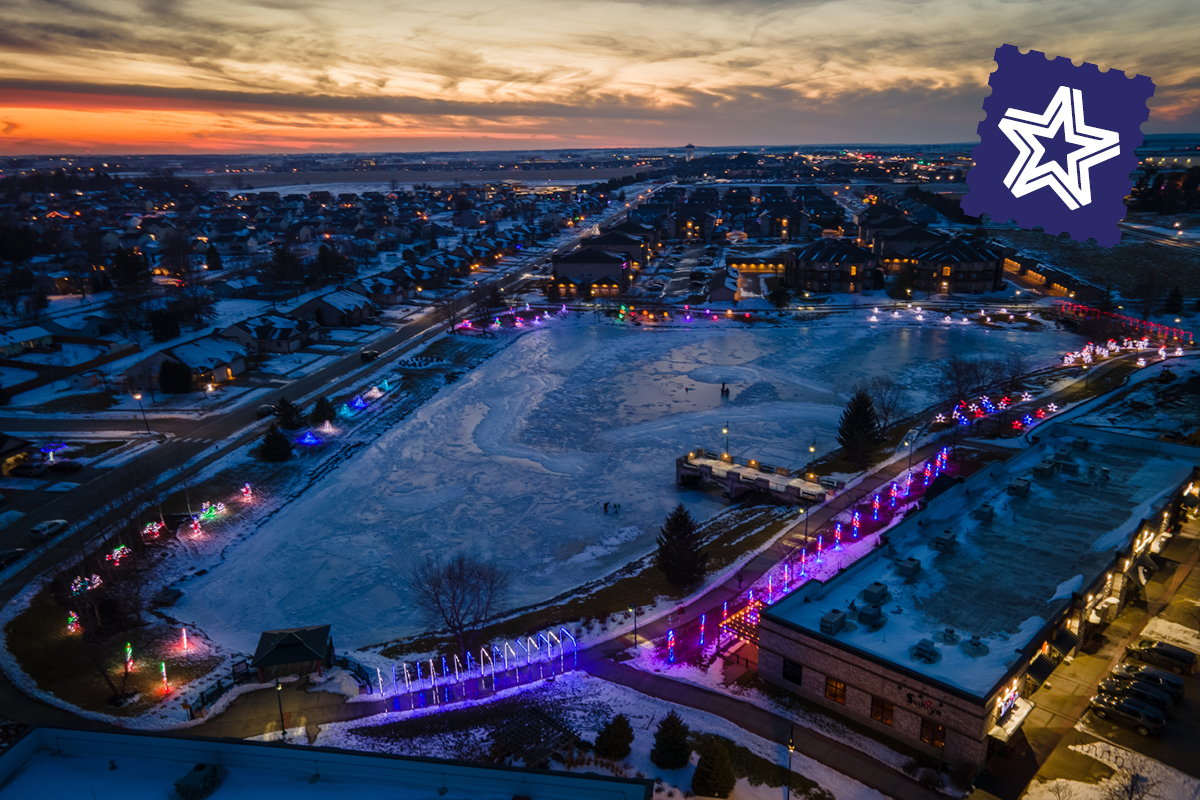 Winter days can be dark, but North Liberty will be a bit brighter thanks to North Liberty Lights presented by GEICO Careers – an illuminated winter display that will be lit nightly beginning Jan. 29 through the end of February around Liberty Centre Pond.
The exhibit will invite spectators to walk under tunnels and take pictures with a dozen colorful 3 to 10-foot tall winter scenes of snowflakes, penguins, polar bears, deer and more. The display will turn on each night at sundown for North Liberty residents and visitors to enjoy at their leisure for free. Some of the units are animated but North Liberty Lights is not accompanied by music.
Participants of the 5K-ish Glow Run on Saturday, Jan. 29 will be the first to experience the array of lights. The evening fun run is approximately eight laps (remember, this is a 5K-ish) around the pond and open to all ages and skill levels, with a 6 p.m. start scheduled for runners and a 7 p.m. start for joggers, walkers and children. Registration is $20 ($15 for minors) at beatthebitter.com and includes a glow-in-the-dark finisher medal and pair of glow-in-the-dark shoelaces. The famous GEICO Gecko and team will also be on site to warm participants up with a cup of hot chocolate after the race.
North Liberty Lights and the 5K-ish Glow Run are part of Beat the Bitter, North Liberty's annual winter schedule of events that challenges folks to embrace winter with activities such as outdoor ice skating, a kickball tournament in the snow, Fire & Ice – the festival's free event packed with ice sculptures, fireworks, horse-drawn carriage rides, fire performances – and, of course, the 5K-ish Glow Run and North Liberty Lights.
North Liberty Lights is also one of 40 events on the City Slate, a compilation of North Liberty's largest and free city-produced events, made possible by Adam Schechinger State Farm; Centro, Incorporated; Eastern Iowa Airport – CID; GEICO Philanthropic Foundation; Hills Bank, MidWestOne Bank; Shive-Hattery; South Slope Cooperative Communications; University of Iowa Health Care; Veridian Credit Union, and the City of North Liberty. Additional support for Beat the Bitter is provided by Collins Community Credit Union, Scheels, GreenState Credit Union, Think Iowa City, Junge Ford BMW of North Liberty, US Bank and Alliant Energy.