You May Be Using Too Much Salt
Posted on: January 19, 2022
You may be using too much salt on your sidewalk and driveway (and, possibly, your food, but that's another matter).
As temperatures drop, the temptation rises to try to deice hard surfaces with a lot of deicer, but this can harm your landscaping, your concrete and metal surfaces, your pets as well as wildlife and our community's streams and lakes.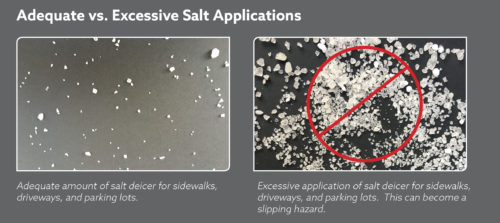 The salt that is applied to sidewalks, parking lots, and streets contains a water pollutant called chlorides, and once chlorides get into soil and water ecosystems, they don't go away. When snow and ice melt, they enter the storm sewer system that drains to local water bodies. Research studies conducted in the Midwest found that elevated chloride levels are occurring in local lakes and streams and shallow groundwater. About 1 teaspoon of salt can contaminate 5 gallons of water.
Still, deicing can be helpful, but it's easy to use too much. When pavement temperatures are 30 degrees, a pound of salt melts nearly 50 pounds of ice. Counterintuitively, excessive salt application creates a slipping hazard.
The Iowa Stormwater Education Partnership offers these tips to have safe winter surfaces while minimizing the impact on local streams:
Start early and remove snow mechanically throughout the storm using a snow plow, snow blower, shovel, or broom before adding any deicers.
Temperatures are usually warmer during a snow event and gradually become colder after the event.
When using deicers, use only what is needed.
Use a hand spreader or calibrated spreader rather than cupfuls to get a more uniform application.
Sweep up if too much is used and reuse in a different area or for the next use.
Deicers won't work below -10 degrees . If the weather is too cold don't apply deicers, sand may have to be used.
Calibrate all mechanical equipment using manufacturers recommendations.
Monitor pavement temperatures using temperature monitors.
Anti-icing can often be more effective than deicing.
ISWEP has an in-depth guide about salt and deicer use for businesses, too.