Crews Respond to Structure Fire at 460 Kansas Ave.
Posted on: May 13, 2022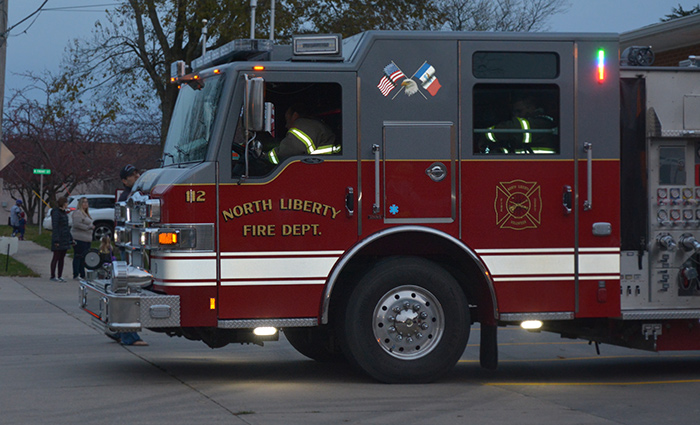 The North Liberty Fire Department was dispatched at 11:46 a.m. on Friday, May 13, 2022, for a report of a building fire at 460 Kansas Avenue. A North Liberty police officer was first to arrive and confirmed a working fire as well as an occupant who jumped from the third floor. Upon arrival by NLPD, a second alarm was struck due to the amount of visible fire.
As North Liberty fire units arrived, firefighters found the rear of the building on fire with extension into the attic and the third floor. The Johnson County Ambulance Service arrived and treated the injured occupant who jumped from the third floor. Once the fire moved into the attic, aerial ladders were set up and operated master stream lines. As the fire was knocked down, crews entered the building to extinguish hot spots. The fire did not extend to neighboring buildings.
Firefighters from Solon, Coralville, Iowa City, Tiffin, Swisher and West Branch assisted in the effort, as did the North Liberty Police Department, North Liberty Public Works, Johnson County Ambulance Service, Red Cross and the Johnson County Emergency Communications Center.
Crews were on the scene for just over seven hours. The cause of the fire is under investigation. A loss estimate was not immediately available.