Help Children Celebrate Everything That Makes Them Great June 24 in Penn Meadows Park
Posted on: June 20, 2022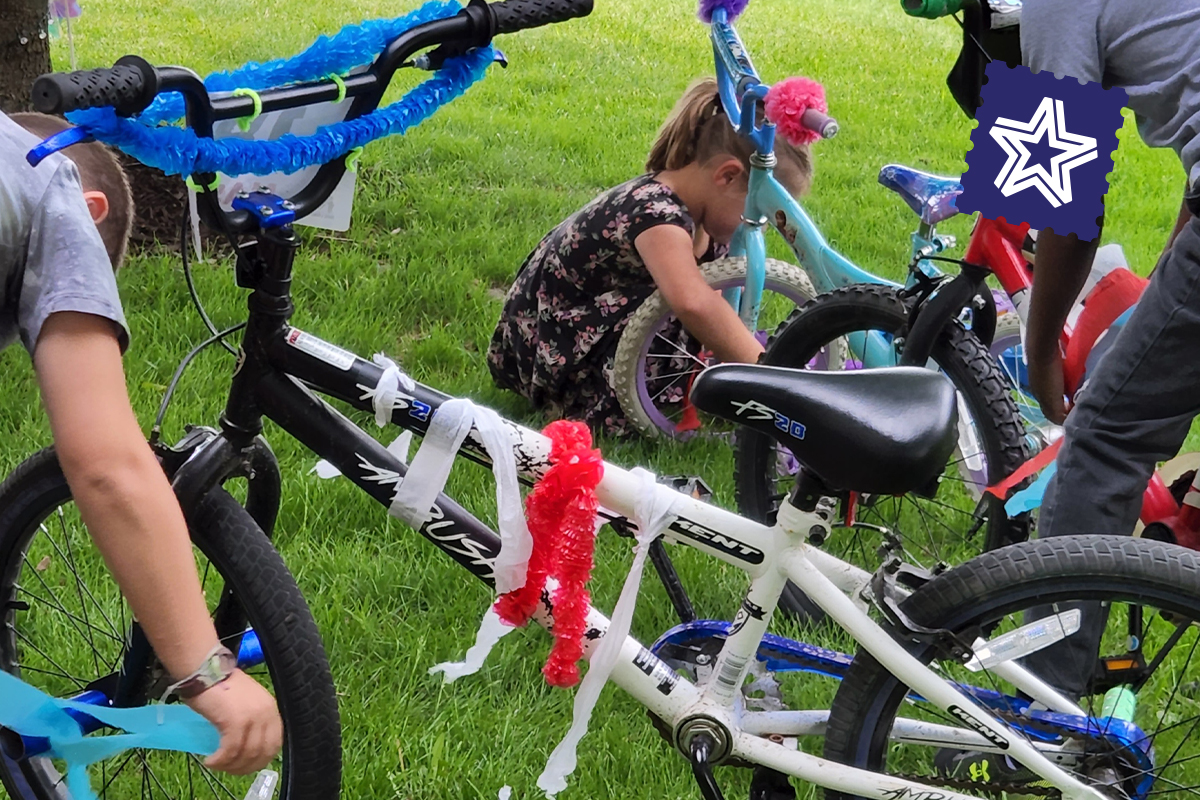 Roll over to Penn Meadows Park on Friday morning, June 24, to decorate your wheels and celebrate being exactly who you are at the Freedom Roll.
The five Ws
Who: All ages welcome, but geared towards children ages birth through elementary.
What: Come decorate your bikes, blades, strollers, wagons, wheelbarrows, wheelchairs and whatever else rolls. North Liberty Community Center staff will have colorful bike spokes, streamers, stickers, pennants and more to help you make your wheels uniquely yours.
Where: Penn Meadows Park pavilion, 355 E Penn St.
When: Decorating begins at 9 a.m., followed by a group parade throughout the park to show off your creations. Then stick around to dance and sing at a children's concert with Little Miss Ann at 10:30 a.m.
Why: There has never been anyone like you ever in the world, so let's celebrate the one and only you!
Participate for a chance to win
Each participating child will receive a raffle ticket. At 10:30 a.m., tickets will be randomly drawn to give away $50 gift cards to Sugar Bottom Bikes, a bike, scooter and other wheeled toys. Must be present to win.
What to bring
Bikes, blades, wagons, wheelbarrows, wheelchairs and whatever else rolls to decorate for the Freedom Roll at 9 a.m. Decorations will be provided, as supplies last, but feel free to bring your own as well.
Lawn chairs and blankets to relax on while enjoying Little Miss Ann's show.
Snacks, water, sunscreen and whatever else your group may need.
How to get there
Penn Meadows Park in located at 355 E Penn St.
Skip the car and walk, bike or roller blade to the show!
You also might be wondering
Penn Meadows Park has permanent restrooms on site.
Dogs are welcome as long as they are on a leash and you clean up after them.
The use of tobacco, nicotine, vape and other electronic smoking devices are prohibited in North Liberty parks, trails and public recreation areas.
Since this event is outside, there are no additional COVID mitigations.
Stay in the loop
In the event of bad weather, this event will be moved inside the recreation center gym. Follow the Facebook event for updates.
Share your photos with us by tagging the City of North Liberty and North Liberty Library on Facebook or Instagram.
Stay connected with the City by subscribing to the North Liberty Bulletin or signing up for news alerts.
Accessibility
We're committed to providing access, equal opportunity and reasonable accommodation at our events for individuals with disabilities. For accommodations, please reach out to [email protected] or call (319) 626-5755.
More City Slate Fun
This event is part of the City Slate, a compilation of North Liberty's largest and free city-produced events, with more than 40 events planned in 2022. The yearlong schedule of events is made possible by Adam Schechinger State Farm, Centro, Inc, The Eastern Iowa Airport – CID, GEICO Philanthropic Foundation, Hills Bank, MidWestOne Bank, Shive-Hattery, South Slope Cooperative, University of Iowa Hospitals & Clinics and Veridian Credit Union.Explore the schedule at northlibertyiowa.org/cityslate.