Sing and Dance Along with Little Miss Ann June 24
Posted on: June 20, 2022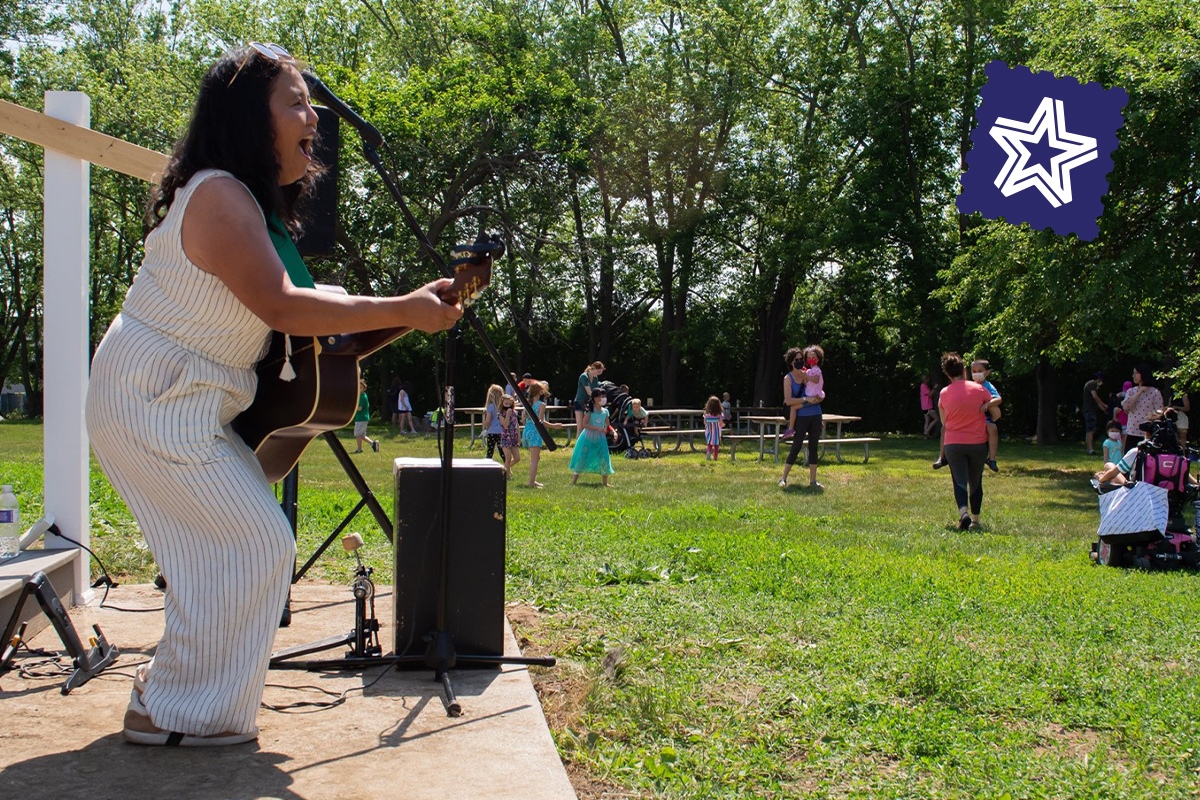 Join the North Liberty Library for a free outdoor children's musical performance from Little Miss Ann on June 24.
The five Ws
Who: All ages welcome, but geared towards children ages birth through elementary.
What: A free outdoor children's musical performance with award-winning Chicago kids' musician, Little Miss Ann. Arrive early for decorate bikes, wagons and whatever else rolls at the Freedom Roll starting at 9 a.m.
Where: Penn Meadows Park pavilion, 355 E Penn St.
When: Friday, June 24, at 10:30 a.m.
Why: To sing and dance to music that has good messages and infectious melodies for everybody.
More on Ann Torralba, aka Little Miss Ann
Ann is an award-winning Chicago kids musician, a former Chicago Public School teacher, an instructor at Chicago's iconic Old Town School of Folk Music, a mom, and a first generation Filipina American.
Little Miss Ann has made five family music albums that span different genres such as folk, rock, punk, country, bluegrass and more. Ann sings and plays guitar, ukulele, various flutes, and percussion instruments on her albums. Little Miss Ann's album "Keep On" was produced by Grammy winning producer Dean Jones. She has received accolades for her albums such as a NAAPA award and the Parent's Choice Award. Her sixth album, "28 Days," also produced by Dean Jones, was released May 7, 2021, with special guests, Suzi Shelton, Elena Moon Park, Tommy Soulati Shepherd and son, Frances England, Mil's Trills, Anna Jacobson, Ric Salazar and others.
Besides writing, recording and performing reinvented classics and soulful originals that all children can enjoy, Little Miss Ann has also written and collaborated on songs that highlight her Filipina American culture.
What to bring
Bikes, blades, wagons, wheelbarrows, wheelchairs and whatever else rolls to decorate for the Freedom Roll at 9 a.m. before Little Miss Ann's concert.
Lawn chairs and blankets to relax on while enjoying the show.
Snacks, water, sunscreen and whatever else your group may need.
How to get there and where to park
Penn Meadows Park in located at 355 E Penn St.
Skip the car and walk, bike or roller blade to the show!
You also might be wondering
Penn Meadows Park has permanent restrooms on site.
Dogs are welcome as long as they are on a leash and you clean up after them.
The use of tobacco, nicotine, vape and other electronic smoking devices are prohibited in North Liberty parks, trails and public recreation areas.
Since this event is outside, there are no additional COVID mitigations.
Stay in the loop
In the event of bad weather, this event will be moved inside the recreation center gym. Follow the Facebook event for updates.
Share your photos with us by tagging the City of North Liberty and North Liberty Library on Facebook or Instagram.
Stay connected with the City by subscribing to the North Liberty Bulletin or signing up for news alerts.
Accessibility
We're committed to providing access, equal opportunity and reasonable accommodation at our events for individuals with disabilities. For accommodations, please reach out to [email protected] or call (319) 626-5755.
More City Slate Fun
This event is part of the City Slate, a compilation of North Liberty's largest and free city-produced events, with more than 40 events planned in 2022. The yearlong schedule of events is made possible by Adam Schechinger State Farm, Centro, Inc, The Eastern Iowa Airport – CID, GEICO Philanthropic Foundation, Hills Bank, MidWestOne Bank, Shive-Hattery, South Slope Cooperative, University of Iowa Hospitals & Clinics and Veridian Credit Union.Explore the schedule at northlibertyiowa.org/cityslate.
Still have questions?
Contact the library at (319) 626-5701.