Blues & BBQ, a Summer Staple, Returns on July 9
Posted on: June 24, 2022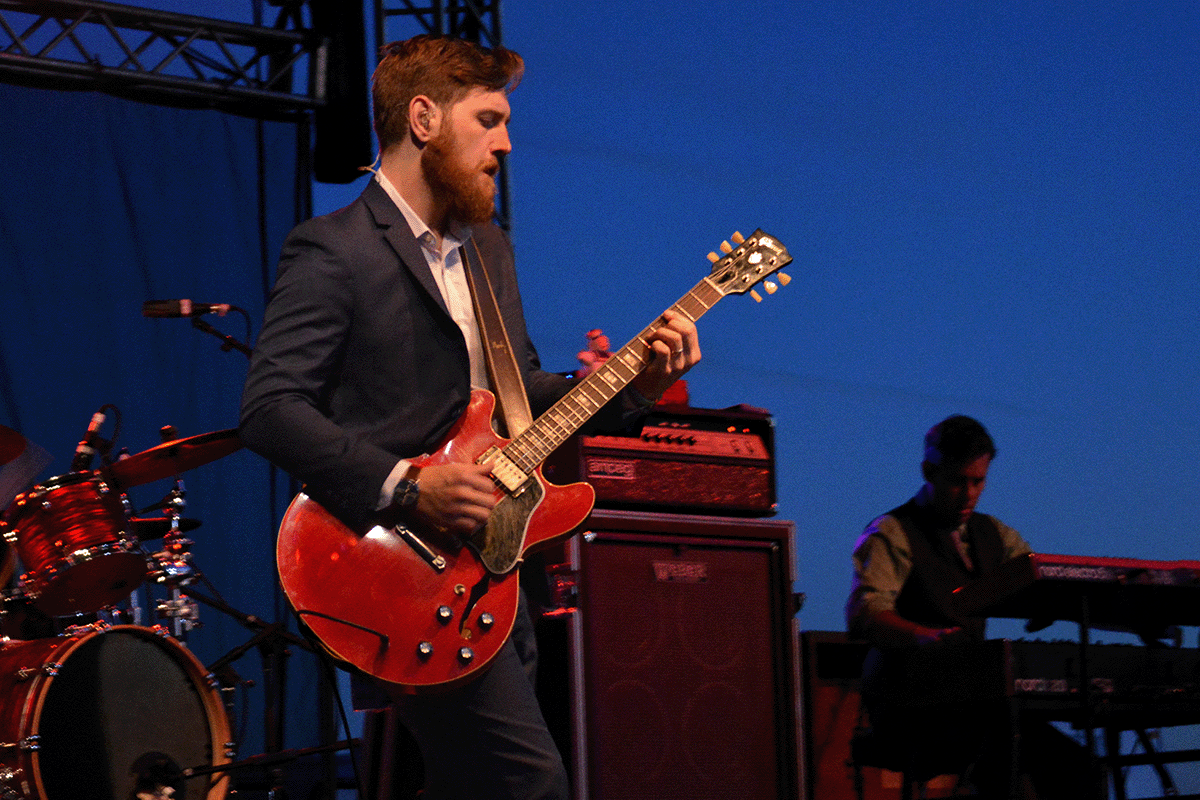 North Liberty's summer tradition returns to Centennial Park on July 9, 2022, for the 14th year of Blues & BBQ presented by Veridian Credit Union. Here's everything you need to know, but there's even more at northlibertyblues.org.
The five Ws
Who: You, and everyone you know.
What: A day of music, food and fun for everyone with free admission.
Where: Centennial Park, 1565 St Andrews Dr.
When: Kids' inflatables run from 10 a.m. to 2 p.m., headliner starts at 9 p.m. and there's food and drink and music all day.
Why: After a two-year hiatus, North Liberty's signature summer event returns.
What's happening when
10 a.m. to 2 p.m. Free inflatables with the support of South Slope Cooperative Communications
10 a.m. to 10 p.m. Barbecue vendors open on Junge Ford BMW North Liberty Food Vendor Alley
11 a.m. to 10 p.m. Iowa Craft Beer Tent serves in the beverage garden
11 a.m. to 10:30 p.m. Live blues and blues-inspired music on the GreenState Credit Union stage
11 p.m. Grounds close
Who's playing when
11 a.m. to 12:30 p.m. Avey Grouws Band
1:00 to 2:30 p.m. Nathan Graham
3 to 4 p.m. Sam Ross Quartet
5 to 6:30 p.m. The Tanya English Band
7 p.m. to 8:30 p.m. Lilly Hiatt
9 p.m. to 10:30 p.m. The War and Treaty
What to bring (and leave at home)
Besides your appetite (for food and fun), bring a chair, bring a blanket and bring your friends.
Guests are encouraged to bring along a water bottle that can be refilled at our free water stations.
Even with over 16,000 square feet of tents erected for the event, many guests still choose to bring personal shade. Small umbrellas and portable shades are welcome, but please don't bring a pop up tents.
Don't bring your own cooler or outside alcohol.
Don't bring your dog.
Food and drink
There's plenty of barbecue — and other treats — being served on Junge Ford BMW North Liberty Food Vendor Alley. Vendors this year include Cynful Smokers BBQ, Rodney's Jamaican Jerk & BBQ, Luna's Taqueria of Iowa City, Wich uh Waffle, Poimen Bosko Foods, TC Bonez BBQ, Rudy Blues BBQ, Da Flava Unit, Sugarfire BBQ, Mosley's Backyard Grill, Keepin Up With The Jones's, Moo Moo's Ice Cream, Kona Ice of Cedar Rapids & Iowa City, Yolanda's and Optimist Club of North Liberty. Vendors are open from 10 a.m. to 10 p.m. We'll crown a BBQ champion before lunch.
The Iowa Craft Beer Tent has Iowa brews for all tastes, including non-alcoholic cider and other non-beer options and a range from of beers from lighter to darker. The beverage garden serves from 11 a.m. to 10 p.m. Beverage tickets are $6 each or 4 for $20. Sales are cash only, but we'll have ATMs available on site. Alcohol is not allowed outside the beverage garden.
How to get there
Centennial Park is at 1565 St Andrews Dr.
Recently added trail and sidewalks make getting to Centennial Park on foot or by bike a snap. Bike parking will be available at the park.
Grass parking will be available at Centennial Park. Once the park is full, overflow hard-surface and grass parking will be available at North Bend Elementary just 1/2 mile away. All parking is free.
A shuttle bus will loop between Centennial Park and North Bend Elementary from 4 to 11 p.m.
Hard-surface ADA parking will be available at Centennial Park for those with a placard.
You also might be wondering
Beer ticket sales are cash only. Some food vendors accept credit cards. There will be ATMs at the park.
Toilets and handwashing stations are, of course, available on the grounds.
Please leave your dog at home. As much as we love dogs, the number of people who attend each year means we need to ask your dog, no matter how well behaved, to stay home.
The use of tobacco, nicotine, vape and other electronic smoking devices are prohibited in North Liberty parks, trails and public recreation areas.
Since this event is outside, there are no additional COVID mitigations.
Volunteer
It takes a volunteer force of nearly 300 people to put on this all-ages, family-friendly party. Volunteers receive a special Blues & BBQ 2022 T-shirt for volunteers only, a voucher towards food or drink, water delivered to you, a fanny pack with cool things from our sponsors, community service hours credit and get to be part of a GREAT time. Volunteers are need for setup, takedown and especially everything in between. Sign up to help out at northlibertyblues.org/volunteer.
Who to thank
Blues & BBQ is made possible by Veridian Credit Union, GreenState Credit Union, Junge Ford BMW of North Liberty, South Slope Cooperative Communications, MidWestOne Bank, Shive-Hattery, North Liberty Optimists, FOX Strand, Think Iowa City, Hills Bank, Relion Insurance Solutions, GEICO Philanthropic Foundation, Eastern Iowa Airport – CID, Adam Schechinger State Farm, University of Iowa Health Care, MidAmerican Energy, Staff Management Solutions, Centro Incorporated, Port O Jonny, Johnson County Refuse, The Englert Theatre, Eco Care, ICAN, Z102.9 and the City of North Liberty.
Stay in the loop
Any cancellations or delays will be posted in the Facebook event.
Share your photos with us on Facebook, Instagram or Twitter.
Stay connected with the City by subscribing to the North Liberty Bulletin or signing up for news alerts.
Accessibility
We're committed to providing access, equal opportunity and reasonable accommodation at our events for individuals with disabilities.
For accommodations, please reach out to [email protected] or call (319) 626-5755.
More City Slate Fun
This event is part of the City Slate, a compilation of North Liberty's largest and free city-produced events, with more than 40 events planned in 2022. Explore the schedule at northlibertyiowa.org/cityslate.