City Council to Meet on July 12, 2022
Posted on: July 8, 2022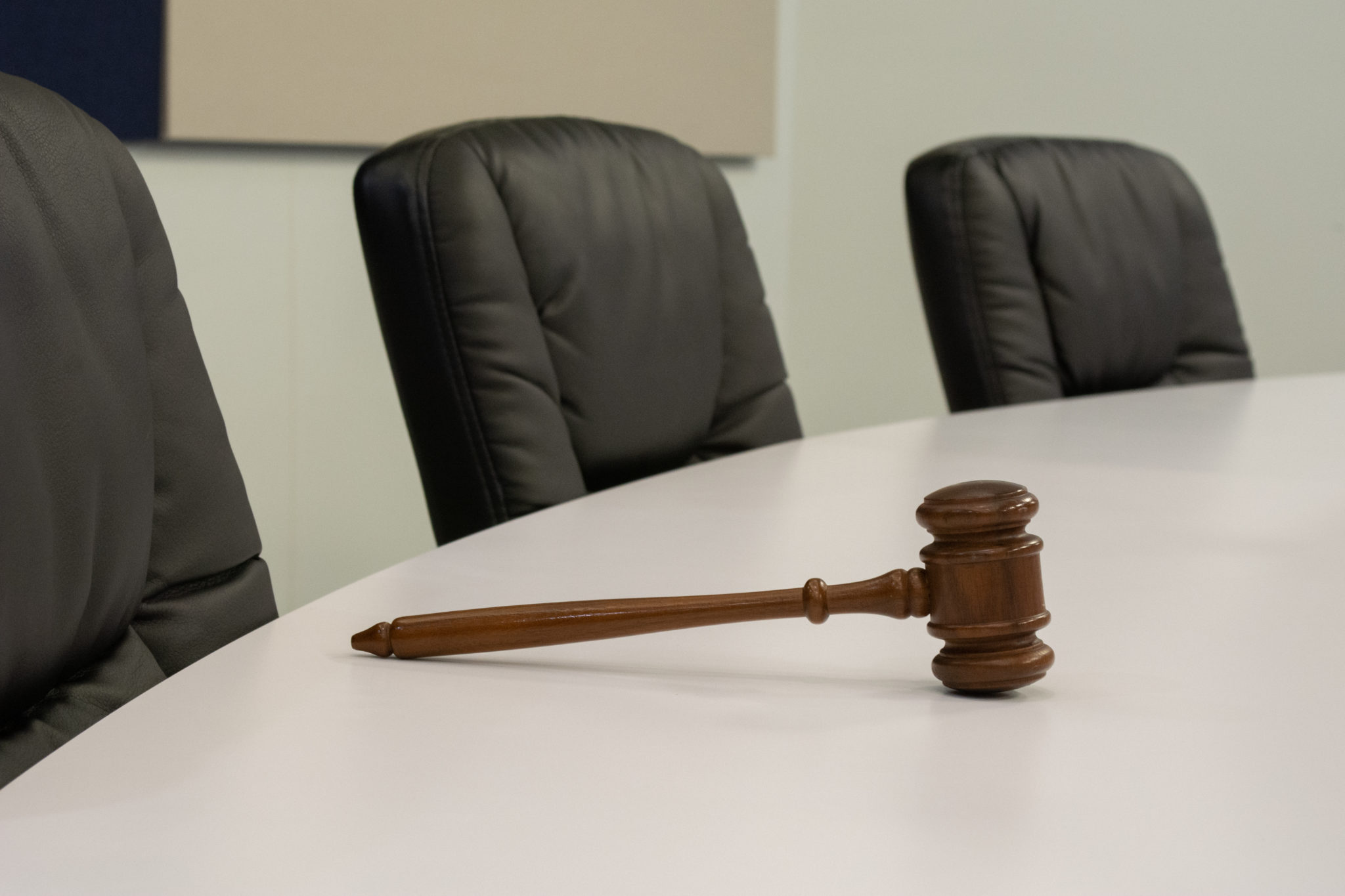 Included in each City Council information packet is a memo from the City Administrator offering a summary and context of items appearing on the agenda. We will begin publishing these memos here in our news feed to make them more accessible. You can sign up to be notified of news items, agendas and more by email.
This meeting will be held in person and may be accessed live by the public in person or on the internet. 
This meeting may be accessed live by the public in person or on the internet at at northlibertyiowa.org/live, on Facebook at facebook.com/northliberty or on YouTube at youtube.com/ northliberty. Meetings are rebroadcast on cable and available on-demand on northlibertyiowa.org/meetings.
Consent Agenda
The following items are on the consent agenda and included in the packet:
City Council Minutes (06/28/22)
Claims
Pay Application #2, Jones Boulevard Improvements Project, Schrader Excavating & Grading, $356,400.97
Pay Application #17, Ranshaw Way Phase 5 Project, Peterson Contractors, Inc., $140,547.93
Library Board Appointment
Earlier this month, Heidi Wood resigned her post from the Library Board. Given that board applications were just solicited in June, the Mayor is recommending Brady Bird, who previously applied for the position, be appointed to fill the newly vacant seat on the Board.
The Preserve Part 3
The Preserve Part Three Preliminary Plat – located on the south side of Denison Avenue east of Brook Ridge Avenue – consists of 34 residential lots on 9.79 acres. This portion of the subdivision includes 18 RS-9 zoned lots and 12 RS-6 zoned lots, both within a similar geographic area. The Preserve is a good example of a subdivision offering a range of housing types, styles and lot sizes. A good neighbor meeting was held on April 14 and no surrounding property owners attended. The Planning Commission recommended approval of the Preliminary Plat at its July 5 meeting. Staff also recommends approval.
FY23 Social Service Grants
The agenda includes two resolutions, each one allocating funds to local social service agencies. The first is a resolution approving a $20,000 grant to the North Liberty Community Pantry. This action is separate from the other funding approvals so that Councilor Erek Sittig, who is the current chair of the Pantry Board, can abstain from this vote. The second resolution approves funding for the remaining 19 social service groups. The allocations for each organization have been determined by Council consensus at the June 28 meeting and are identified in the table below. Staff recommends approval of both resolutions.
FY23 Social Service Funding Requests & Approved Allocations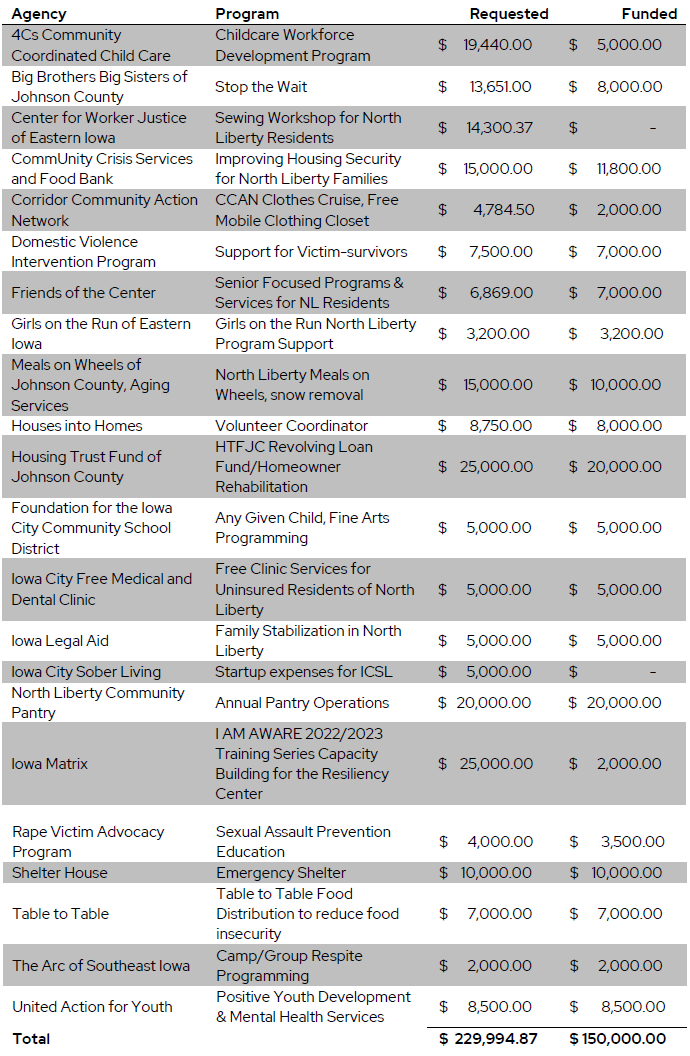 Depository Resolution
Staff recommends updating the City's depository resolution to reflect the name change of Great Western Bank to First Interstate Bank. Other than the name change, no other revisions are proposed.
2022A Bond Sale
The 2022 bond sale will be in an amount not to exceed $9.4 million for the following projects:
| | |
| --- | --- |
| Ranshaw Way, Phase 5 (series 1 of 2) | $4,500,000 |
| SW Utilities Project | $4,300,000 |
| Forevergreen Road Trail | $120,000 |
| Capitalized Interest & Fees |              $480,000 |
| | $9,400,000 |
The agenda includes a resolution setting the date for the sale of the bonds and approving the Official Statement (OS). Council is asked to review and offer comment on the OS prior to its approval on Tuesday. The current schedule anticipates a sale date of July 26 and a loan closing date of August 10. Staff recommends approval of the resolution.
GRD Burleson, LLC Annexation
GRD Burleson, LLC. is requesting annexation of 7.65 acres – east side of North Liberty Road south of South Dubuque Street – into the city. It is anticipated that this property would be combined with recently annexed property directly to the north to facilitate a potential mixed-use development. This annexation is consistent with the annexation agreement with Coralville. City water and sanitary sewer services are immediately available to the site and all other typical city services will be provided upon annexation. All required notifications have been made and no objections to the annexation have been received. Staff recommends approval of the annexation.
Parking Resolution
The City received a citizen request to remove on street parking from one side of Sara Court. Staff is generally in favor of limiting on-street parking to one side of a street primarily for easier snow clearing and emergency service access. Staff worked through the area Neighborhood Ambassador to solicit feedback about the request. The Neighborhood Ambassador has indicated that there was support for the removal of on- street parking on the south and west side of Sara Court. This is another example of how the Neighborhood Ambassador Program fosters communication between the City and residents. Staff recommends approval of the resolution.
Greenbelt Trail Part Two
The public improvements for Greenbelt Trail, Part Two, which includes 50 residential lots adjacent to North Liberty Road, have been completed and inspected. The subdivision includes 30 RS-6 zoned lots and 20 RD-10 zoned lots (40 units). The final plat is consistent with the approved preliminary plat and is recommended for approval by staff. Also recommended for approval are related storm water management and escrow agreements.
Park Speed Limits Ordinance Amendment, Second Reading
With the completion of the Centennial Park Loop Road project, staff has reevaluated the park speed limit ordinance and is recommending reducing the speed limits from 15 mph to 10 mph in all City parks. The proposed change is also applicable to public parking lots, such as the community center and Penn Meadows Park.
Mobile Food Units Ordinance, Third & Final Reading
This is a staff-initiated Ordinance, which would transform the current, antiquated temporary outdoor eating establishment regulations to mobile food units. Mobile food units include food trucks, food carts and ice cream trucks. Some major challenges with the current ordinance include a maximum of 10 licenses at any given time and maximum license period of 240 consecutive days. Staff researched other similar ordinances to learn best practices and to incorporate North Liberty-centric regulations. There would be no maximum number of licenses and the license period would be per calendar year. In order to minimize duplicative regulations, mobile food units associated with a permitted special event would not be required to obtain separate approval. Staff recommends approval of this ordinance amendment.