It's Easy to Join the Community Pumpkin Display. Any Questions?
Posted on: September 27, 2022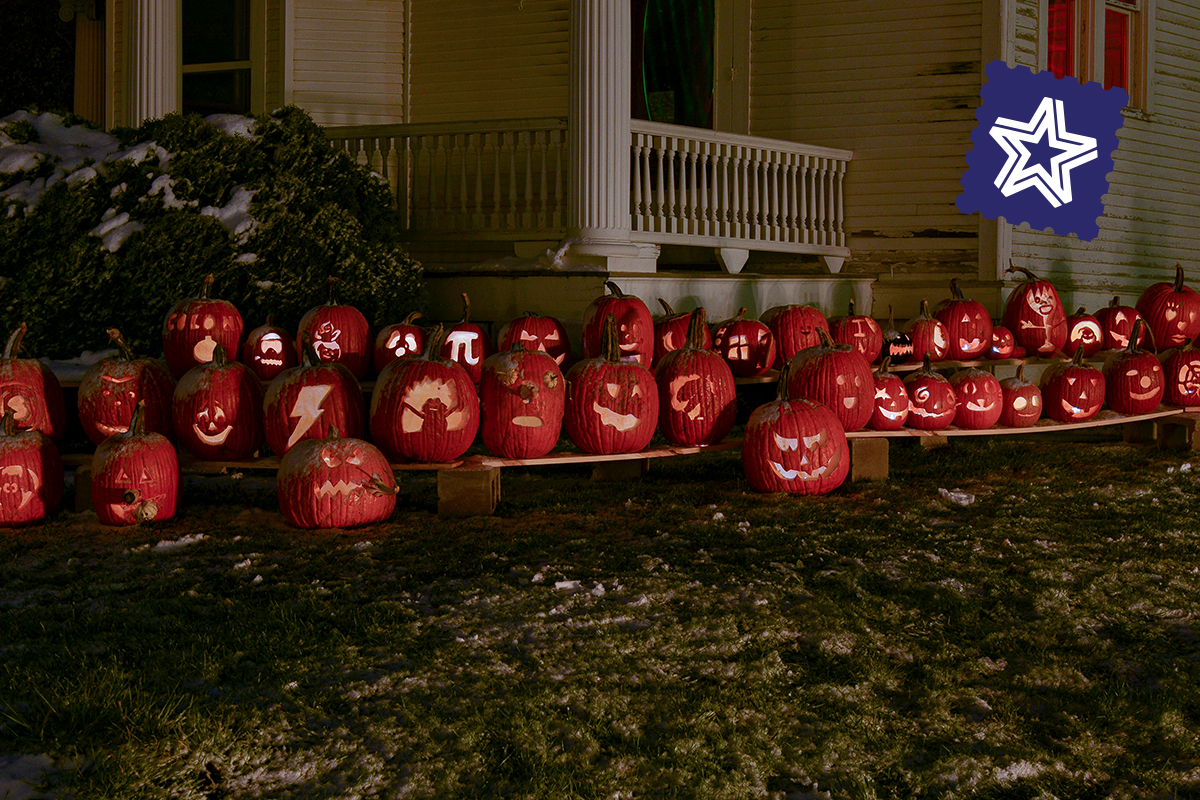 Ghoulish — and goofy — faces will soon be flickering on front stoops throughout North Liberty, and the Ranshaw House, at the corner of Penn Street and Community Drive, will host its traditional community jack-o'-lantern display on the evenings of Oct. 30 and 31. This year we're providing pumpkins.
Pick Up a Pumpkin
The Make it Monday activity for the week of Oct. 24 will be carving a pumpkin for the display. To participate, pick up a pumpkin at the Community Center, 520. W. Cherry St., while they last, and carve your favorite design. You can also carve your own pumpkin.
Drop Off a Jack-o'-Lantern
Carved pumpkins can be dropped off anytime Thursday, Oct. 27 through Sunday, Oct. 30. When dropping off your pumpkin, please place it on one of the risers or in the grass on the north or west sides of the house. There will not be staff present. Please do not include a candle or light; tea lights will be placed by city staff before the display.
Visit the Display
Pumpkins will be lit at 6 p.m. on Oct. 30. Parking will be available at the Community Center. Come admire others' designs throughout the evening, see how yours compares (if you're competitive like that, there is no official contest), and take advantage of the picture opportunity. Pumpkins will be composted after Halloween.
There is no registration or signup to bring a pumpkin, but the display can't happen without your help.  So carve an extra pumpkin—or consider this an excuse to carve a pumpkin at all this season—and be a part of the display.
How to get there
The Ranshaw House, 515 Community Drive, is the historic white house located at the intersection of Penn Street and Community Drive just north of the Community Center, 520 W. Cherry St. The home, built in 1908, has been owned by the City of North Liberty since the early 2000s. In 2012, the Ranshaw House was placed on the National Historic Register. Originally the house of Samuel and Emma Ranshaw, the home had indoor plumbing, gas lighting, softened water and other amenities before such innovation were common place. While there are no rumors that the house is haunted, it is the perfect setting for a fall gathering.
Who to thank
This event is part of the City Slate. The yearlong schedule of events is made possible by Adam Schechinger State Farm, Centro, Inc, The Eastern Iowa Airport – CID, GEICO Philanthropic Foundation, Hills Bank, MidWestOne Bank, Shive-Hattery, South Slope Cooperative, University of Iowa Hospitals & Clinics and Veridian Credit Union.
Stay in the loop
Any cancellations or delays will be posted in the Facebook event.
Share your photos with us on Facebook, Instagram or Twitter.
Stay connected with the City by subscribing to the North Liberty Bulletin or signing up for news alerts.
Accessibility
We're committed to providing access, equal opportunity and reasonable accommodation at our events for individuals with disabilities.
For accommodations, please reach out to [email protected] or call (319) 626-5755.
More City Slate Fun
This event is part of the City Slate, a compilation of North Liberty's largest and free city-produced events, with more than 40 events planned in 2022. Explore the schedule at northlibertyiowa.org/cityslate.