There's No Season Like Snow Season. Here are Some Reminders
Posted on: November 16, 2022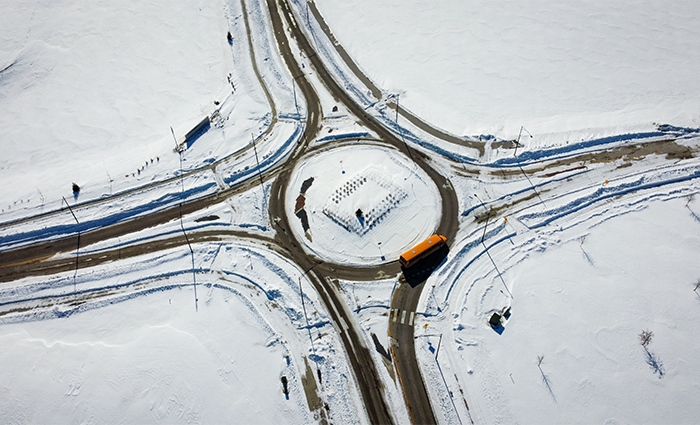 It's not officially winter yet, but in Iowa late fall comes with wintry weather. With snow falling, and sticking around, it's a good time to offer some reminders about snow season, snow emergencies and other snow procedures.
Street and Trail Clearing
Every winter storm is different, and our crews work before, during and after to prepare and clear streets and trails quickly and effectively based on the current conditions and best information available using a variety of tools and techniques. Air temperatures, the amounts of snow or ice, the predicted conditions and timing all impact how our crews work.
When clearing public streets, the Streets Department clears in this priority order, based on traffic volume and traffic speed:
Plow all primary roads, including Penn Street, Ranshaw Way and Forevergreen Road
Plow secondary roads, including Scales Bend Drive, Cherry Street and Front Street
Plow main roads into subdivisions, including Deerfield Drive, Covered Bridge Boulevard and Fox Run
Plow secondary roads in subdivision along with dead ends and cul-de-sacs, including Juniper Court, Bayberry Lane and Ash Circle
During winter conditions, please avoid unnecessary travel, build extra travel time into your schedule and travel with extra care.
Snow Emergencies
Snow emergencies go into effect automatically when there is two inches of snowfall or when one is declared by city administration. The goal of the city's snow ordinance is to allow North Liberty's streets to be cleared efficiently, so travel is safer and melting snow can drain quickly.
When a snow emergency is in effect, on-street parking is prohibited; cars can be ticketed every 12 hours or towed.
The city will notify residents of declared snow emergencies by posting on the city website, its Facebook page and its Twitter profile. It will also appear on local stations and news outlets. You can subscribe to winter alerts via email, too.
Residents can assist by removing cars, trailers, basketball hoops and other items from street and the right of way between the street and the sidewalk.
You can read find more information about snow emergencies, including available off-street parking for those without an available space, at northlibertyiowa.org/snow.
Sidewalks
Residents and property owners are required to clear their sidewalks within 48 hours of a snowfall to allow safe travel on foot, wheelchair or other modes of travel, as well as clearing curb ramps  at intersections. City crews clear our designated trail system to help students on their way to school and other travelers.
Fire Hydrants and Storm Drains 
Please consider clearing around storm drains, to help prevent ice dams, and fire hydrants, to allow critical unimpeded access in the event of a fire.
Dumping is Prohibited
Moving snow from private property on to other private property or on to or across public property, including roads, is prohibited. Moving snow from a driveway, parking lot or other private property onto the public property slows cleanup, creates icy drifts on roads and sidewalks and creates sightline obstacles for travelers.