An October Holiday in December, Thanks to Generous North Liberty Neighbors
Posted on: January 6, 2023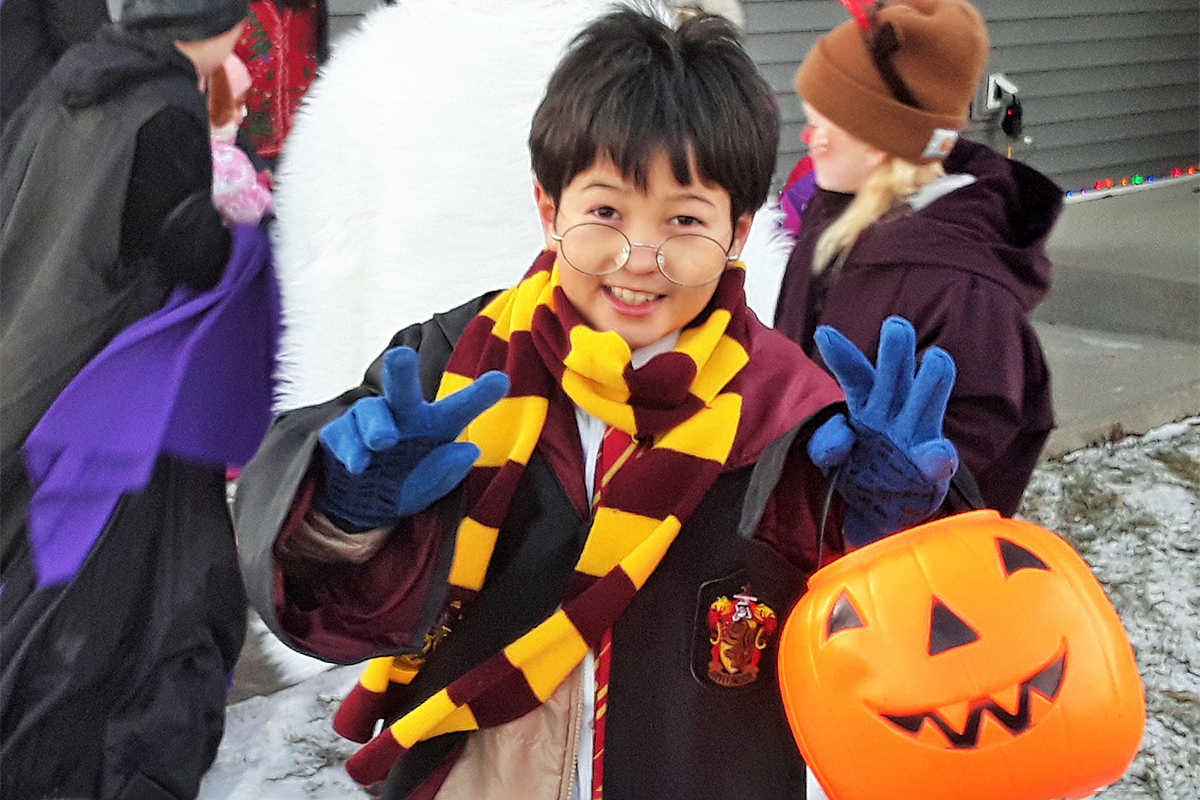 Story and photos by Dick Hakes, North Libertarian
Some residents of the Fox Run neighborhood may have blinked twice on a Sunday last month when, one afternoon, a line of kids dressed in Halloween costumes paraded from house to house with bulging bags of candy.
Here you had a werewolf, dragon, cowgirl, witches, the Grinch and various other animals and action figures scurrying through the freezing December cold to selected participating houses, many adorned with Christmas lights and inflatable Santas, snowmen and reindeer.
What on Earth was going on here?
It all started with Joan Hakes, a devoted grandmother. While she lives in North Liberty, her daughter Molly lives in Japan, teaches English there and spreads the word about Halloween in a country where the concept of Halloween is not engrained in society.
Molly and her family arrive for extended Christmas visits each year in Iowa, but her youngest son, Tommy, often lamented he wished he could take part in trick-or-treating like his American counterparts.
Grandmother Hakes suggested to her son Tony that maybe they could surprise 9-year-old Tommy by setting up a couple of houses to pass out candy and give him the experience of the October holiday, even though it was Christmas week. Tony and his wife Nancy and their Fox Run neighbors and friends embraced the project and got their own children involved. They developed an 11-house candy route for the nearly 20 kids who took part.
The Hakes family was touched and grateful that others took time out from hectic Christmas schedules to insert an extra Halloween into their year. All involved thought it was a hoot — especially Tommy, who was dressed as his current wand-weilding hero, Harry Potter.
Why Harry Potter? "Because he's got magic and he fights a lot of bad guys," Tommy said.
Following time-honored tradition, the candy was dumped on the living room floor afterward for examining, counting and trading. Tommy summarized his experience:
"My toes and fingers were freezing, but it was worth it," he said. "It was my first time trick-or-treating and it was great. I think I got about 60 pieces of candy. I traded most of the chocolate stuff to the other kids for sweet and sour things."
Do you have a fun story to share? We love to hear it. Drop us a line at [email protected]