North Liberty Police Department Announces Two Promotions
Posted on: January 9, 2023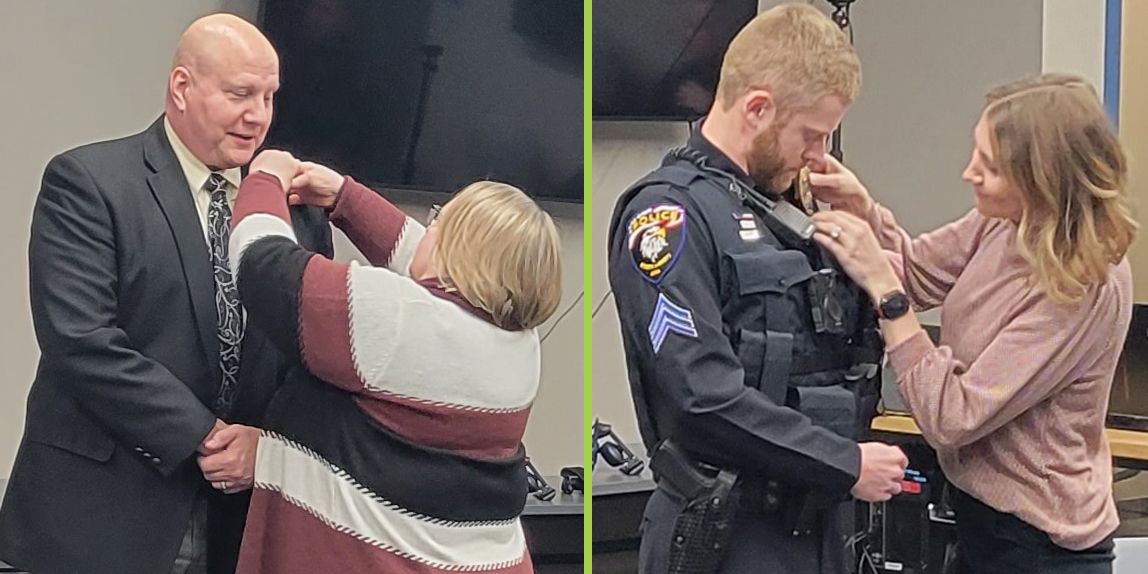 Two members of North Liberty's Police Department, Rueben Ross and Casey Wood, recently participated in a pinning ceremony to honor their recent promotions.
Lieutenant Rueben Ross will serve as the department's first Administrative Lieutenant, responsible for the department's four investigators as well as overseeing department training requirements,  new hire backgrounds and onboarding, community outreach efforts and records. Ross started his law enforcement career in 2007. He moved to take a position with North Liberty Police Department in 2012, where he has worked patrol, investigations and was a night supervisor for the past five years. Ross has a master's degree in policing management and has served in a variety of training roles, including as a field training officer, and an ALICE instructor.
Sergeant Casey Wood is now assigned as one of the night shift patrol supervisors.  Wood started as a police officer with North Liberty in 2013, and has worked as a patrol officer and an investigator with the Johnson County Drug Task Force. In 2017 he was the recipient of the North Liberty's Officer of the Year. Sergeant Wood is a field training officer, taser instructor, Radar and Laser instructor, active shooter threat instructor and was a member of the Johnson County Special Response Team.
The supervisors took over these roles January 1, 2023.