Scheels Ice Rink at Penn Meadows Park is Now Open
Posted on: January 31, 2023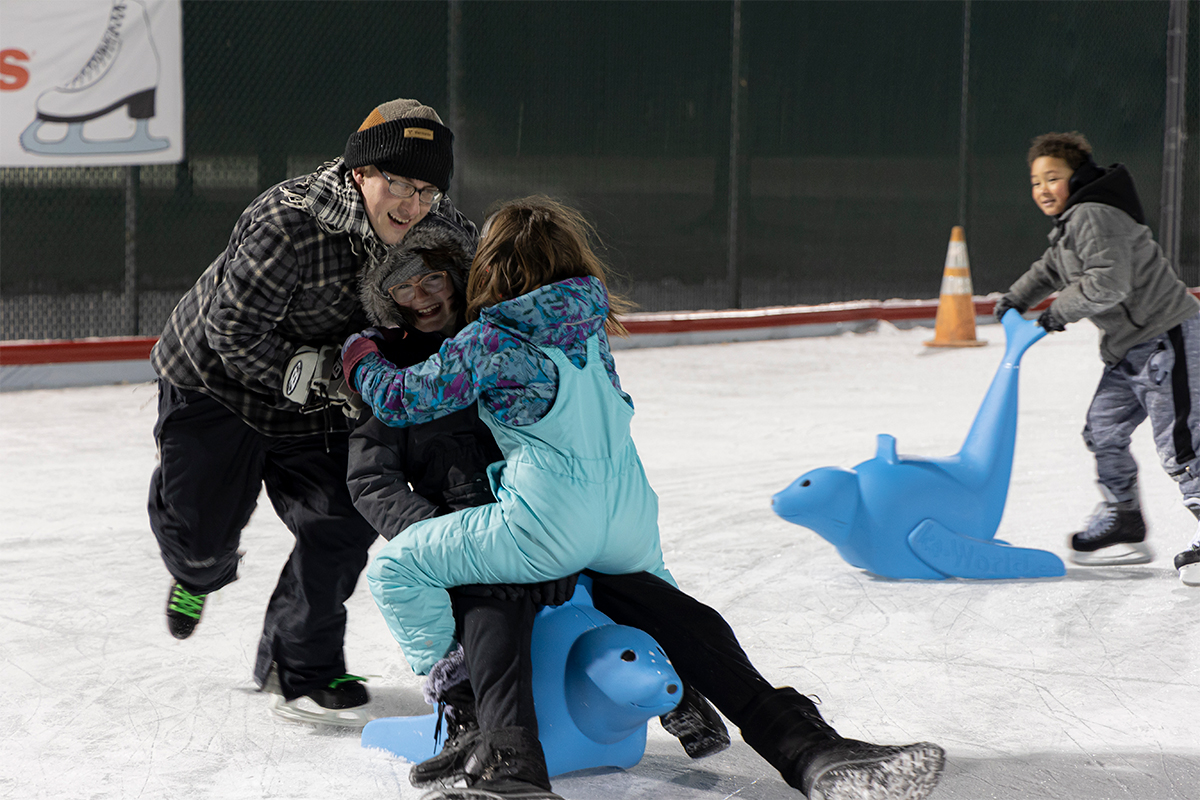 The cold has moved in so make the best of it by embracing winter and the unique recreation opportunities the temperatures offer. Scheels Ice Rink – the City of North Liberty's outdoor ice rink – is free and open for the season.
The 100- by 80-foot rink is installed on top of the tennis courts on the south side of Penn Meadows Park. Parking is available in the south lots near Penn Elementary.
Scheels Ice Rink is open to all ages for free public skating from 9 a.m. to 9 p.m. daily, as weather allows, and lit from 4 p.m. to 9:30 p.m. Gates will be locked if the ice conditions don't allow for a safe skating surface. You can check the status of the rink at subscribe for alerts at northlibertyiowa.org/rinkstatus.
New this year, three Bobby the Seal skating aids are available for those just getting their feet under them in addition to and a variety of skate sizes are available for the public to borrow at no cost for up to 2 hours at a time. Sizes range from Toddler 9-12, Youth 1-5, and Adult 6-13 in both hockey and figure skates. Skates can be checked out from the North Liberty Recreation Department front desk between 6 a.m. and 7:30 p.m., Monday through Friday, and between 8 a.m. and 4:30 p.m., Saturday and Sunda. A credit or debit card is required to check skates out. Skates must be returned within two hours of check-out or by closing of the recreation center (9 p.m. on weekdays, 6 p.m. on weekends), whichever comes first. If skates are not returned on time, the card on file will be charged $50 per pair of skates the next businesses day. Must be 16 years or older to check out skates. Sizes are limited and will be loaned out on a first come, first served basis.
We ask for your help to make the Penn Meadows rink an enjoyable experience. For the safety and enjoyment of all skaters, please follow these guidelines.
Skating is at your own risk.
Do not walk on the tennis court surface with skates.
All children under 10 years of age must be accompanied by a responsible adult.
Music is not provided but welcome if it is of appropriate volume and family friendly. Headphones are not allowed.
Pucks are allowed on the ice weekdays from 5:30 to 6:30 p.m. for kids and parents, and 7:30 to 8:30 p.m. for adults.
The City of North Liberty is not responsible for personal property, damages, or injuries.
The City of North Liberty reserves the right to remove anyone from the ice deemed reckless or possibly harmful to other skaters.
No digging or chipping at the ice. The rink will only be resurfaced a few times each season.
Only clean shoes should be worn if walking on the ice.
There is no carrying children, racing, or jumping on the rink.
Helmets are strongly recommended.
Do not sit or lean on the walls of the rink.
No food or drink on the ice.
Be respectful to everyone who comes to enjoy public skating.