Registration for Fun Camps and Fall Recsters Coming Soon
Posted on: February 28, 2023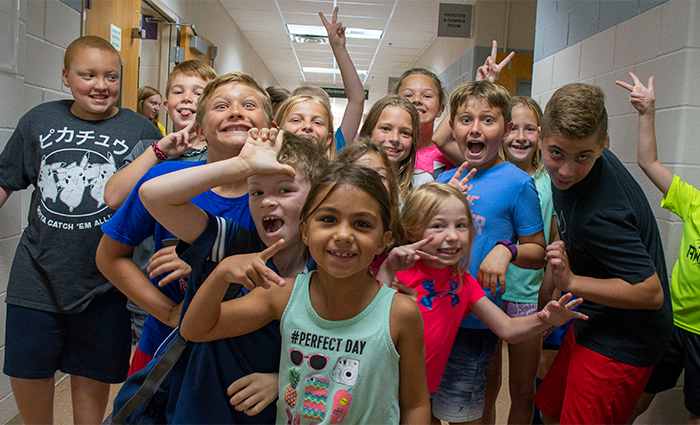 Our Recsters programs host kids for fun days before and after school during the school year, and really go crazy during the summer with weekday summer camp for kids who have completed grades kindergarten through sixth, a junior councilor option for rising seventh graders, and Knight Riders for rising sixth through ninth graders held Monday through Thursday. Registration for these programs will begin soon and are expected to fill quickly.
Registration for current school year Recsters and past summer participants can register March 1 to 31, 2023. Registration in-person at the Community Center is required so staff can confirm eligibility for this early registration period. Open registration begins April 3, 2023, online at northliberty.recdesk.com.
Summer Camp
Recsters Summer Camp is available for students who have completed grades kindergarten through sixth grade (rising sixth and seventh graders can also participate as Junior Counselors) for nine weeks of summer break. Activities include group games, reading, crafts, supervised free play, daily trips to the outdoor pool and weekly field trips during our normal sessions, though some programming may be limited during COVID safety measures. Pick-up and drop-off is at the North Liberty Community Center.
Hours:
Monday-Friday 7 a.m. to 6 p.m. There will be no program July 4.
Registration Fees
$240 per week
Junior Counselors
For students entering sixth or seventh grades, they can help with the program in all facets for a discounted rate. Fee is $120 per week
Knight Riders
This program is designed to get young adults active this summer on their bike and in their community. Participants will need a working bike (the Iowa City Bike Library offers some used bikes for lower cost) and helmet for their rides in North Liberty and Coralville area. Mornings are spent with games, crafts, projects and riding. Afternoons will be spent swimming, games, outdoor activities and field trips. The program looks to do at least one large community service project each week along with smaller projects within the city as well as help with the Summer Lunch & Fun program.
This program is designed for the participants to be active parts of the program planning process and to develop activities that excite and motivate them. This is a great way to give something back to your community, meet new friends, and have fun this summer! The program is open for students entering grades sixth through nineth. While the Community Center serves as home base for the Knight Riders, participants should be prepared to ride five to 10 miles per day.
Hours
Monday through Thursday, 8:30 a.m. to 4:30 p.m.
Registration Fee
$160 per week
Recsters BASP
Our Recsters BASP program is designed to provide guidance for school-aged children in kindergarten through sixth grade. The program is held at the Community Center, with licensed drivers transporting kids from at Penn, Garner and Grant. Activities include group games, reading/homework help, crafts, and supervised free play.
Hours
Before School: Monday through Friday, 7 to 7:35 a.m.
After School: Monday, Tuesday, Wednesday, and Fri from 2:50 to 6 p.m., Thursdays from 1:50 to 6 p.m.
Registration Fees
Pays for the August program and holds your student's space. There are no refunds for cancelled spots.
Before school: $75
After school: $75
Monthly Fees
There are no prorated months, and All Day programs incur a separate fee.
Before school: $90
After school: $250
Before and after combo: $275