Follow the Trail of Clues on April 1
Posted on: March 2, 2023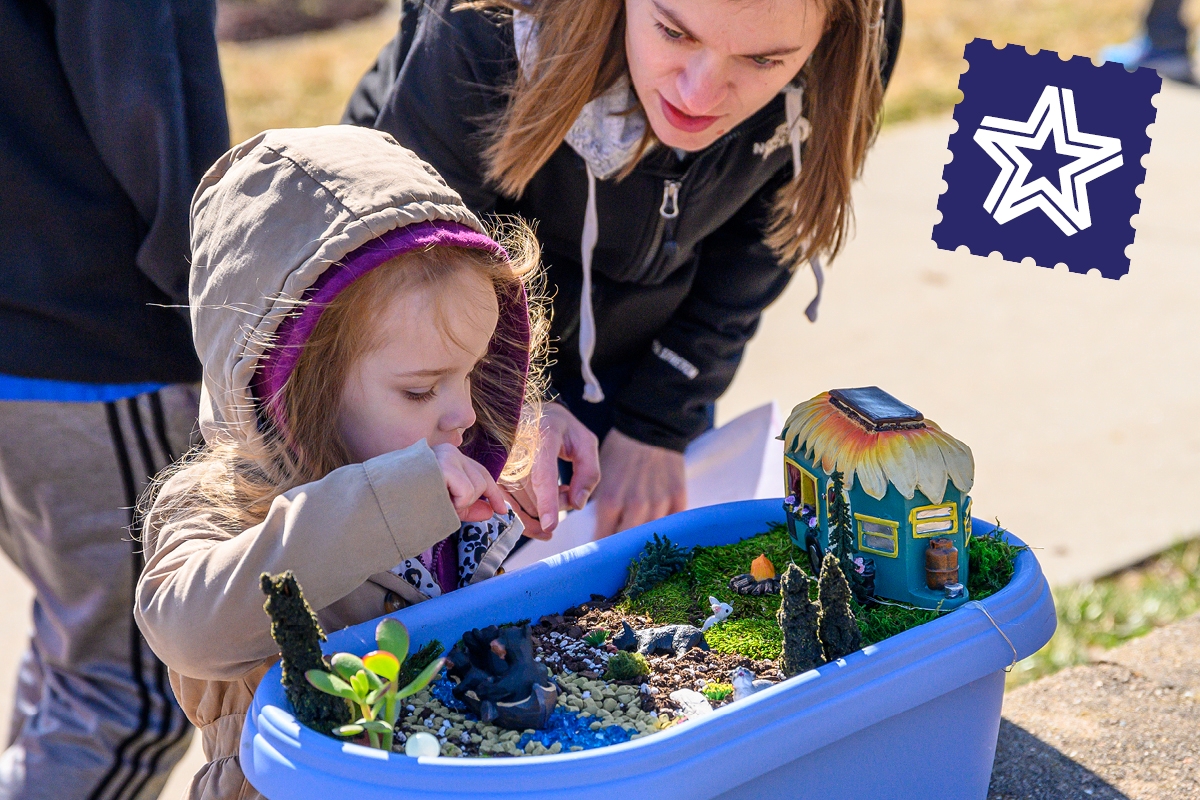 Spring is full of mischievous creatures bearing gifts, and a dozen fairies have built their homes around Liberty Centre Pond. Their homes hold secrets for families who, if successful in seeking them out, will be rewarded. The EGGstravaganza, including the Bunny Clue Trail detailed below, egg decorating (April 1 from 8:30 to 10 a.m. at the Community Center) and the Underwater Egg Hunt (April 2, 9:45 or 11 a.m., registration-required), replaces the candy chaos of prior years and is hosted by the Recreation Department and the North Liberty Optimists. Here's all you need to know about the Bunny Clue Trail:
The five Ws
Who: You! This event is free. Children should be accompanied by an adult.
What: Visit fairy gardens around Liberty Centre Pond and locate items hidden in each scene to earn spring treasure, including treats and a succulent.
Where: Liberty Centre, 820 W. Cherry St
When: 10:30 a.m. to 12 p.m., Saturday, April 1, 2022. Attendees are welcome to arrive at any time during the event. We expect the hunt to take approximately 30 minutes to complete.
Why: Celebrate the rebirth of spring.
What to bring
Sharp eyesight to find items hidden in each scene.
Camera or camera phone for photo opportunities.
Something to write with.
How to get there
Liberty Center Pond is located between Penn and Cherry streets at 820 W Cherry St.
Parking is available along residential side streets or at the Community Center, 520 W. Cherry St.
Skip the car and walk or bike to the event!
You also might be wondering
Bathrooms are available at the Community Center, 520 W. Cherry St.
Dogs are welcome as long as they are on a leash and you clean up after them.
Participants who complete the hunt will be entered to win a chance to become the fairies' next home.
Registration for an Underwater Egg Hunt scheduled for Sunday, April 2, for swimmers ages 1 to 5 and 6 to 10 will open 8 a.m. on March 26.
Who to thank
This event is part of the City Slate. The yearlong schedule of events is made possible by Centro, Inc, The Family Dental Center, The Eastern Iowa Airport – CID, Hills Bank, MidWestOne Bank, Shive-Hattery, South Slope Cooperative, University of Iowa Hospitals & Clinics Urban Acres Real Estate and Veridian Credit Union.
Stay in the loop
Any cancellations or delays will be posted in the Facebook event.
Share your photos with us on Facebook, Instagram or Twitter.
Stay connected with the City by subscribing to the North Liberty Bulletin or signing up for news alerts.
Accessibility
We're committed to providing access, equal opportunity and reasonable accommodation at our events for individuals with disabilities.
For accommodations, please reach out to [email protected] or call (319) 626-5755.
More City Slate Fun
This event is part of the City Slate, a compilation of North Liberty's largest and free city-produced events, with more than 40 events planned in 2022. Explore the schedule at northlibertyiowa.org/cityslate.