Red Fern Dog Park
The Red Fern Dog Park is located at 980 North Liberty Road. It is a 5.1-acre park with three sections: two open to all dogs and one reserved for small dogs only. The dog park features a 20-stall parking lot, interior trails, and two park shelters. Future plans include adding agility equipment, a water tap, and information kiosks. Download the brochure here. For all announcements, which will include the dog park, please sign up for News Here.
By passing through the gates into the park yards, you agree to abide by the park, yard, human, and dog rules outlined below, posted at the Red Fern Dog Park, and found in the printable Red Fern Dog Park Map, Rules & Etiquette document. Violations and reported incidents will impact your ability to purchase a future pass.

Questions about the membership/licensing forms or the dog park should be communicated to the city by emailing [email protected] or by leaving a voicemail message at 319-626-5700.
Announcements
2023 Sept 1 – It's September! This means 2023 Red Fern Dog Park passes are prorated (i.e. "discounted") through the end of the year. New to the area or just adopted a new dog (or prefer to wait for fall temperatures)? First dog is now $25 for North Liberty residents and $30 for non-residents. Keep in mind, all passes expire on December 31 of the year of purchase. Apply here!
2023 Aug 14 – Small plush toys are not allowed to be left at Red Fern Dog Park and will be disposed of upon discovery. We have recently had two emergency veterinary visits due to dogs choking on these left strewn in the yard. If you do bring a special plush toy along, you will need to be actively watching to make sure your dog does not leave it behind. We are all good stewards of the park and other people's dogs, so I appreciate your diligence in this effort to keep all of them safe.
When visiting Red Fern Dog Park, especially during heat advisories, please bring water along for your dog, as there is not a tap on property.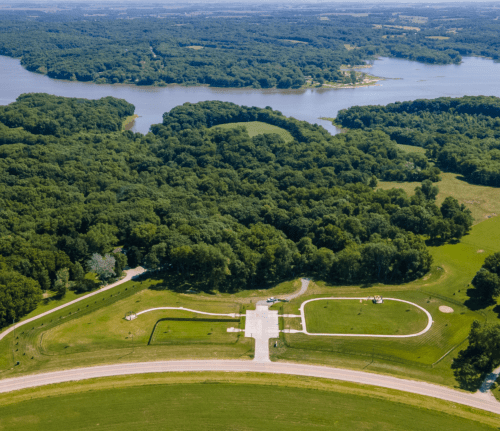 Rules & Regulations
Dogs Must:
Be at least 16 weeks old to enter.
Be vaccinated for rabies.
Not be in heat.
Not be feeling sick or have a communicable disease.
Not be deemed "vicious," "dangerous," or "aggressive" by the City.
Carry your Red Fern Dog Park Annual Pass card on your human or nearby while at the park. Fill out this page to purchase a dog park annual pass.
Stay visible to your human at all times and be ready to listen to a command.
Not be in a yard alone without your human.
Leave if you are involved in a reportable incident, whether as the instigator or the target. Use this incident report form to submit online.
Humans Must:
Be at least 16 years old to enter; if under 16, you must be accompanied by a responsible adult (over 18 years old).
Not be feeling sick.
Not be handling and/or responsible for more than two dogs.
Carry a leash for each dog.
Dutifully use a leash on your dog(s) before entering and after leaving a yard, but must remove while dog is in yard.
Clean up after the dog(s) in your care, including poop and broken toys. Biodegradable waste bags and trash receptacles are provided.
 Not conduct lessons or other for-profit activities on park property without written permission from the City of North Liberty. Be prepared to display written permission when asked.
Stop displays of dominance, charging, hole-digging, bullying, and excessive barking or mounting.
Be responsible for your dog's actions and behavior at all times, including compensation for repairs to damage of property or medical expenses after a reportable incident.
Communicate reportable incidents and rule violations to the City of North Liberty so they can be documented.
The following items are strictly prohibited from Dog Park property:
 Alcohol possession or use
Cigarette or smokeless tobacco use
Wheeled devices, except wheelchairs and strollers
Large personal items on the ground, like duffle bags or chairs, which pose a tripping hazard
Human food, except non-alcoholic beverages
Dog food, except small training treats
Glass containers
Pronged, pinch, or choke collars
Electronic training devices.
Other Park Rules:
Dog Park hours of operation are dawn to dusk.
Yard must be vacated while maintenance tasks are being performed.
Users of the North Liberty Dog Park do so at their own risk.
Any City of North Liberty staff person has the right to ask users to leave park property.
Violations of Dog Park rules will be documented by the City of North Liberty.
If violations are deemed excessive by City Administrative staff, then pass will be revoked without refund.
Other City of North Liberty park rules and ordinances may apply.
Yard Rules:
Toys are allowed, taking into account the potential hazards to other dogs and your dog's willingness to share. Must discontinue use of toy, if requested by fellow dog handler or City staff person. Be extra careful with small or plush toys as they can be a choking hazard for some dogs; plush toys left behind will be disposed.
Training treats are allowed. Do not share without explicit permission from dog handler.
Do not leave food bowls. Even though it is done as an act of kindness, they collect germs & mosquitos; dogs have gotten diarrhea from drinking out of a random bowl, so please take it with you.
Small Dog Yard is for small dogs only, 18 inches or less at the shoulder.
Safety & Stewardship
Parking Lot Access
The Red Fern Dog Park has one entrance and one parking lot. If the lot is full, please do not park on the grass; instead, come back a different day and try again! If you *do* accidentally pull into a neighbor's drive, please back all the way out and do not drive on their grass. Thank you so much for understanding!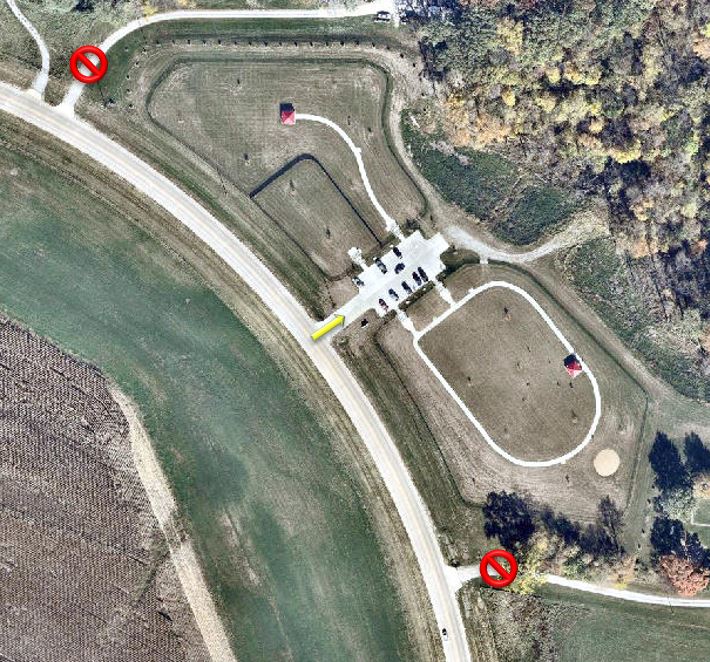 Incident Reporting
Call 911 in the event of a medical emergency or any incident involving blood or a bite.
Please report:
Any failure to heed park rules;
Dogs displaying signs of a communicable disease;
If your own dog gets sick and used the Red Fern Dog Park before symptoms appeared and within the contagious period;
Abandoned animals located on property; and
Other concerns about park visitors or pets.
Use this incident report form to submit online.
Parks staff will initiate investigation, when warranted. If assistance is needed, City Administrative personnel will handle decision making.
Etiquette is appreciated!
Let's encourage D.O.G. F.R.I.E.N.D.S.
DISCIPLINE:
Displays of dominance, charging, and bullying are not welcome behaviors. Don't allow them!
OBSTACLES:
Large objects are collision hazards to playing dogs… and will probably get peed on. Leave the lawn chair and the giant bag in the car.
GARBAGE:
Show your North Liberty pride by maintaining a clean park! Place trash in the appropriate receptacles.
FOCUS:
Give all the attention to your dog and your children, not your screen.
RECALL:
Make sure your dog is ready to obey when you call.
INTRODUCTIONS:
A polite hello is encouraged between all community members… for both human and canine friends.
EXERCISE BEFORE PARK:
Overstimulation can lead to problems! Get all the energy out of your dog's brain and body before arriving.
NO FOOD & TREATS:
Allergies and dieting dogs are amongst us. Don't share any edible items.
DISTANCE:
Recognize when your dog might need a time out… or leave if you sense trouble. Always better to be safe, than sorry!
STEREOTYPING:
Don't blame the breed for bad behavior. Courtesy comes with successful training and discipline.
Helpful commands while at the park
SIT: Stay sitting until human says otherwise.
LIE DOWN: Lie down to calm down, focus on human, and wait for next command.
STAY: Do not move.
COME: Return to human without fail or delay.
DOG'S NAME: Attention off the distraction and to human.
FOCUS: Zone out everything else.
LEAVE IT: Ignore something that is tempting and/or potentially dangerous.
DROP IT: Drop something from mouth or stop a game that is turning aggressive.
WAIT: Stop midstride, pause for a moment, and focus attention on human.
HEEL: Walk next to human until told otherwise.
Also, teaching a dog not to eat something from strangers keeps the dog safe and prevents begging behavior.
Lost a pet? Click here for 10 Actions you can take NOW.
City of North Liberty Pet Licenses & Red Fern Dog Park Passes are administered and managed by staff at North Liberty City Hall (3 Quail Creek Circle, North Liberty, IA 52317). Questions? Stop by in person or contact staff at [email protected] or (319) 626-5700. Office hours are 7:00 AM – 4:00 PM, Monday through Friday, except holidays.