Parking Lot Access
The Red Fern Dog Park has one entrance and one parking lot. If the lot is full, please do not park on the grass; instead, come back a different day and try again! If you *do* accidentally pull into a neighbor's drive, please back all the way out and do not drive on their grass. Thank you so much for understanding!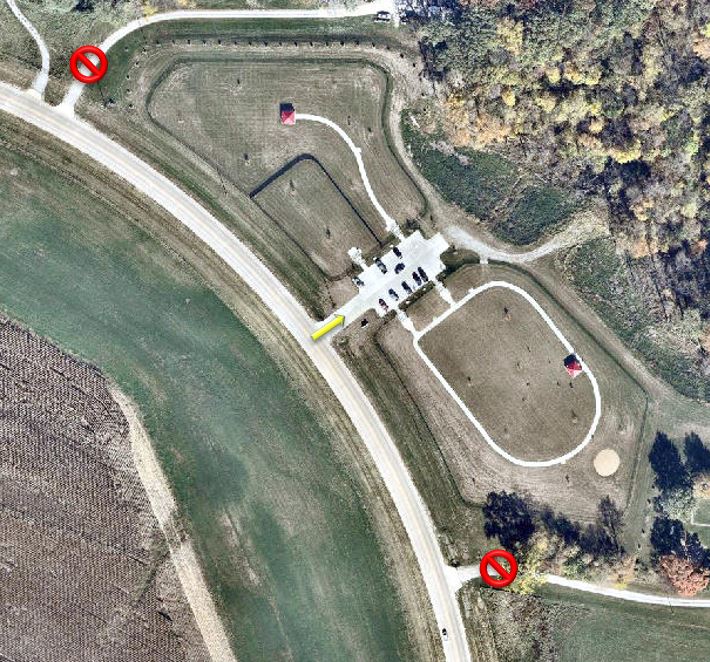 Incident Reporting
Call 911 in the event of a medical emergency or any incident involving blood or a bite.
Please report:
Any failure to heed park rules;
Dogs displaying signs of a communicable disease;
If your own dog gets sick and used the Red Fern Dog Park before symptoms appeared and within the contagious period;
Abandoned animals located on property; and
Other concerns about park visitors or pets.
Use this incident report form to submit online.
Parks staff will initiate investigation, when warranted. If assistance is needed, City Administrative personnel will handle decision making.
Etiquette is appreciated!
Let's encourage D.O.G. F.R.I.E.N.D.S.
DISCIPLINE:
Displays of dominance, charging, and bullying are not welcome behaviors. Don't allow them!
OBSTACLES:
Large objects are collision hazards to playing dogs… and will probably get peed on. Leave the lawn chair and the giant bag in the car.
GARBAGE:
Show your North Liberty pride by maintaining a clean park! Place trash in the appropriate receptacles.
FOCUS:
Give all the attention to your dog and your children, not your screen.
RECALL:
Make sure your dog is ready to obey when you call.
INTRODUCTIONS:
A polite hello is encouraged between all community members… for both human and canine friends.
EXERCISE BEFORE PARK:
Overstimulation can lead to problems! Get all the energy out of your dog's brain and body before arriving.
NO FOOD & TREATS:
Allergies and dieting dogs are amongst us. Don't share any edible items.
DISTANCE:
Recognize when your dog might need a time out… or leave if you sense trouble. Always better to be safe, than sorry!
STEREOTYPING:
Don't blame the breed for bad behavior. Courtesy comes with successful training and discipline.
Helpful commands while at the park
SIT: Stay sitting until human says otherwise.
LIE DOWN: Lie down to calm down, focus on human, and wait for next command.
STAY: Do not move.
COME: Return to human without fail or delay.
DOG'S NAME: Attention off the distraction and to human.
FOCUS: Zone out everything else.
LEAVE IT: Ignore something that is tempting and/or potentially dangerous.
DROP IT: Drop something from mouth or stop a game that is turning aggressive.
WAIT: Stop midstride, pause for a moment, and focus attention on human.
HEEL: Walk next to human until told otherwise.
Also, teaching a dog not to eat something from strangers keeps the dog safe and prevents begging behavior.