Fitness On Demand
Try a new workout on your schedule with our Fitness on Demand kiosk. Fitness on Demand allows you to select a class, including yoga, Pilates and kickboxing, from a touchscreen at our aerobics room. You can then work out individually or with friends in an environment less intimidating and more comfortable than a live class.
Gymnasiums
Two gyms with official-size basketball and volleyball courts with wood floors and air conditioning. Both gyms feature permanent bleachers, great for rentals and leagues of all kinds. The Jones Gym is open to the public as much as possible, while Roberts Gym is used for programs and rentals.  The Recreation Department has uses the gymnasiums at North Bend Elementary and Buford Garner Elementary during the evenings and on weekends. View a calendar of open gym times or click here to request a reservation.
Indoor and Outdoor Pool
Whether you're looking for a workout, lessons or just fun, the Pacha Aquatics Center's heated pools are just the thing. Find all of the details for the Aquatics Center here, including the pool schedule, classes, and rental options.
Kids Campsite
A padded, outdoors-themed play area for kids 48 inches tall or shorter. Kids Campsite is open from 9 a.m. to 8 p.m. on weekdays, 8 a.m. to 6 p.m. on weekends. While it's free, it's limited to 49 people (children and adults) at a time. Rental is available from 6 to 7 p.m. on Saturday and Sunday for $25. Click here for a rental request form.
Weight and Exercise Area
Get into shape with our upper-level weight and exercise area. Cardio equipment includes treadmills, ellipticals, recumbent bikes, upright bikes, steppers and indoor cycling bikes. Weight equipment includes Matrix weight stations and dumbbells ranging from 3-90 lbs.
Elevated Running Track
Sports flooring on the track is suited for running, walking and jogging. A great place to walk or run during uncomfortable temperatures or inclement weather. One mile is approximately 8.5 laps.
Aerobics Room
Full mirrored room with a/c and a rubberized flooring great for fitness classes.  Gerdin Aerobics room is a mirror less room that has carpeted floors great for all aerobics classes.
Kitchen
May be used in conjunction with a rented room at no additional charge. Includes a refrigerator, microwave and two stoves.
Recster/Procter & Gamble Room
Used by the before and after school program and for summer/holiday camps; serving 60 children.
Locker Availability
Patrons must provide own lock for the six month rental. Patrons may bring own lock or pay for one on daily use. Limited number of lockers  available.
Meeting Rooms & Gerdin Conference Center
Semi-permanent dividers have been installed to allow for multiple uses in the Gerdin Conference Center. The room can be opened up as one large room or can be separated into various room sizes. These rooms are great to hold birthday parties, showers, meetings and special events. Capacity ranges from 20, 40, 55, 70, 140 and 400 people. Reservations are on a first come, first serve basis. A Facility Use Agreement must be completed along with a deposit to reserve a room. Simply complete a meeting space request form and a staff member will be in touch with your shortly.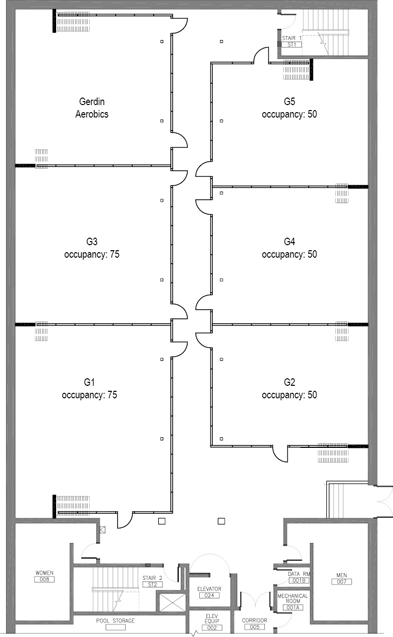 Room
Capacity
Resident Fee
Non-resident Fee
Non-Profit Group Fee
Half Room (Main Level)
20 people
$10/hour
$15/hour
$5/hour
Full Room (Main Level)
40 people
$20/hour
$25/hour
$10/hour
Full Room (Gerdin) rooms 2, 4, 5
40 people
$20/hour
$25/hour
$10/hour
Large Room (Gerdin) rooms 1, 3
70 people
$25/hour
$30/hour
$12.50/hour
Double Room (Gerdin) rooms 1&3
140 people
$40/hour
$50/hour
$20/hour
Half Gymnasium
200 people
$20/hour
$30/hour with tarps
$25/hour
$35/hour with tarps
Regular fees apply.
Full Gymnasium
400 people
$40/hour
$45/hour with tarps
$45/hour
$50/hour with tarps
Regular fees apply.
Full Gerdin Conference Center
650 people
$70/hour
$85/hour
Regular fees apply.
Park Shelters, Fields and Green Spaces
Individuals may reserve shelters, green space and baseball fields. To make a request please complete these linked forms and a staff member will be in touch with you shortly.