Collection Days
Residents west of Ranshaw Way (Highway 965) will have services provided on Tuesdays.
Residents east of Ranshaw Way (Highway 965) will have services provided on Wednesdays.
These services are provided by Johnson County Refuse, an LRS company and contactable locally at (319) 665-4498, and included on monthly city utility bills. Carts should be placed at the curb, with the lid opening towards the street, by 7 a.m. for collection. Holidays can affect collection dates and are noted on the calendar.
Trash
Residential customers are provided a heavy-duty, wheeled cart with a hinged lid in one of three sizes, each at a set monthly cost:
65 gallons, collected weekly, for $14.65 per month
35 gallons, collected weekly, for $12.65 per month
35 gallons, collected biweekly, for $7.65 per month
Recycling and yard waste will be collected weekly, with all options.
All trash should fit inside the bin with the lid closed. Excess trash can be placed on top of the lid with a $3 sticker, available for purchase at City Hall, 3 Quail Creek Circle, and other local gas stations and grocery stores.
If you would like to change your bin size, please contact City Hall at (319) 626-5700 or through this page (please provide your service address).
Single-stream Recycling
Residential customers will be provided a heavy-duty, wheeled cart with a hinged lid. Most customers will receive 95-gallon bin, but a 65-gallon bin is available by contacting Johnson County refuse (there is no discount for the smaller bin). A monthly recycling fee is on your monthly utility bill at $4.85. No need to sort your items, just place your recycling bin at the curb. All customers receive weekly recycling collection, regardless of their trash collection schedule.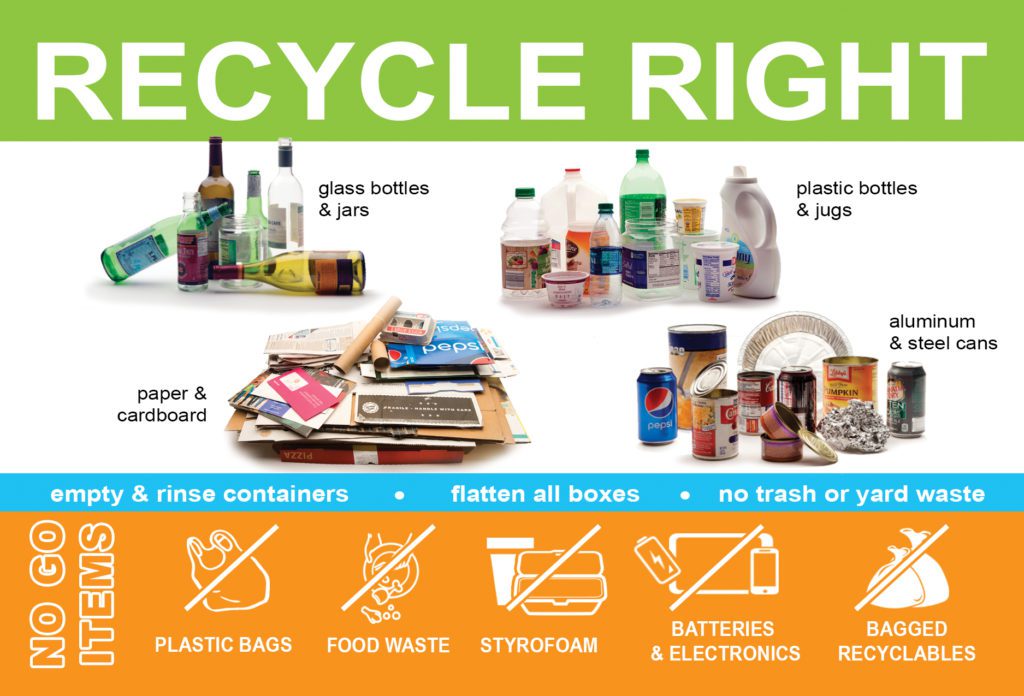 Recyclable items include:
Newspapers, including inserts, flattened cardboard and chipboard
Glass food and beverage containers; clean, no lids
Aluminum, steel and tin cans; please rinse
Magazines, phonebooks, and mixed paper
Plastic food and beverage containers labeled numbers 1-7
NOT recyclable:
Plastic bags
Styrofoam
Waxed papers or waxed coated cardboard
Wrapping or tissue paper
Disposable diapers, tissues, paper towels
Hard cover books, paperbacks, catalogs
Anything that contained automotive products
Any paper with food, fertilizer, etc.
Windows, light bulbs, mirrors, ceramics, drinking glasses, crystal, etc.
Curbside Compost
Residents will need to acquire a compost bin from City Hall for a $25 refundable deposit and line it with a yard waste bag, imprinted with "Johnson County Refuse," available for $1.65 at a variety of stores in North Liberty. Place the bin at your curb on collection day. To sign up, contact City Hall at (319) 626-5700 or [email protected].
Compostable items include all food waste, such as:
Fruits and vegetables, including peelings, cores, pits, seeds, etc.
All grain products.
Non‐liquid dairy products. No milk, please, but foods prepared with dairy are acceptable.
Meat and seafood (raw or cooked, including bones and shells).
Eggs and egg shells.
Pizza and pizza boxes.
Coffee grounds, coffee filters, tea and tea bags.
Leftovers and plate scrapings.
Spoiled foods.
Paper clamshell to‐go or doggie bag boxes from restaurants.
Uncoated paper that has been in contact with food: napkins, paper towels, and pizza boxes, as well as compostable paper plates and compostable coffee cups.
Shredded paper.
Compostable service ware, such as spoons, forks, plates, etc. that are certified ASTM D6400 or ASTM D6868, or labeled "compostable."
Items that are not accepted:
Plastic, Styrofoam, metal or glass.
Foil‐ or plastic‐coated paper, plates, bowls or cups.
Waxed or coated paper (such as meat‐wrapping paper).
Cigarette butts and ashes.
Hazardous or medical waste.
Saran wrap and cellophane.
Pet waste and litter.
Liquids.
Yard waste
Bags, imprinted with "Johnson County Refuse," are $1.65 each and may be filled to 39 gallons/40 pounds. The Johnson County Refuse bags are available at City Hall (3 Quail Creek Circle), True Value (55 S Dubuque Street), LD Express (900 W Penn Street) and Fareway (615 Westwood Drive).
Brush and Small Limbs
Two bundles picked up free of charge on your collection day. Must be cut approximately four feet long and tied in bundles weighing 40 pounds or less. All customers receive weekly yard waste collection, regardless of their trash collection schedule.
Disposal of Other Items
You can get rid of larger items, like appliances, tires and furniture, curbside by affixing trash stickers to each item and placing it at the curb on your regularly scheduled pickup day. Stickers are available for purchase at City Hall and local gas stations and grocery stores.
Item
Stickers Required
Refrigerator
7
Freezer
7
Air Conditioner
7
Water Heater
7
Washer
7
Stove
7
Microwave
7
Dryer
7
Dishwasher
7
Televisions / Computers
7
Sofa Hidabed or Reclining
15
Sofa
10
Loveseat
6
Stuffed Chair
5
Recliner
5
Straight Back Chair
2
Mattress or Box Springs
King
8
Queen
7
Full
6
Twin
4
Dresser (Drawers)
x1 / +2
Carpet (3 x 8)
3
Toilet
2
Lamps
1
Grill
3
If you need to dispose of an item not listed here, contact Johnson County Refuse
Spring Cleanup Day
The City of North Liberty also hosts a Citywide or Spring Cleanup Day once per year, when residents can bring large items to the public works facility free of charge. This event is the last Saturday morning in April.
Spring Cleanup Day is held the last Saturday in April from 7 to 11 a.m. and is for residents of North Liberty only. Please be prepared to verify that you are a North Liberty resident with a water bill stub or driver's license.  North Liberty residents pay $.30 each month on their recycling bill for this service.
Miscellaneous large items are to be brought to the Public Works Facility, 620 Calvin Street.  (Go south on Front Street to Golf View Drive. Turn right and go to Calvin Street.  Turn right to Public Works facility.)
The following items will be accepted:
Furniture and other bulky items.
White goods (appliances)
Brush and tree limbs
Car and truck batteries and up to 8 tires
Metal and car parts
Dumpsters will be delivered on Saturday morning and each type of refuse will have a designated location.
Assistance will be provided to the elderly or handicapped.  Please call City Hall (626-5700) to make arrangements.
Regular household trash, paint and toxic materials will not be accepted.  A permanent drop-off site for paint and other hazardous materials has been created at the Iowa City landfill.  Items may be dropped off Thursday through Saturday from 7 a.m. until 2 p.m., no appointment necessary.