Pet Licenses & Dog Park Passes
North Liberty Annual Pet Licenses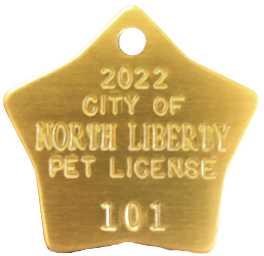 A North Liberty Pet License is required for each cat and dog residing in North Liberty city limits, per North Liberty Code 56.01. Pet Licenses expire on December 31 of each year and need to be annually renewed. The "Pet Licensing & Animal Control" document paraphrases Code of Ordinances chapters related to cats and dogs, outlining the roles and responsibilities expected of pet owners in North Liberty.
Please fill out one Pet License application for each pet. Click on the green "Apply for a Pet License" button above for the online form. Alternatively, printed copies are available at North Liberty City Hall (3 Quail Creek Circle) and a fillable form for print is available here.
If the pet is spayed/neutered, then the annual fee is $2; if the pet is not spayed/neutered, then the annual fee is $25. Persons 62 years and older are allowed one free Pet License for a spayed/neutered pet.
Once your online application has been processed by staff and your pet's tag is ready, then you will receive an email outlining your options to remit payment and receive your tag. If you do not receive a response email from staff within five (5) business days, then you should email [email protected] to confirm whether your application was received. Please read our FAQ if you have any questions.