COVID-19 (Coronavirus) Resources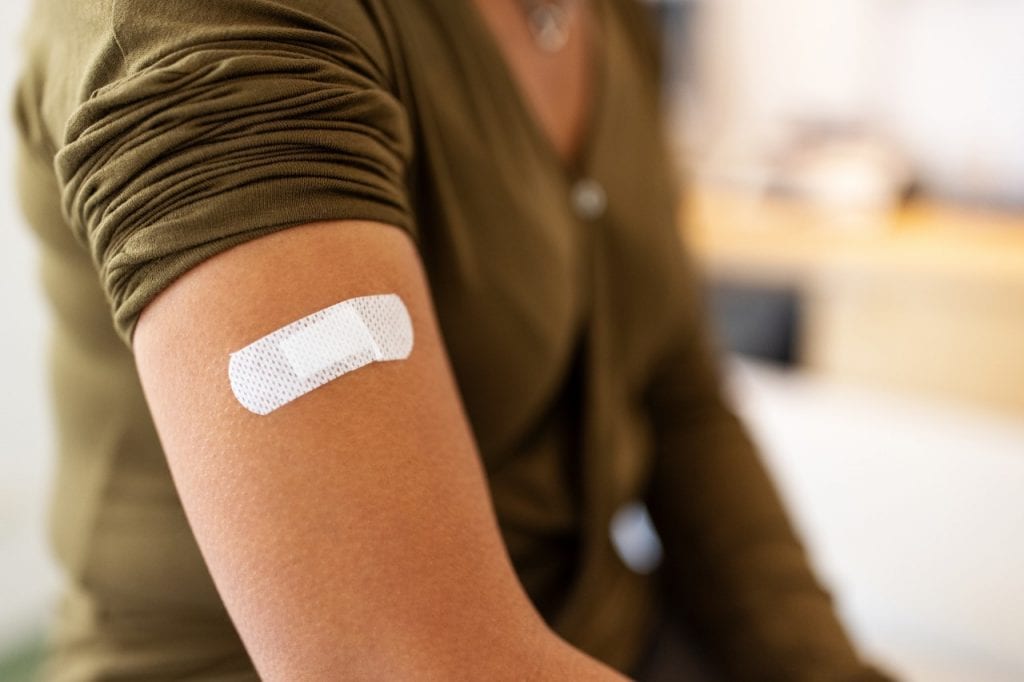 COVID-19 is a respiratory disease. It is mild to moderate for most people, but can cause severe illness and result in death for some. Older adults and people with chronic medical conditions, such as heart disease or diabetes, have the greatest risk of becoming severely ill.
Approved vaccines are safe, effective and available to anyone 5 years or older for free through providers near you.
Find a Vaccine
Updated: Nov. 11, 2021
We will continue to monitor federal, state and local public health guidance as a city. We see bringing the public back into city facilities as a dial, not a switch, and we will adjust it as we are responsibly able.
Masks in Public Buildings
Effective Aug. 11, 2021, the City of North Liberty will require face coverings in public buildings, including the Community Center, City Hall and Council Chambers in line with current public health guidance.
City Hall
North Liberty City Hall, as well as the Building and Legal departments, are open during regular business of 7 a.m. to 4 p.m. In-person permit inspections have resumed.
Library
The North Liberty Library is open regular operating hours: Monday through Thursday 8 a.m. to 8 p.m., Friday 8 a.m. to 5 p.m., Saturday 10 a.m. to 5 p.m. and Sunday 1 to 4 p.m. Drop-in use for all patrons is available, and staff will monitor for capacity. Study rooms are available for use. No-contact services remain available.
Recreation Indoors
The Recreation Department is open regular hours: weekdays 6 a.m. to 9 p.m. and weekends 8 a.m. to 6 p.m. Drop-in use for all patrons is available. Locker rooms and showers are available. Additional details are available on RecDesk.
Fire
In-person tours of the fire station and education opportunities are available by reservation. In-person permit inspections have resumed.
Police
In-person tours of the police station and education opportunities are available by reservation.
Transit
Contact Coralville Transit by phone: (319) 248-1790
The North Liberty fixed route service through Coralville Transit is operating. Masks are required.
This pandemic is moving quickly. Links to public health resources at the county, state and federal level will have the most up-to-date information. We will provide links and information to help our residents navigate this pandemic here.
Prevention of COVID-19 is the same as that for other respiratory illnesses (like flu) in addition to masking and social distancing, including staying home. These actions don't just protect you. They help keep our whole community safe, especially our most vulnerable residents, by slowing the spread of the disease.
Anxiety is understandable and expected, and the Iowa Department of Public Health offers some suggestions for dealing with that anxiety. Be aware that scammers will take advantage of that anxiety.
We'll work to keep this page up-to-date with resources as more information and resources become available.
How it spreads
COVID-19 spreads from person to person, mainly through coughs and sneezes of infected people or between people who are in close contact.
Take precautionary measures
According to Iowa Department of Public Health, precautions currently being recommended for Iowans include:
Avoid close contact with people who are sick.
Avoid touching your eyes, nose, and mouth.
Stay home when you are sick.
Cover your cough or sneeze with a tissue, then throw the tissue in the trash.
Clean and disinfect frequently touched objects and surfaces by using a regular household cleaning spray or wipe.
Wash your hands often with soap and water for at least 20 seconds, especially after going to the bathroom; before eating; and after blowing your nose, coughing, or sneezing.
If soap and water are not available, use an alcohol-based hand sanitizer with at least 60 percent alcohol.
If you are experiencing symptoms such as a fever, cough or difficulty breathing, and have traveled to an area with widespread COVID-19 transmission or otherwise feel you may have been exposed, please contact your health care provider.
The Center for Disease Control has provided recommendation to stop the spread of germs.
COVID-19 Symptoms
If you suspect you are infected with COVID-19, call ahead before visiting a medical facility so they can prepare. Do not go to an emergency room with mild symptoms.
The symptoms of COVID-19 are:
fever
cough
shortness of breath
Call your doctor right away if you experience these symptoms and have:
been in close contact with someone who has COVID-19, or
recently traveled from an area with ongoing community spread
CDC has a factsheet with more information about what to do if you are sick with COVID-19.
Stay informed
Avoid misinformation by following the following trusted sources:
The State of Iowa has opened its 211 hotline as the central resource for those with questions.
The Iowa Department of Public Health provides up-to-date information regarding this virus on their website, as well as guidance for businesses, schools, healthcare, long-term care, general public, and travelers.
The Center for Disease Control has a dedicated summary of the virus, including symptoms, risk assessment, and preventative measures.
Make a Plan
It is important for residents to prepare for the potential of COVID-19 in the same way they prepare for severe weather or other events that could disrupt their normal routine.
Make a plan and discuss it with your family. What would you do if you could not go to work or school because of illness? What if your daycare provider was ill? How would you get groceries if you were ill? These are all questions to consider.
It is normal to be concerned about a new virus.
Being uncertain and anxious about COVID-19 is normal, especially with reports of illness and death.
If you're looking for help in our community through this pandemic and its aftermath, here are some organizations and programs focusing their support in North Liberty, Johnson County and Iowa.
211
Free help is available through the United Way's statewide 211 hotline.
Use the 211 App, visit the 211 webpage, or call 2-1-1 on your mobile phone. A trained professional will assist you to determine the best local options to connect you to the help you need. Try the free 211 Iowa app.
Landline: 2-1-1
Toll Free: 1-866-469-2211
Any phone: 319-739-4211
Text your ZIP code: 898211
Food
The North Liberty Community Pantry is maintaining operations with shopping and delivered food for families in need through the pandemic.
Housing & Shelter
Unemployment
Economic & Small Business
Project Together is a collaboration of Think Iowa City, Iowa City Area Development Group, Iowa City Area Business Partnership & the Iowa City Downtown District providing continuing updates and resources for the local business community.
Other
Mental Health is Important. Call any of the numbers below if you are in need of help.
Your Life Iowa Crisis Line: 855-581-8111
CommUnity Crisis Line: 855-325-4296 or http://iowacrisischat.org/
Disaster Distress Helpline: 800-985-5990
Iowa Concern hotline: 800-447-1985
50 and Older can fill out this form to get well check calls
Johnson County Social Services helps residents access many essential services like childcare and clothing, food and legal assistance, health services and transpiration. Call one of the departments listed on the website
Free Wi-Fi Access
Penn Medows Park (170 North Dubuque Street)
North Liberty Community Center (520 West Cherry Street)
Rent & Utility Assistance
The Iowa Utilities Board issued an emergency order extending the winter moratorium on disconnections of gas and electric service to certified Low-Income Home Energy Assistance Program (LIHEAP) eligible residential customers. Visit HACAP to apply.
MidAmerican Energy has stopped disconnecting customers for non-payment and is waiving deposits and late fees. The company will also work with customers to set up payment plans.
Alliant Energy temporarily suspending disconnections for customers. In addition, the company plans to waive late fees to help customers who are suffering financial hardships.
The Iowa Rent and Utility Assistance Program can help eligible families with 12 months of rent and/or utilities.
Vaccinations
Anyone 12 years or older is eligible to be vaccinated. Vaccinations are free regardless of your status or insurance.
In Iowa, county public health departments have the most up-to-date information on vaccinations. Johnson County Public Health offers links to UIHC, Hy-Vee, Walgreens and other area independent pharmacies, or CPESN, that offer vaccinations.
The Iowa Department of Public Health can help Iowans find vaccine providers near them at vaccinate.iowa.gov.
The United Way's statewide 211 hotline can help schedule a vaccine. To connect call 2-1-1 (landline), 1 (866) 469-2211 (toll free), or (319) 739-4211 from any phone.
Testing
Test Iowa offers free testing, regardless of symptoms. Take the online Test Iowa assessment so public health officials can assess, test and track the disease. Testing is free.
If you have symptoms, contact your healthcare provider for a telemedicine appointment and possible testing.
Some local pharmacies, including the North Liberty Pharmacy, offer free testing by appointment.
Some local pharmacies, including the North Liberty Walgreens, offer paid rapid testing by appointment.
At-home and over-the-counter tests are available from a variety of sources.