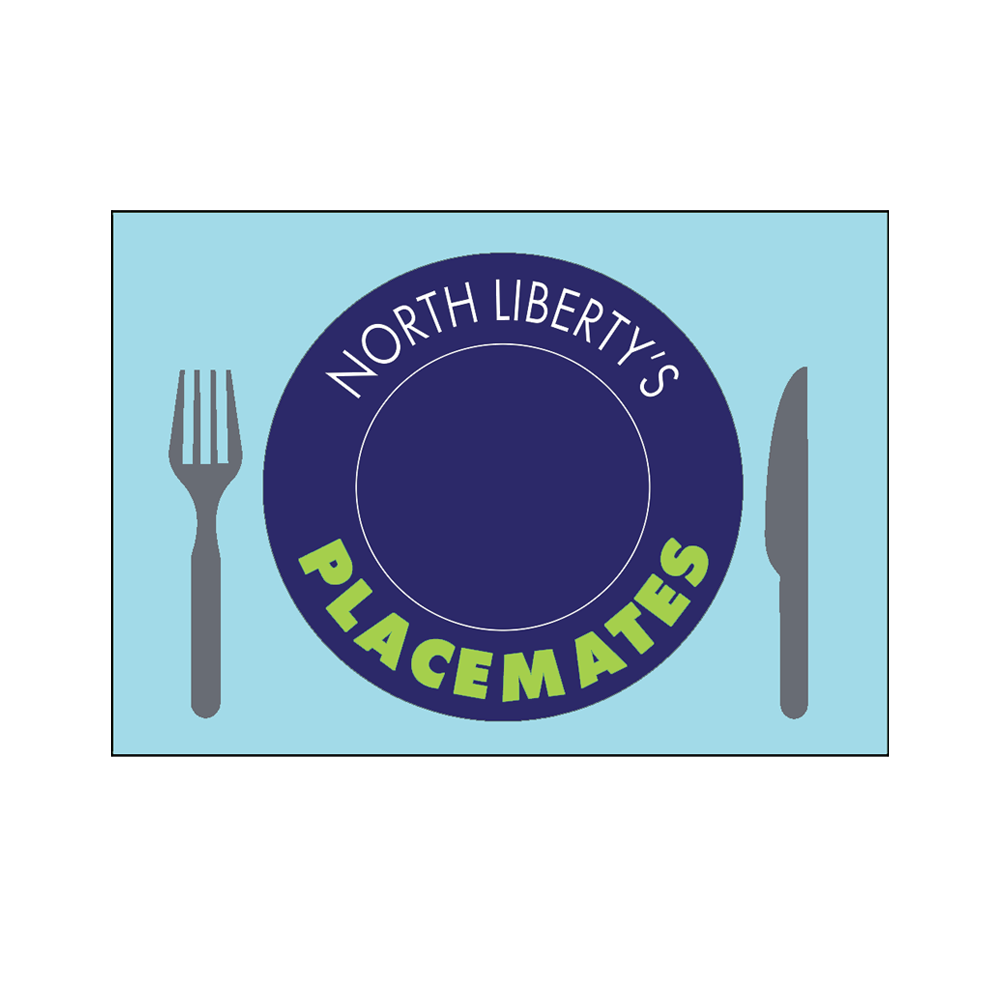 Meet new people over good food and good conversation.
North Liberty's PlaceMates matches residents of the 52317 for potluck dinners held concurrently in homes throughout North Liberty.
Created in spring 2019, PlaceMates seeks to preserve the small-town feel in North Liberty's growing community and introduce residents to those outside of their usual social circle. Two in-person events were held in 2019, matching over 100 households across 22 potlucks.
Sharing a meal has been a way to connect with others since the beginning of time. PlaceMates collects information from interested residents through an online questionnaire. The brief survey asks if a participant wants to host or attend a potluck, what stage of life they are in, the area of town they reside in and other prompts. Residents are then matched based on their responses and introduced via email.
To comply with social distancing amidst the COVID-19 pandemic, the next event will take place virtually via Zoom on National Good Neighbor Day on September 28, 2020, and you're invited. Learn how the virtual event will operate and register through the RSVP button below to join us. 
RSVP
Meeting people (in real life) can be hard.
Even though you may live on the same block as someone, you may never make the effort to meet them in-person. PlaceMates served as a great way to connect with other families in our community and removed the awkwardness of setting up the first date. At the potluck, we met some really great people and got to know our neighbors better. Our kids had a blast meeting other kids, and are already asking "When the next party is?". Thank you to our host and to North Liberty for putting this together.
– The Ruths
One of our matches became our childcare provider.
We unenrolled our son from his daycare center during the COVID-19 pandemic. When we were comfortable starting up again, the center did not have any spots open and we were left without a childcare option. Luckily, we had met a woman through PlaceMates months earlier who was able to welcome our son into her at-home daycare.
– The Jamisons
We hope to get together again soon.
My wife and I decided to give it a shot to meet new people in our community, but also to allow our kids to meet other kids their age. The theme of our dinner was family favorites, and it was decided that all our current family favorites were quick and easy and things kids would eat. Given the time of year and weather, we decided to grill. There are very few things that can bring people together more than kids and a grill. We had a great evening swapping stories and parenting tricks as the kids played. Our evening lasted an hour longer than what was scheduled. We hope to get together again soon.
– Anonymous
How it works
Due to the COVID-19 pandemic, the virtual event on September 28, 2020, will work differently. Read more here.
North Liberty Placemates was created spring 2019 as a way to preserve the small-town feel in our growing community. Since sharing a meal has been a way to connect with others since the beginning of time, potlucks seemed like a natural fit. Two in-person events were held in 2019, matching over 100 households across 22 potlucks. The program organizes a few events per year and encourages residents to stay in touch with their matches and organize ongoing gatherings outside of the program as well.
Maybe you're a young family looking for friends with kids the same age, a single person who just moved to the area, or a senior who would enjoy visiting with new people. Even if you already have an established group, everyone can benefit from meeting those outside of their usual social circle.
The City of North Liberty will match residents, but participants are responsible for their individual potluck events.
I've participated in the past. Do I need to sign up again?
Yes. Those who have participated in the past and would like to do so again need to complete the registration for each event. Although some overlap may occur, new matches will be assigned for each event.
When will I learn of my matches?
Matches will be introduced via email approximately two weeks out from the event date. The introduction will include a brief bio of everyone in the group, the host's address, and any dietary restrictions the group may need to be aware of. Hosts and guests will then correspond via email to finalize the menu before the event date.
Is there a cost to participate?
Outside of preparing a dish, there is no cost to participate.
Who provides the meal?
Hosts will provide the entree and guests will share a side dish.
What does it mean to be a host?
Thanks for your interest in hosting! Placemates can't happen without folks willing to open up their homes. The questionnaire will ask you specific questions about how many adults and/or children you are able to accommodate and your address. You are welcome to make the event as casual or formal as you'd like (we encourage keeping it casual), and can host inside, outside, in the garage, or any combination.
Open to being a host or a guest? The questionnaire will give you that option as well.
How do I sign up?
To participate, simply complete the questionnaire below and look forward to a casual meal with people you might recognize from the park, or might have never met within your usual social circle. Who knows, you might even make new friends or grow your professional network.