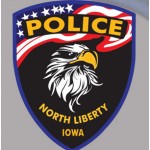 North Liberty's police station is at 5 E. Cherry Street. If you need an officer dispatched for a non-emergency call, please call the Joint Emergency Communications Center (J.E.C.C) at (319) 356-6800. For emergency calls, use 911.
For routine business calls where an officer is not required, please contact the North Liberty Police Department at (319) 626-5724. Office hours for administrative assistance are Monday through Friday, 7:30 a.m. – 4:30 p.m. Alisha Ruffcorn and Lauryn Rich are in charge of records and administrative assistance. They can be reached via e-mail at records@northlibertyiowa.org.
Mission Statement
Our mission is to improve the quality of life in North Liberty by enhancing public safety through cooperative partnerships with our evolving community. We are responsible for protecting life and property, enforcing laws and taking appropriate actions to deter crime and disorder. We will inspire the public's trust and protect the Constitutional rights of all citizens.
Vision Statement
The North Liberty Police Department will continue to grow, adapt and evolve as we strive to provide the highest level of service and protection to our residents and visitors.
We will accomplish this by providing our officers and employees with the knowledge, tools and opportunities to meet and exceed the present and future needs of North Liberty, within the scope of policing. We will work in cooperation with our community to proactively identify and address areas in need of improvement, and to continually provide the level of safety and service including future technological tools to better serve our city, its residents, businesses and visitors.
Our Values
We take responsibility for the efficient, effective, innovative, and proactive approaches to meeting the demands of our crime prevention and law enforcement services. We remain dedicated to service and are committed to striving for excellence, focusing on the following core values in our personal and professional lives:
Integrity We hold ourselves accountable to the highest level of honesty, truthfulness and ethical conduct. These traits are central to all the values we embrace and are the foundations of community trust.
Pride We take pride in our work and in serving our community by setting an example for others to follow.
Quality Service We will provide quality service in a courteous, efficient and accessible manner. We foster community and employee involvement through problem solving and partnerships in a way that best serves the community.
Respect We hold respect for human life above all and we will ensure that all persons are treated with equality, dignity, and courtesy.
Courage We recognize the inherent dangers within our profession and are willing to place the safety of others above our own.
Professionalism We commit to the highest level of professional standards through the development of highly trained, motivated and dedicated members to public service.
View monthly reports  here.
Find out information on Safety Village.
Information on the Johnson County Sirens.
View a Safety Tips document to help keep kids aware and safe!
Seat belt survey 09-10
Seat belt press release 3-10
Seat belt survey result 2011
Seat belt survey result August 2011
Seat belt survey result March 2012
Seat belt survey result August 2013
View a post on scams, burglary and helpful safety websites
Find out how to avoid identity theft. View the following document to learn more about taking steps to protect your personal information. (View documents at: Avoid ID theft.pdf or Avoid ID theft.doc)
Download a Household Property Form (PDF or DOC). The purpose of the form is for a resident to document stolen property that is taken during a burglary or theft. Residents may print the form and record the missing property while waiting for an officer to arrive. Then, the resident gives the form to the officer upon arrival at the scene; this will save time and help with a more complete report. Call the dispatch office at 356-6020 to make a report.